Sidelining Crohn's Disease
Aug 03, 2018 Cedars-Sinai Staff
In volleyball, the outside hitter is a team's power player. To be successful, she has to stay in sync with her teammates, communicate clearly and attack the ball with precision.
That's 15-year-old Julia Philbrick's life on the court in San Marcos, California, where she's one of the county's most competitive young athletes.
It's also her life off the court: keeping her eye on her goal and sticking to a winning game plan that helps keep her ahead of her Crohn's disease, while still being able to do the things she loves.
---
"It takes a lot of commitment to stay healthy. A lot of people struggle with this disease. But it's up to me. How am I going to react? How am I going to take this and run with it in a way that works for me?"
---
"Crohn's isn't the No. 1 thing in my life," she says. "My family and my doctors help me keep it to the sidelines, so it's not the main thing I'm dealing with."
Julia was diagnosed at age 11 with Crohn's disease, a form of inflammatory bowel disease that causes pain, bleeding, fatigue, bloating, diarrhea and other symptoms. Julia's parents, Ed and Michelle Philbrick, chose Cedars-Sinai for their daughter's care, even though they live in North San Diego County.
The IBD program's reputation for being at the forefront of research and the personal, responsive care were the chief reasons the family chose care that required driving over 100 miles for infusions every other month, says Michelle.
---
---
They were certain it was the right choice when they met Shervin Rabizadeh, MD, director of the Pediatric Inflammatory Bowel Disease Program. He "gets" the family, Michelle says.
"Dr. Rabizadeh answers every single question I have, and he doesn't just say 'I don't know,'—not ever," she continues. "And in the beginning of her diagnosis, I had a lot of questions."
Julia appreciates that he never makes her feel worried about her Crohn's. At a recent appointment, he pointed out a scrape on her knee from a tumble in the shallows she took while surfing. He suggested she try gauze instead of sticky bandages and keep practicing.
"He wants me to play volleyball, be normal, have fun, and have no one be able to tell that I have Crohn's disease," Julia says.
Julia shared the daily Crohn's game plan that keeps her active and her symptoms to a minimum.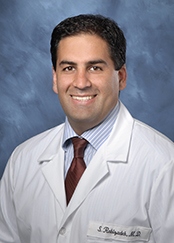 Hydrate
Keep a water bottle at the ready, and sip throughout the day. Dehydration can happen more easily to people with IBD, leading to cramping, light-headedness and other complications.
---
---
Prioritize sleep
Be aware of your energy levels. For Julia, that means she has an accommodation from her school to start later some days, so she can sleep. It might mean skipping running a mile during gym class so she can reserve her energy for her 3-hour volleyball practice sessions.
---
---
Take medications and vitamins as directed by your doctor
Many IBD patients are treated with regular infusions of drugs like Remicade, which blocks a protein in the immune system that can cause extra inflammation in people with IBD. It may be combined with oral medications taken regularly between infusion sessions. Vitamins might also be part of a treatment plan to supplement the medications or help with dietary issues.
---
---
Manage what you eat and be patient with yourself
Finding the right foods can be a matter of trial and error. The Philbrick family started with lists of recommended foods from various reputable sources. However, these lists often contained conflicting suggestions. Every patient is different, and there's no one-size-fits-all list.
Manage social pressures
Grabbing a bite to eat is a common social occasion. Check out a restaurant's menu ahead of time and try to have a plan. Julia points out she often balances wanting to fit in and eating what everyone else is having. Most of the time, she orders what she knows won't bother her stomach. Sometimes she compromises and has a few bites of a dish like cheesy pasta and eats a fuller meal later at home.
---
---
"How does she do it all, day after day, for the rest of her life?"
"Playing a sport has really changed my mindset about everything," she says. "If you can find something you're passionate about, pursue it. Have that to focus on."
Her love of volleyball and understanding what it takes to be successful in a sport have helped her enormously in coping with Crohn's disease.
"It takes a lot of commitment to stay healthy," Julia says. "A lot of people struggle with this disease. But it's up to me. How am I going to react? How am I going to take this and run with it in a way that works for me?"
Make an Appointment
---
Find a Doctor
Call Us 7 Days a Week, 6 am - 9 pm PT