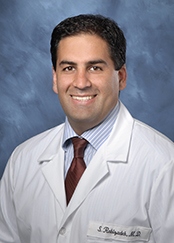 Shervin Rabizadeh, MD, MBA
310-423-7100
Fax: 310-423-1402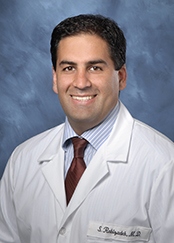 Shervin Rabizadeh, MD, MBA
Pediatric Gastroenterology
8720 Beverly Blvd, Lower Level
Los Angeles, CA
34.075676
-118.380808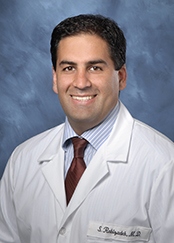 Shervin Rabizadeh, MD, MBA
Back to Top
Locations
Pediatric Gastroenterology
34.075676
-118.380808
Pediatric Gastroenterology
Monday: 8:15AM - 4:30PM
Tuesday: 8:15AM - 4:30PM
Wednesday: 8:15AM - 4:30PM
Thursday: 8:15AM - 4:30PM
Friday: 8:15AM - 4:30PM
Self-parking is available in Cedars-Sinai parking lots P1, P2 and P4. 1st hour free, $5 each hour thereafter and $15 daily maximum. Valet parking is the same price as self-parking. Gratuities are not accepted.
Los Angeles
34.0761098
-118.3799992
Los Angeles
8700 Beverly Blvd - NT
Lower Level, AC1128
Los Angeles, CA
Get Directions
Experience
Specialties
Area in which a healthcare provider is highly trained and often board certified.
1
Programs
Cedars-Sinai clinical programs this provider is part of:
6
IBD Prehabilitation Program
Pediatric IBD Program
Research Areas
Titles
Chair

,

Pediatrics

Assistant Professor

,

Pediatrics

Director

,

Division of Pediatric Gastroenterology

Director

,

Pediatric Inflammatory Bowel Disease Program

Medical Director

,

Children's Health Center
Education & Training
Johns Hopkins University School of Medicine

Fellowship - Completed 2008

Johns Hopkins University School of Medicine

Residency - Completed 2004

Tufts Medical School

Medical School - Completed 2001
Achievements
2

Board Certifications

4

Awards and Honors
Board Certifications
Pediatrics

American Board of Pediatrics

Peds - Gastroenterology

American Board of Pediatrics
Awards and Honors
CTSI Maternal Child and Adolescent Health Junior Investigator Award
American Gastroenterology Association
North American Society of Pediatric Gastroenterology, Hepatology and Nutrition
Crohn's and Colitis Foundation of America
Publications
Soliman A, Michelsen KS, Karahashi H, Lu J, Meng FJ, Qu X, Crother TR, Rabizadeh S, Chen S, Caplan MS, et al. Platelet-activating factor induces TLR4 expression in intestinal epithelial cells: implication for the pathogenesis of necrotizing enterocolitis. PLoS ONE. 2010;5(10):e15044.
Lowe EL, Crother TR, Rabizadeh S, Hu B, Wang H, Chen S, Shimada K, Wong MH, Michelsen KS, Arditi M. Toll-like receptor 2 signaling protects mice from tumor development in a mouse model of colitis-induced cancer. PLoS ONE. 2010;5(9):e13027.
Goodwin AC, Destefano Shields CE, Wu S, Huso DL, Wu X, Murray-Stewart TR, Hacker-Prietz A, Rabizadeh S, Woster PM, et al. Polyamine catabolism contributes to enterotoxigenic Bacteroides fragilis-induced colon tumorigenesis. Proc Natl Acad Sci U S A. 2011;108(37):15354-15359.
Rabizadeh S, Rhee KJ, Wu S, Huso D, Gan CM, Golub JE, Wu X, Zhang M, Sears CL. Enterotoxigenic bacteroides fragilis: a potential instigator of colitis. Inflamm. Bowel Dis. 2007;13(12):1475-1483.
Wu S, Rhee KJ, Albesiano E, Rabizadeh S, Wu X, Yen HR, Huso DL, Brancati FL, Wick E, McAllister F, et al. A human colonic commensal promotes colon tumorigenesis via activation of T helper type 17 T cell responses. Nat. Med. 2009;15(9):1016-1022.
Vahabnezhad E, Rabizadeh S, Dubinsky MC. A Ten-Year, Single Tertiary Care Center Experience on the Durability of Infliximab in Pediatric Inflammatory Bowel Disease. Inflamm Bowel Dis. 2014;20(4):606-613.
Wick E*, Rabizadeh S* (*co-first authors), Albesiano E, Wu SW, Rhee KJ, Ortega G, Wu X, Huso DL, Pardoll D, Housseau F, et al. Stat3 Activation in Murine Colitis Induced by Enterotoxigenic Bacteroides fragilis. Inflamm Bowel Dis. 2014;20(5):821-834.
Insurances
Before scheduling your appointment, we strongly recommend you contact your insurance company to verify that the Cedars-Sinai location or provider is included in your network.
Insurances
Insurances
3

3

4

3

1

2

3

1

1

3

2

1

1

2

3

4