Serving up Strength
Oct 27, 2017 Cedars-Sinai Staff
Self-taught tennis player Bernie LeSage learned something important about himself when he drew Jimmy Connors' name out of a hat in the 1971 NCAA Championship at the University of Notre Dame.
Being in the game matters more to him than winning.
LeSage was a senior and a star player at Notre Dame when he faced Connors, then a UCLA freshman soon to become a world champion.
"He hit a forehand so hard it almost took my racket out of my hand," remembers LeSage. "I can still see that shot coming at me." Connors beat him 6-1 and 6-2 and won the NCAA singles title.
LeSage worked hard for every point he earned, and figures it was a victory to win a few games against one of the best players of all time.
Now 69, LeSage faces another formidable opponent—Parkinson's disease. He's drawing on the same tenacity he demonstrated in those unforgettable matches.
---
---
Taking charge
At Notre Dame, the thundering sound of LeSage's serve echoing across nearby courts earned him the nickname "Boomer." His serve was the first thing to suffer when Parkinson's symptoms began to affect his game about 8 years ago. LeSage, who has played competitive tennis on and off since college, developed a tremor that threw off his ball toss. Then he began to experience weakness and difficulty walking.
He was first diagnosed with Parkinson's by a doctor near his home in Manhattan Beach. His family's research led him to Cedars-Sinai and Michele Tagliati, MD, the director of the Cedars-Sinai Movement Disorders Program. A renowned clinical scientist, Tagliati conducts research on Parkinson's and other movement disorders, and has a number of patients who are fighting this progressive disease with good results by continuing to play sports they love.
"They are using their diagnosis as an opportunity to take charge of their lives. They are champions," Tagliati says.
He notes that a growing body of research suggests exercise may improve brain plasticity by repairing damaged circuitry that underlies motor and cognitive impairment in Parkinson's patients. "We are now treating this disease earlier and more aggressively with a variety of medications so patients can move as freely as possible," he says.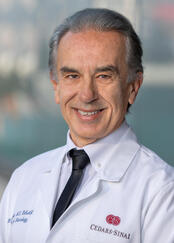 Neurology
Accepting New Patients
---
"We are now treating this disease earlier and more aggressively with a variety of medications so patients can move as freely as possible."
---
'Boomer' comes back
For LeSage, medication and vigorous exercise have been a winning combination, but it took patience to make a comeback on the national tournament circuit.
"I had to learn to play tennis all over again," he says.
"There were lots of misses," adds his wife, Joan. "It was painful to watch."
Gradually, his game improved and he was able to return to competitive tennis. He's on the court every day, and also works out to build strength. "When I get tired, I don't nap. I go out and hit tennis balls for an hour, and I feel better," he says.
A retired business litigator, LeSage is competitive—but losing doesn't get him down. "There are people I used to beat easily who I can't beat anymore. That doesn't stop me from making a fool of myself," he says. "Having a good match and hitting the ball where I want it is more important to me than winning."
---
---
He feels better today than he did when he was diagnosed shortly after he noticed the first symptoms of Parkinson's eight years ago. "On the tennis court, there are moments when I feel I have no impediments," he says.
LeSage travels around the country to compete in national tournaments, always accompanied by Joan, who has been his biggest fan since they met at Notre Dame. They also take adventurous vacations. In March, they went on a safari in South Africa, and LeSage took time out from sightseeing to beat a much-younger fellow traveler in a tennis match at their hotel in Cape Town.
He has good days and bad ones, just as he has good matches and bad ones. He has adopted an approach that serves his goal of staying in the game. "I only remember the good ones," he says.
---
Make an Appointment
---
Find a Doctor
Call Us 7 Days a Week, 6 am - 9 pm PT