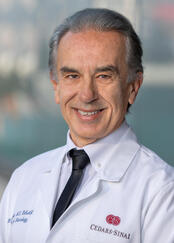 Michele Tagliati, MD
310-423-6472
Fax: 310-967-0601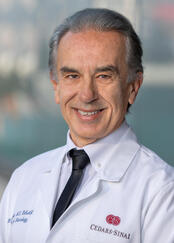 Neurology - Pavilion
127 S San Vicente Blvd - 6th Floor #A6600
Los Angeles, CA
34.074529
-118.379239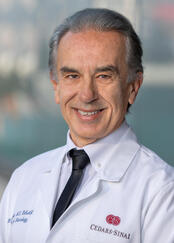 Back to Top
Languages
English

,

Italian

,

Spanish

,
Locations
Neurology - Pavilion
34.074529
-118.379239
Neurology - Pavilion
127 S San Vicente Blvd - 6th Floor #A6600
Los Angeles, CA 90048
Get Directions
Monday: 8:00AM - 4:30PM
Tuesday: 8:00AM - 4:30PM
Wednesday: 8:00AM - 4:30PM
Thursday: 8:00AM - 4:30PM
Friday: 8:00AM - 4:30PM
---
Self-parking is available in Cedars-Sinai parking lot P4. The cost is: 1st hour free, $5 each hour thereafter and $15 daily maximum. Valet parking is the same price as self-parking. Gratuities are not accepted. Valet is available at lot P4 Pavilion M-F, 5 a.m.-10 p.m.
Experience
Specialties
Area in which a healthcare provider is highly trained and often board certified.
1
Sub Specialties
A focused area of clinical knowledge and skills within a specialty. Example: a neurology specialist focused on stroke treatment.
1
Programs
Cedars-Sinai clinical programs this provider is part of:
3
Research Areas
Titles
Vice Chair

,

Department of Neurology

Director

,

Movement Disorders Program

Caron and Steven D. Broidy Chair

,

Movement Disorders

Professor

,

Neurology
Education & Training
Mount Sinai Beth Israel

Fellowship - Completed 2000

Mount Sinai Hospital

Residency - Completed 1999

Mount Sinai Hospital

Internship - Completed 1996

Mount Sinai Hospital

Degrees - Completed 1994

University of Rome Tor Vergata

Residency - Completed 1990

Sapienza University of Rome

Medical School - Completed 1986
Achievements
1

Board Certifications

10

Awards and Honors

6

Publications
Board Certifications
Neurology

American Board of Psychiatry and Neurology
Awards and Honors
International Peer Reviewer, Italian National Agency for the Evaluation of Universities and Research
Fellow, American Academy of Neurology
XIII Congreso Colombiano de Neurologia – Invited Speaker. Movement Disorders Session: DBS Surgery and Programming in Patients with Dystonia. Barranquilla, Colombia.
Associate Editor: Movement Disorders
Super Doctors, Los Angeles
19th International Congress of Parkinson's Disease and Movement Disorders. Invited lecture: DBS for Non-Parkinson Movement Disorders: Tremor. San Diego, CA
Caron and Steven D. Broidy Chair in Movement Disorders
70th Annual AAN Meeting – Educational Program. Neuroendocrine Aspects of Parkinson's Disease: An Overview. Los Angeles, CA.
Scientific Program Committee, XXII World Congress on Parkinson's Disease and Related Disorders
Pan American Section Education Committee Movement Disorder Society
Publications
Bronstein JM, Tagliati M, Alterman RL, Lozano AM, Volkmann J, Stefani A, Horak FB, Okun MS, Foote KD, Krack P, et al. Deep brain stimulation for Parkinson's disease: an expert consensus and review on key issues. Arch Neurol. 2011;68(2):165-171.
Okun MS, Gallo BV, Mandybur G, Jagid J, Foote KD, Revilla FJ, Alterman R, Jankovic J, Simpson R, Junn F, Verhagen L, Arle JE, Ford B, Goodman RR, Stewart RM, Horn S, Baltuch GH, Kopell BH, Marshall F, Peichel D, Pahwa R, Lyons KE, Tröster AI, Vitek JL, Tagliati M. Subthalamic deep brain stimulation with a constant-current device in Parkinson's disease: an open-label randomised controlled trial. Lancet Neurol. 2012;11(2):140-149.
Cheung T, Noecker AM, Alterman RL, McIntyre CC, Tagliati M. Defining a therapeutic target for pallidal deep brain stimulation for dystonia. Ann Neurol. 2014;76(1):22-30.
Tagliati M. Multiple-source current steering: A new arrow in the DBS quiver. Lancet Neurol. 2015;14(7):670-1
Hogg E, During E, Tan EE, Athreya K, Eskenazi J, Basile C, Alterman R, Mamelak, A and Tagliati M. Long-Term Quality of Life after DBS Therapy for Generalized Dystonia. Mov Disord. 2018;33:1160-1167.
Langston JW, Wiley J, Tagliati M. Optimizing diagnostic in Parkinson's disease: The Role of a dual imaging algorithm. Npj Parkinson's disease. 2018 [Epub on Feb 23]
View Research Profile
View Publications on PubMed