A Second Shot at Life and He's Breathing Easy
Nov 10, 2017 Cedars-Sinai Staff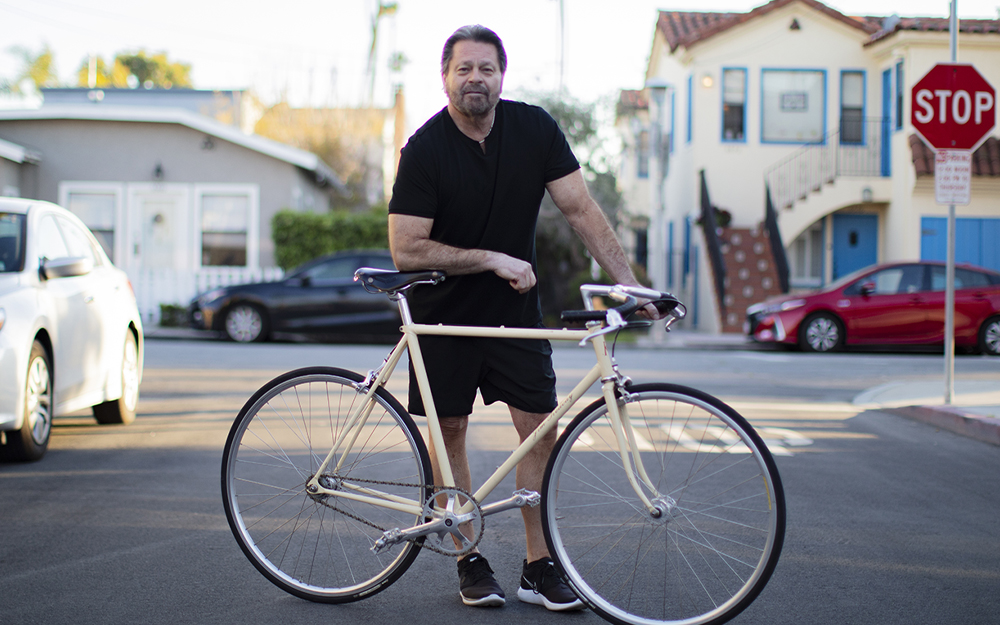 Slowing down is so out of character for Don Yuhas that he continued to take bike rides and lift weights while fighting a deadly lung disease.
Looking back on a health crisis that began five years ago, the 60-year-old Huntington Beach resident believes his drive to keep moving helped give him the strength to make a comeback as he received cutting-edge care from two doctors at Cedars-Sinai.
It all started with mild shortness of breath that lasted for several months, then suddenly became severe during a family vacation in Hawaii.
---
"Every breath I take now, I think of and thank my donor. I will never let him down. I also give the nurses at Cedars-Sinai a lot of credit. What they did for me was overwhelming. I love them all."
---
"One day we were out snorkeling in a cove with no waves and no wind, and I was struggling and running low on breath," he recalls. "I was 30 feet from the beach but it felt like 300 feet. I had fins on and I'm a strong swimmer, but when my foot hit the sand, I had just about run out of gas."

Initially, Yuhas saw his doctor in Orange County and was treated for walking pneumonia. But his symptoms, including a bad cough, kept getting worse. About seven months after the Hawaii trip, a local pulmonologist diagnosed a rare condition called idiopathic pulmonary fibrosis (IPF). For reasons that are not yet fully understood, the disease causes progressive scarring, or fibrosis, within the lungs that gradually destroys their ability to function. Yuhas was told he might have only a few years to live.
---
---
From bad news to optimism
Research quickly led Yuhas to the best specialist in the field: Paul W. Noble, MD, director of the Women's Guild Lung Institute at Cedars-Sinai. The Vera and Paul Guerin Family Distinguished Chair and a renowned leader in interstitial lung diseases, Noble is a moving force behind a landmark series of clinical trials that resulted in a 2014 FDA decision to approve the first two medications that combat progression of IPF.
Noble is all too familiar with the discouraging information people find when they Google this disease. He's able to reassure patients that new treatment options are improving outcomes.
"What I liked about Dr. Noble from the first day I met him was his optimism," Yuhas says. "He told me he wasn't going to let anything happen to me."
He tried one of the new medications, but when Noble saw that it wasn't working, he referred him to Danny Ramzy, MD, surgical director of Cedars-Sinai's Lung Transplant Program, and Yuhas was soon added to the waiting list for a lung transplant.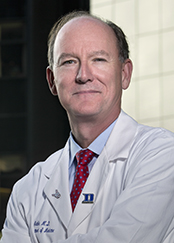 Yuhas says 4 words from Ramzy—"stronger in, stronger out"—stayed with him, reassuring him that his high level of fitness would give him an edge in recovering from the transplant.
As he waited for a donor, he kept lifting weights, though he had to take a break between each set to catch his breath. Fortunately, he didn't have to wait long. After 5 weeks, Ramzy performed a double lung transplant. Yuhas was back home within 8 days—his oxygen levels in the normal range for the first time in years.
"Every breath I take now, I think of and thank my donor. I will never let him down," he says. "I also give the nurses at Cedars-Sinai a lot of credit. What they did for me was overwhelming. I love them all."
Yuhas calls Ramzy his hero: "I owe him my life."
---
---
A new perspective
Although nonsurgical treatment did not work for Yuhas, he made a major contribution to IPF research by donating his diseased lungs to the Noble Laboratory for study. Noble notes that cells from lungs are cultured for use in experiments to learn how and why IPF develops, and to seek pathways to stop or even reverse its progress.
Yuhas, whose three sons were there for him throughout the treatment process, had a smooth recovery from his transplant surgery and resumed his busy life. In addition to exercising regularly and spending precious time with family—including two young grandsons who live nearby—he works as a logistics coordinator, moving high-end race and show cars around the country.
He can breathe easy now, and says having a "second shot at life" has changed him.
"I have a new perspective," he says. "I appreciate things more. It's like putting on a new pair of glasses. Everything is clearer and brighter."
---
Make an Appointment
---
Find a Doctor
Call Us 7 Days a Week, 6 am - 9 pm PT