Dr. Robert Klapper: Surgeon by Day, Sculptor by Night
Apr 20, 2019 Cedars-Sinai Staff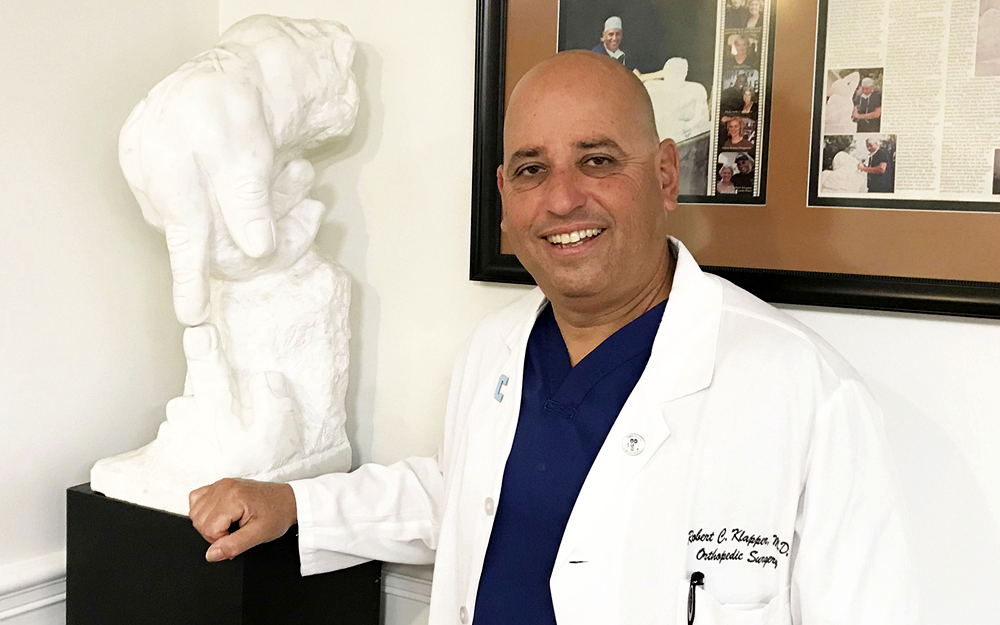 Meet Dr. Robert Klapper! He's an orthopaedic surgeon and co-director of the Cedars-Sinai Joint Replacement program. He also hosts his own weekend radio show on ESPN LA.
He loves fixing bones, talking sports, and surfing the waves in Ventura.
But he also has a passion for the arts—specifically, the art of sculpting.
If you've visited his Beverly Boulevard office, you've no doubt seen his sculptures lovingly displayed in the waiting area. But how did this surgical pioneer become an avid sculptor?
---
"People told me I was crazy to major in art, but I did it anyway."
---
A lifelong love of art
Dr. Klapper's favorite artist is Michelangelo and he's been a fan of his work as long as he can remember. He can rattle off fact after fact about the Italian Renaissance man.
He draws inspiration from the artist and considers Michelangelo to be a mentor of sorts.
"He's the best and I wanted to learn from the best," says Dr. Klapper, who owns dozens of books about the life and works of Michelangelo.
---
---
This love of art followed Dr. Klapper to college, where he majored in art history before going on to medical school.
"People told me I was crazy to major in art, but I did it anyway," Dr. Klapper says.
Many years later and already established in his medical practice, he enrolled in a beginner's level rock carving class. He credits his wife Dr. Ellen Klapper with introducing him to the idea.
"She said to me, 'You're a great surgeon and you really love this stuff—I bet you could be a great sculptor, too,'" says Dr. Klapper.
"I had studied it all my life, but she put 2 and 2 together for me and encouraged me to actually try it myself."
The spark was immediate and there was no turning back. That was 2 decades ago and since then he's sculpted more than 50 pieces, including one permanently on display on the 7th floor of Cedars-Sinai.
---
---
Homage to Michelangelo
Each summer, Dr. Klapper takes a weeklong trip to Italy. It isn't to see the historic sites of Rome or indulge in Neapolitan pizza.
He goes there to visit Carrara, home to one of the most famous marble quarries in the world. The marble Michelangelo used to sculpt David came from the white hills of Carrara.
During the yearly pilgrimage, he rents a studio and spends 8 hours a day carving his Carrara marble. He doesn't use power tools because he wants to mirror the way Michelangelo worked.
---
---
"I use chisels and hammers just like he did," he says. "I can feel him guiding me when I'm working on a piece."
Sculpting is more than just a hobby for Dr. Klapper. For him, it's an extension of his work as a doctor.
"As a surgeon, I do a lot of reconstruction work fixing things ravaged by arthritis," he says. "I don't create the bones, the tendons, the ligaments—I'm just sculpting them."
Make an Appointment
---
Find a Doctor
Call Us 7 Days a Week, 6 am - 9 pm PT