Specialists Work Together to Protect Fertility During Cancer Treatment
Jul 30, 2021 Nicole Levine
As Lauren Bratman reflects on motherhood so far with her baby boy Gio, she sees a lot of ups and downs: The first time she held him, his first smiles and coos, the difficulty of parenting a baby during a pandemic and the day when she was hoping she was pregnant but learned she had breast cancer instead.
---
"Life becomes a little clearer in a good way when you're faced with fighting for it."
---
"Being a mother is amazing, hard, tiring and the most joy I've ever felt," she says. "Everything seems elevated. Through all of this, I learned so much about how miraculous life is. And how miraculous the human body is. I've seen myself at rock bottom with chemotherapy poisoning me for six months and feeling the weakest I ever had. I learned that my capacity to heal and regenerate is really strong."
In 2017, hoping to have a baby, Lauren and her husband, Anthony, made plans to start their next chapter as a family together. At first, she felt some tenderness in her body that she thought might be early signs of pregnancy, but then she found a lump in her breast. A mammogram and biopsy led to a breast cancer diagnosis.
Lauren made her wishes known immediately to her cancer treatment team: Dr. Catherine Dang, a surgical oncologist with Cedars-Sinai Cancer, and Dr. Philomena McAndrew, an oncologist with Cedars-Sinai Tower Hematology Oncology Medical Group. They referred her to Dr. Erica Wang, a reproductive endocrinologist with Cedars-Sinai's Fertility and Reproductive Medicine Center.

Her clear communication with her doctors and the close working relationship between oncologists and fertility experts at Cedars-Sinai helped her overcome cancer and protect her fertility. Their collaboration allowed Lauren to take proactive steps before chemotherapy treatment began.
---
---
"Lauren knew exactly what she wanted, and she was so determined," Dr. Wang says.

Dr. Wang has worked closely with oncologists to forge a close working relationship to aid cancer patients who wish to protect their fertility. She has offered educational sessions and met with cancer caregivers regularly. She guarantees to see cancer patients within 48 hours of a referral.
The window for cancer patients who want to protect their fertility can be narrow. Lauren had two weeks between her diagnosis and the beginning of treatment to take action. She chose to freeze embryos, and Dr. Wang successfully harvested four eggs, resulting in two healthy embryos.
With this hope for her future secured, Lauren turned to the present: the breast cancer she saw as stopping her plans for a family.
---
---
Protecting fertility during cancer treatment
Lauren's care team considered the importance of her fertility throughout her treatment. In addition to chemotherapy, hormone therapy and surgery to address her breast cancer, they placed her on an additional medication that would "pause" her ovaries by preventing them from producing estrogen and potentially limit the effect of chemotherapy on the reproductive organs.
Dr. McAndrew and Dr. Dang found two tumors in Lauren's right breast, as well as a lymph node that showed signs of cancer. They also identified her cancer as HER2-positive, meaning it has a specific mutation that can make breast cancer more aggressive—but also very responsive to targeted immunotherapy.
Lauren was 37 when she started her treatment, and she and Anthony celebrated their first wedding anniversary at one of her six chemotherapy infusions. She completed six weeks of radiation treatments. She continued immunotherapy for more than a year and took hormone-blocking medications for a year and a half.
During this time, she says, she did her best to focus on her cancer treatment and keeping her body strong. In addition to medical interventions, she took supplements, wore a cold cap, went to weekly acupuncture appointments, followed a daily practice of yoga, mindfulness and meditation.
She had a powerful motivator.
"I was counting down," she says. "After radiation and my last surgery, after finishing the targeted therapy, I felt like I was in recovery mode to build my strength back up. The intention was to be able to carry a child."
---
---
A pregnant pause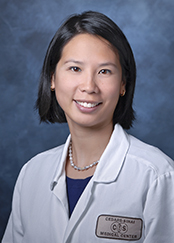 As soon as she reached the 18-month mark, Lauren returned to Dr. Wang to assess her options for pregnancy.
She had good news: Both of her embryos were healthy.
Dr. McAndrew also had positive news for Lauren. Typically, women stay on anti-estrogen therapy for five years following cancer treatment to reduce the risk of a recurrence. That same treatment, however, prevents women from becoming pregnant.
"For many women, five full years of treatment can mean timing them out of having a healthy pregnancy," Dr. McAndrew says.
Dr. McAndrew served as principal investigator for the POSITIVE trial at Cedars-Sinai, one of more than 100 sites worldwide participating in a study on treatment pause for women who wish to become pregnant after having cancer. The trial is ongoing worldwide, collecting data on women who temporarily stopped treatment after two years for the purpose of having a child.
At one time, doctors would typically tell patients they should never get pregnant after having breast cancer. Over time, data showed pregnancy didn't seem to increase the risk of breast cancer spreading and more women started choosing to harvest their eggs before chemotherapy and undergo invitro fertilization.
---
---
Improvements in the technology and more studies being conducted in this field—studies like the POSITIVE trial—have allowed more cancer survivors to consider their dreams of parenthood.
"We hope with this trial that we will be able to determine whether this pause affects the overall cure rate for breast cancer," Dr. McAndrew says. "If the cure rate is fine, the babies are fine, this data could allow us to really be able to put to rest the question of whether any patient should be told they cannot have their choice in trying to get pregnant."
Being able to pause her treatment and knowing that she had two healthy embryos was an important turning point in Lauren's cancer recovery.
---
---
"It felt like the storm was over," Lauren says. "I was able to breathe and have more room and receive this embryo."

She also emphasizes that she was open to other ways of having children, from surrogacy to adoption. For her, the embryo led to a healthy pregnancy.
"The pregnancy was helping me to heal," she says. "It felt so good to have something positive growing, instead of cancer growing inside me."
Living the dream of motherhood
Arlo Giovanni Migliaccio—or Gio for short—was born on Nov. 8, 2019. A few months later, the COVID-19 pandemic upended life as we know it, bringing new challenges to Lauren's family and many others.
Gio is a bright, happy toddler with a ready smile and wide eyes. Lauren speaks warmly of her son, and her husband Anthony, who attended every treatment and appointment, supporting her and making decisions with her.
"I want women who find themselves in my situation to know they have options to preserve their fertility and they should be comfortable letting their doctors know what they want," she says. "Someone suggested I wear a sign on my shirt every time I went to the doctor reminding them I want children after this, so they would know how important it was to me."
Her care team, however, didn't need her to wear a sign. They supported her from the moment of her diagnosis.
"I am so grateful for the team of doctors I was able to work with and how much they advocated for me and ran alongside me," she says. "They truly wanted me to have a healthy pregnancy and they did everything they could to make that happen."
Patience and a strong commitment to self-care helped her through.
"Keep in mind how you envision your life after treatment—that helped me get through," she says. "Take time to care for yourself not just with the medicine, but with all the little things that can help your healing. Life becomes a little clearer in a good way when you're faced with fighting for it."
---
Make an Appointment
---
Find a Doctor
Call Us 7 Days a Week, 6 am - 9 pm PT