Pancreatic Cancer Clinic Saves Time and Lives
Nov 17, 2023 Koren Wetmore
After 61-year-old Jennifer Schmid was diagnosed with pancreatic cancer, her oncologist ordered a CT scan to check for signs of the disease in other parts of her body.
Her scan results suggested the cancer had spread to her lungs.
Concerned this meant the disease had reached an advanced stage, her doctor referred Schmid to the Pancreatic Cancer Multidisciplinary Clinic and Precision Medicine Program at Cedars-Sinai.
The clinic brings patients together with all the specialists they need in a single-day, four-hour visit. Using advanced tools, its expert providers accurately diagnose pancreatic cancer and predict which therapies may work best to treat it. They also assess and match patients with clinical trial opportunities. Patients leave the clinic with a diagnosis and a treatment plan.
In Schmid's case, their findings proved enlightening.
"We thought she had metastatic pancreatic cancer, which has a very poor prognosis," said medical oncologist Arsen Osipov, MD, program lead for the multidisciplinary clinic and precision medicine program. "But through our multidisciplinary review and genetic sequencing of her pancreatic tumor and the spot on her lung, we discovered she actually had two separate cancers."
Still in the early stages, both cancers were treated successfully. Today, Schmid is cancer-free.
Being diagnosed with pancreatic cancer can be terrifying. An aggressive disease, it's one of the deadliest cancers, with a five-year survival rate of only 12%. By 2030, the disease is projected to be the second-leading cause of cancer-related deaths in the nation.
Once you know you have it, you need a treatment plan—and fast—to improve your chances of a good outcome. It's one of many reasons the single-day clinic at Cedars-Sinai is so vital, Osipov said.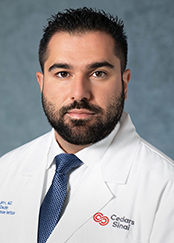 IM Hematology Oncology
Accepting New Patients
Pioneering the Single-Day Care Model
Inspiration for the multidisciplinary, single-day clinic sprang from Osipov's residency at Cedars-Sinai and a later fellowship at Johns Hopkins University.
His residency revealed the specific challenges faced by pancreatic cancer patients.
"Pancreatic cancer is a very aggressive disease with nuances that require expert-level care," said Osipov. But gaining input from all the required specialists and developing a treatment plan can take "weeks to months," he said.
That's time these patients do not have.
Within weeks to months, the cancer's staging—an estimate of how far a cancer has advanced—can change, as can the characteristics of the tumor itself. These changes affect treatment options and patient outcomes, Osipov said.
---
"We analyze their tumor and their blood for thousands of features that help us determine which treatments may work better, or worse, for that patient, and which clinical trials may benefit them."
---
Armed with an understanding of the problem, Osipov searched for a solution. He discovered it during his fellowship, while working on a team that developed a patient-centered clinic model. Instead of traveling to different locations on different days to see all the relevant specialists, patients came to the clinic and saw all the specialists in one day.
When Osipov returned to Cedars-Sinai in 2020, he brought the single-day clinic concept with him. He expanded the original idea to include a precision medicine focus, along with the proactive assessment of patients for clinical trial opportunities.
It took about a year to gather all the needed specialist collaborators. On Oct. 27, 2021, the Pancreatic Cancer Multidisciplinary Clinic opened its doors.
It recently celebrated its two-year anniversary and has treated more than 180 patients.
---
---
Harnessing Precision Medicine Tools
Patients treated at the pancreatic cancer clinic participate in the Cedars-Sinai Molecular Twin initiative, an AI-empowered platform that creates a virtual replica of a patient and their cancer. This is done by combining their clinical history with their lab test results, tumor imaging and genetic information drawn from their blood, saliva and tumor cells.
"It's very tailored. We analyze their tumor and their blood for thousands of features that help us determine which treatments may work better, or worse, for that patient, and which clinical trials may benefit them," Osipov said.
---
---
Increasing Clinical Trial Access
Participation in clinical trials provides pancreatic cancer patients access to leading-edge therapies that otherwise would not be available. That access, said Osipov, is "paramount for improving outcomes in patients with pancreatic cancer."
Along with tests and consults with the various specialists, patients at the single-day clinic are assessed for their potential to participate in one of more than a dozen clinical trials.
Nationally, the percentage of patients accepted into clinical trials is between 5%-10%. At the single-day clinic, nearly one-third of the patients go on to a clinical trial, Osipov said.
The single-day clinic is a promising care model poised to help the more than 64,000 people in the U.S. who have been or will be diagnosed with pancreatic cancer this year. The model takes effort to build but can be replicated at major academic institutions across the nation.
"This care model provides patients with expedited, personalized care, access to clinical trials and the opportunity for better outcomes," said Osipov. "In my opinion, it's the gold standard of care for pancreatic cancer."
---
---
Make an Appointment
---
Find a Doctor
Call Us 7 Days a Week, 6 am - 9 pm PT