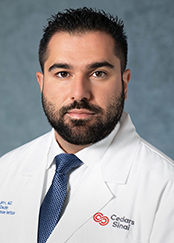 Arsen Osipov, MD
Accepting New Patients
Locations
Samuel Oschin Cancer Center
34.074713
-118.379418
Samuel Oschin Cancer Center
127 S. San Vicente Blvd., Pavilion, 7th Floor
Los Angeles, CA 90048
Get Directions
Monday: 8:00AM - 5:30PM
Tuesday: 8:00AM - 5:30PM
Wednesday: 8:00AM - 5:30PM
Thursday: 8:00AM - 5:30PM
Friday: 8:00AM - 5:30PM
Pavilion is located at 127 S. San Vicente Boulevard between West 3rd Street and Gracie Allen Drive. Valet parking and self-parking are available in the Pavilion Parking lot, located on Sherbourne Drive between West 3rd Street and Gracie Allen Drive. Park in the Gold Zone (Levels B2 and B3) and take the Gold Parking elevators to the Plaza Level. Follow the signs for the Pavilion elevators, and take the elevator up to your destination. For parking rates and hours of operation, please visit cedars-sinai.org/parking
Experience
Specialties
Area in which a healthcare provider is highly trained and often board certified.
1
Programs
Cedars-Sinai clinical programs this provider is part of:
6
Research Areas
Titles
Assistant Professor

,

Medicine
Education & Training
Johns Hopkins University, School of Medicine

Fellowship - Completed 2020

Cedars-Sinai Medical Center

Residency - Completed 2017

Virginia Commonwealth University School of Medicine

Degrees - Completed 2013
Achievements
2

Board Certifications

13

Awards and Honors
Board Certifications
IM/Oncology

American Board of Internal Medicine

General Internal Medicine

American Board of Internal Medicine
Awards and Honors
Leo Rigler Award for Academic Achievement "Resident of the Year 2016", Cedars-Sinai
ASCO/AACR, Workshop on Methods in Clinical Cancer Research Workshop
PHASE ONE Young Investigator Award for Cancer Translation
VCU School of Medicine, Dean's Merit Scholarship
Health Sciences Assistant Professor, UCLA
ASCO Conquer Cancer Foundation, Young Investigator Award
Chief Resident, Internal Medicine, Cedars-Sinai & Greater Los Angeles (GLA) Veterans Administration, Los Angeles, CA
Resident of the Year, 1st Year Resident Award, Saban Community Clinic
NIH K08 Clinical Scientist Research Career Development Award
Adjunct Assistant Professor, Johns Hopkins University
Chief Medical Oncology Fellow, Medical Oncology, Johns Hopkins University, School of Medicine, Baltimore, MD
Recipient of Linda Rubin Fellowship in Pancreas and GI Oncology Research Endowment, Johns Hopkins University
ASCO Conquer Cancer Foundation, Career Development Award 2021
Publications
Osipov A, Lim SJ, Popovic A, et al. Tumor Mutational Burden, Toxicity and Response of Immune Checkpoint Inhibitors (ICIs) Targeting PD(L)1, CTLA-4, and Combination: A Meta-Regression Analysis [published online ahead of print, 2020 Jun 25]. Clin Cancer Res. 2020;clincanres.0458.2020. doi:10.1158/1078 0432.CCR-20-0458
Osipov A, Murphy A, Zheng L. From immune checkpoints to vaccines: The past, present and future of cancer immunotherapy. Adv Cancer Res. 2019;143:63 144. doi:10.1016/bs.acr.2019.03.002
Osipov A, Naziri J, Hendifar A, et al. Impact of margin status and lymphadenectomy on clinical outcomes in resected pancreatic adenocarcinoma: implications for adjuvant radiotherapy. J Gastrointest Oncol. 2016;7(2):239-247. doi:10.3978/j.issn.2078-6891.2015.109
Osipov A, Nissen N, Rutgers J, et al. Redefining the Positive Margin in Pancreatic Cancer: Impact on Patterns of Failure, Long-Term Survival and Adjuvant Therapy. Ann Surg Oncol. 2017;24(12):3674-3682. doi:10.1245/s10434-017-6076-z
Osipov A, Zaidi N, Laheru DA. Dual Checkpoint Inhibition in Pancreatic Cancer: Revealing the Limitations of Synergy and the Potential of Novel Combinations [published online ahead of print, 2019 Jul 18]. JAMA Oncol. 2019;10.1001/jamaoncol.2019.1583. doi:10.1001/jamaoncol.2019.1583
Tuli R, Shiao SL, Nissen N, Tighiouart M, Kim S, Osipov A, et al. A phase 1 study of veliparib, a PARP-1/2 inhibitor, with gemcitabine and radiotherapy in locally advanced pancreatic cancer. EBioMedicine. 2019;40:375-381. doi:10.1016/j.ebiom.2018.12.060
Osipov A, Blair AB, Liberto J, Wang J, Li K, Herbst B, Xu Y, Li S, Niu N, Rashid R, Ding D, Liu Y, Wang Z, Wolfgang CL, Burkhart RA, Laheru D, Zheng L. Inhibition of focal adhesion kinase enhances antitumor response of radiation therapy in pancreatic cancer through CD8+ T cells. Cancer Biol Med. 2021 Feb 15;18(1):206-214. doi: 10.20892/j.issn.2095-3941.2020.0273. PMID: 33628595; PMCID: PMC7877172.
Insurances
Before scheduling your appointment, we strongly recommend you contact your insurance company to verify that the Cedars-Sinai location or provider is included in your network.
Insurances
Insurances
3

3

4

3

1

2

3

1

1

3

2

1

1

2

3

4