Outrunning Parkinson's Disease
Jul 11, 2017 Cedars-Sinai Staff
Bobbie Poledouris found freedom from Parkinson's disease in running. When the 71-year-old grandmother laces up her running shoes and gets moving, she can finish a 5K faster than far younger competitors.

For Bobbie Poledouris, putting on a pair of neon pink running shoes is an act of defiance.
In 2006, the 71-year-old grandmother was diagnosed with Parkinson's disease, a progressive condition that causes tremors and rigidity and ultimately robs the body of its ability to move.
Today, Poledouris is a highly competitive runner who takes home first-place medals in her division and finishes 5K races with better times than far younger competitors. Her doctor, Michele Tagliati, MD, director of the Cedars-Sinai Movement Disorders Program, fully supports her active lifestyle.
"We recommend exercising religiously if the patient is able to," says Tagliati, one of the nation's leading investigators and treatment specialists for Parkinson's and other movement disorders. "We still have a lot to learn, but vigorous exercise seems to alleviate symptoms and slow progression of the disease for a number of Parkinson's patients."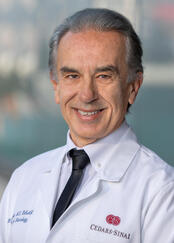 Neurology
Accepting New Patients
---
"Parkinson's gave me a gift. It gave me running, and made me more determined.  Maybe I can outrun this disease."
---
There are mornings when Poledouris has difficulty tying her shoelaces before her medication kicks in, but she pushes herself because she knows what will happen once she gets moving.
"When I run, it's like I'm 35 and I don't have Parkinson's. I feel free," she says.
Poledouris watched her father suffer from Parkinson's, and she initially feared the disease would dash her hopes for a long, active "Act III" of life. Twelve years later, she's still going strong.
"I decided the disease was not going to define me," she says.
---
---
"What's your secret?"
Poledouris first noticed signs of Parkinson's when she developed a subtle tremor in her left hand and stiffness throughout her body that made her Pilates and yoga sessions more challenging. Taking medication several times a day got her symptoms under control and enabled her to continue to enjoy regular outings with her four energetic grandchildren and walks on the beach near her Santa Monica home with her mixed terrier, Lucy.
On one of those walks, about five years ago, Poledouris felt an impulse to pick up her pace. She went with it and started running short distances. Soon she was leaving Lucy home so she could go farther. She began to sleep better. Running also increased her energy and lifted her spirits. She worked up to 3 miles, 3 times a week.
---
---
After she established this regimen, she heard about a doctor at Cedars-Sinai who encouraged Parkinson's patients to exercise. She made an appointment, and soon Tagliati was asking her, "What's your secret?" They discovered they share a passion for running, and Tagliati even joined Poledouris in the annual Santa Monica/Venice Christmas 5K in December 2016.
"Bobbie is amazing. What she is doing is remarkable and inspiring," he says. "She's my hero."
"Dr. Tagliati understands how challenging a 3-mile run can be," Poledouris says. "His support over the past few years has definitely helped me stick with running, and having him actually run with me is an experience I will never forget."
---
---
A vigorous act III
There are moments in almost every run when it feels like such hard work that Poledouris wants to stop. But she pays attention only to the inner voice that says, "Keep going. You can do it."
Over the past 4 years, Poledouris has competed in 5Ks throughout Southern California and in other parts of the world—including Prague, Rome, St. Petersburg and London. She races against herself as well as others. Listening to songs by musicians like Fleetwood Mac and Billy Idol fuels her drive to make each race her fastest.
She recorded her best time so far at the Michael J. Fox Foundation's Los Angeles Fox Trot 5K Run-Walk for Parkinson's Research in March. She finished at 25:12, placing 56th out of 485 runners, 21st among the women and 1st in her age group.
When Poledouris thinks about the future, there is always another race in her sights—including the 2019 National Senior Games in Albuquerque, New Mexico. Her very active Act III is unfolding just as she hoped.
"Parkinson's gave me a gift. It gave me running, and made me more determined," she says. "Maybe I can outrun this disease."
---
Make an Appointment
---
Find a Doctor
Call Us 7 Days a Week, 6 am - 9 pm PT