In His Bones: Myeloma Survivor James Ward
Oct 24, 2022 Victoria Pelham
James Ward was settling into his new San Fernando Valley condominium with his family, filling its rooms with his hearty laugh and stories, when he felt a slight pain in his left side. At first, he figured he slept on it wrong or pulled a muscle during the move. 
The Detroit-native filmmaker and lifelong movie buff had big dreams and little time or reason to dwell. His horror film had recently won a slew of accolades at a Canadian film festival. His youngest daughter had just moved to Los Angeles from Michigan after his successful three-year fight to gain custody. A recent health checkup had gone smoothly.
---
"Be an advocate for yourself because nobody else is going to do it. You've got to speak up."
---
But James' pain persisted, and by summer 2021, it was sharp. He knew something was wrong. He scoured the internet for information—and pushed his primary care doctor for imaging to see what was really happening inside his body. 
An MRI found a small hole in his left ribcage, a marker of plasmacytoma. This rare blood cancer forms in plasma cells and develops into multiple myeloma if the tumors spread.
"That MRI saved my life," he says.
Bone damage
James' plasmacytoma type, in the bone, affects fewer than 450 people each year and is more likely to metastasize, according to the National Institutes of Health. The tumor progresses to multiple myeloma at a rate of 20% to 60% in three years.
The Black community has double the risk of developing multiple myeloma, the American Cancer Society (ACS) notes. Men are also more prone, as are those who have been exposed to radiation or certain chemicals, such as military veterans. Your risk goes up as you age—especially after 65—and if you have a family history of the disease. 
Dr. Robert Vescio, a Cedars-Sinai hematologist-oncologist, says research into hereditary and environmental links is ongoing, but around 10% of people with myeloma have a family tie.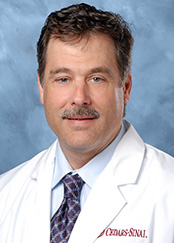 IM Hematology Oncology
Accepting New Patients
Plasmacytomas often cause pain—and sometimes fracture—in the affected bones, such as the ribs, hips, thighs, back vertebrae or, rarely, the skull.
"The bone gets dissolved away by the cancer," Dr. Vescio explains.
As it invades, patients might experience thickening or calcium buildup (hypercalcemia) in the blood and a loss of healthy blood cells. They might be weak, tired, dizzy or more susceptible to bleeding, bruising and infection. 
Diagnosing multiple myeloma
James' primary care doctor referred him to the Multiple Myeloma and Amyloidosis program at Cedars-Sinai, where specialists started him on 10 days of radiation therapy right away to try to kill the tumor. 

James was determined not to give up. 
"Cancer is not the end-all, be-all," he says, adamantly.
Dr. Vescio ordered a more intensive battery of scans, including a bone marrow biopsy and blood test. Doctors look for monoclonal proteins, a unique antibody protein created by myeloma cancer cells, in the blood to figure out if—and how much—cancer is present.
"You don't just get a hole in your rib from nothing," doctors told James.
The exams confirmed that the cancer had already spread through his bone marrow, giving him a diagnosis of multiple myeloma, one of roughly 34,470 new cases diagnosed in the U.S. annually. 
A "Crucial Catch"
X-rays are usually the first step when someone has bone pain, Dr. Vescio says, because they're readily available and most people don't need in-depth MRIs.
But he stresses X-rays are not enough to detect every problem. If you're still in pain or uncomfortable after a medical evaluation, return to your doctor. Keep track of your symptoms and make the most of your time together by preparing beforehand and explaining your symptoms in detail.
In family conversations, James learned his grandmother died from multiple myeloma. She was "old school" and treated her aches with aspirin. By the time it was caught, the cancer had advanced to late stages.
"Be an advocate for yourself because nobody else is going to do it," he says. "You've got to speak up."
That's the message he took to the Los Angeles Rams' Crucial Catch game on Oct. 16—where he was honored alongside 10 other cancer survivors. 
The annual event aims to fight cancer by pushing for early detection and risk reduction. 
---
---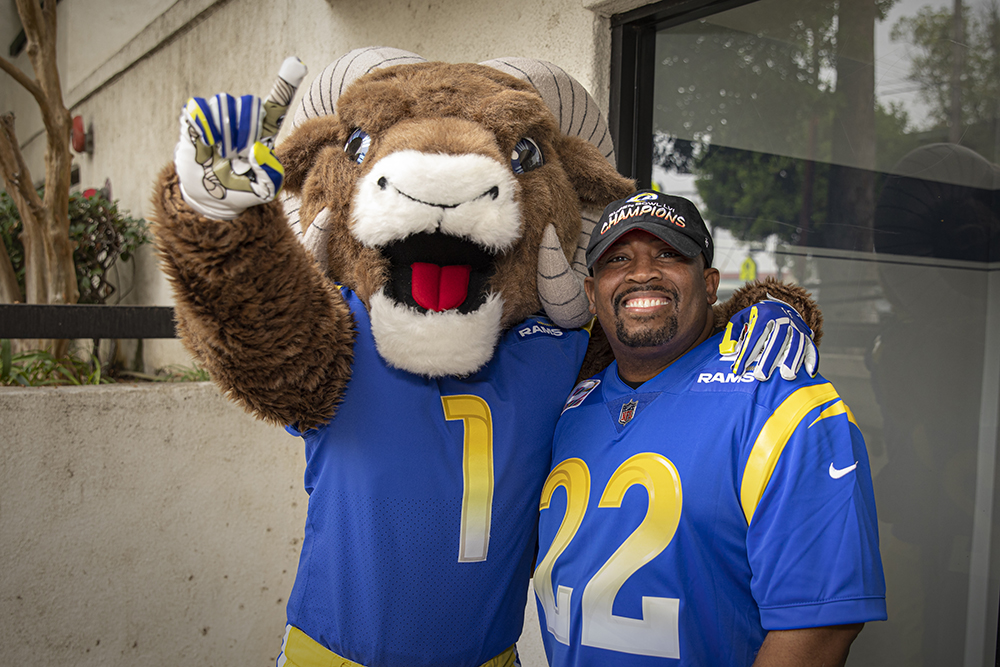 Innovative treatments
Multiple myeloma treatment innovations have revolutionized care—and survival—over the past decade, with three new drugs approved since 2020, says Dr. Vescio. Most of them are immunotherapies that train the body's immune system to target and kill cancer cells.
James' providers gave him a choice: watchful waiting—a new approach to slow-growing cancers that requires consistent monitoring—or undergoing chemotherapy and a stem cell transplant.
James was afraid of needles, but he was even more afraid of the "wait and see" approach. 
Dr. Vescio prescribed weekly cancer-fighting stomach injections and a daily immune-boosting lenalidomide pill. James also took an anti-inflammatory steroid and a bone-protective drug intravenously to counteract bone decay.
"The key is to get rid of the cancer more aggressively at the beginning—hopefully with treatments that aren't too toxic—and then back off with something you can live with," Dr. Vescio explains.
James never got nauseous, but the strong treatments exhausted him and caused severe numbness and pain in his feet. This made moving anywhere in his new home—with its hardwood and stone floors—feel like traversing an obstacle course.
His writing and creativity plummeted, and he felt like he lost himself.
But when it came time for his stem cell transplant in March, James rallied again. If you can't go straight through something, he decided, you find a way to get around it. 
"This is just a roadblock," he says. 
---
---
Newborn cells
For James' transplant, Dr. Vescio used growth hormone injections to increase stem cells—blank slates that can be programmed into a range of healthy cells—and coax them into his bloodstream. After, the medical team collected the stem cells through a neck catheter and froze them in liquid nitrogen. 
James received two high-dose chemotherapy infusions to wipe out existing myeloma, blood and bone marrow cells. 
Next, his providers thawed and transferred the stem cells into a "slushie"-like IV to deliver them back to James. They regenerated his bone marrow in about 12 days.
"My body was like a newborn baby," he says.
That meant relying on caretakers. 
---
---
Brittle bones, strong support
His wife, Tiffany, had been diagnosed early with multiple sclerosis. Watching her—and her fighting spirit—contend with the progressive neurological condition propelled James forward through cancer. 
"I'm doing it for her," he says of his wife of 11 years. 
"It's different when you're the one that needs the help," he adds.
The couple adopted a healthy Mediterranean diet together, and he enrolled in a walking program of at least 1,000 steps per day—sometimes up to 1,500—to aid in recovery.
Trina, his aunt, came from Michigan for a month to look after him.
At Cedars-Sinai, his care team became a "second family" who always respected his wishes.
"James brightens my day whenever I go in to see him," Dr. Vescio says. 
James has remained in remission since December, taking a course of lenalidomide, a bone-strengthening drug, and a recently approved, highly effective immunotherapy shot to ward off relapse. 
His days now start on a stationary bike. In October, James—who goes by J. Writer Ward professionally—shot a proof-of-concept video and will be shadowing a new TV show. At the Rams' Crucial Catch game, he was excited to be face to face with one of his football heroes, Rams quarterback Matthew Stafford.
"The zeal for life is back," he says.
Make an Appointment
---
Find a Doctor
Call Us 7 Days a Week, 6 am - 9 pm PT