Multiple Myeloma Care
We offer comprehensive and compassionate multiple myeloma care at Cedars-Sinai—which U.S. News & World Report consistently ranks among the best hospitals in the nation. Our myeloma specialists have decades of experience and use the latest treatments to provide exceptional care.
---
---
Our Approach to Multiple Myeloma Treatment
Through our Multiple Myeloma and Amyloidosis Program, we provide myeloma care in a supportive environment. Our team of specialists creates individualized treatment plans that consider you and your unique circumstances.
Instead of one doctor, you have a group of experts—including specially trained certified nurse practitioners—committed to giving you the attention you need and deserve. Other highlights of our myeloma care include:
Our team includes experts who specialize in myeloma care. Some of our doctors have been treating patients with myeloma for decades. This expertise means we have the experience and skill needed to provide effective and compassionate care.
The Latest Myeloma Treatments
We offer access to leading-edge treatments for myeloma through clinical trials. Our experts also research topics that may hold promise for improving myeloma treatment, including anti-angiogenesis, vaccines, anti-virus treatments, gene therapy and third-generation bisphosphonates.
Our team includes experts in hematology oncology (the specialty focused on treating blood cancers), spine care, orthopaedic oncology and pain management. They all work together to provide care that covers every aspect of the condition and your health.
What Is Myeloma?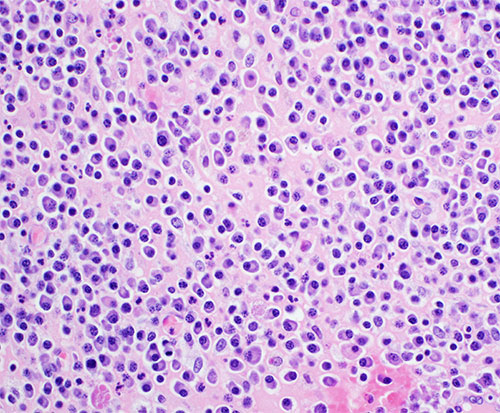 Myeloma is a type of blood cancer. Blood contains white blood cells called plasma cells. Plasma cells are in the soft centers of the bones. Myeloma happens when plasma cells become cancerous (malignant) and form tumors.
When you have one tumor, doctors call the condition plasmacytoma. When there is more than one tumor, doctors call it multiple myeloma.
Multiple myeloma may cause amyloidosis and bone damage. It usually affects the:
Hip bones
Spine
Ribs
Skull
Our Multiple Myeloma Treatments
While there is currently no cure for myeloma, there are many effective treatments. Our blood cancer specialists work with other Cedars-Sinai experts to:
Improve your symptoms
Slow the progression of the disease
Give you long periods when you have no signs of myeloma (remission)
Maintain your quality of life
Treatments include:
Watchful waiting, which involves tracking the disease but no treatment
Symptom management to control infections and anemia or to prevent kidney problems
Chemotherapy and other drug therapies
Surgery to treat bone pain
Have Questions or Need Help?
If you need a diagnosis, treatment or second opinion, call or send a message to the Hematology and Cellular Therapy care team.