A (Mammo)gram of Detection, a Pound of Cure
Feb 15, 2023 Nicole Levine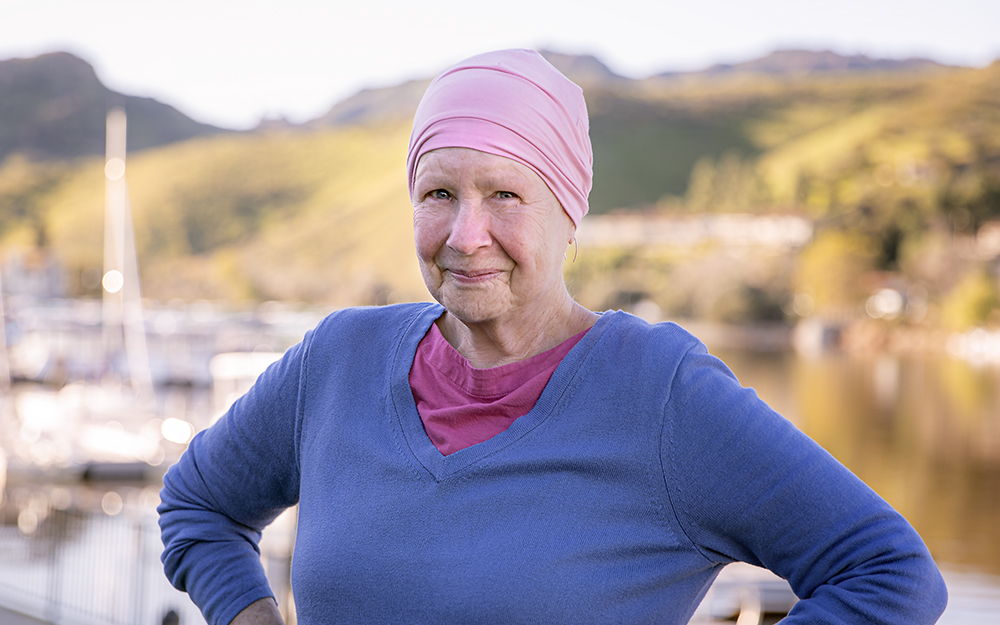 Rescheduling or delaying a cancer screening can be tempting, and Laurel Murray fleetingly entertained putting off her most recent mammogram.
She's diligent about monthly self-exams, and only has ever had one questionable mammogram—and that was more than a decade ago.
"It would have been so easy just to say, 'Well, you know, I don't feel anything in my self-exam, so everything's fine and I can wait until next year,'" says Laurel, a 68-year-old Westlake Village resident. "Luckily, I'm the kind of person who says, 'No, I had better do it now.'"
Her routine mammogram in April 2022 led to additional imaging, a biopsy and a diagnosis of an aggressive form of breast cancer.
Laurel isn't a stranger to surprising plot twists, but for the most part, she's lived them on screen and left them behind: She played Laurie Keaton on the popular soap opera "As the World Turns" for four years in the 1970s.
Laurel wasn't going to let this twist derail her future. She's grateful that her diligence in following her doctors' advice and the technology that recognized the disease before she could feel it herself allowed her to avoid a more serious diagnosis later.
---
"I'm grateful that we found my cancer when we did. I shudder to think what would have happened if I had decided I didn't feel like having a mammogram."
---
The screening
Laurel avoided a cancer screening gap that millions of people have fallen into since the beginning of the COVID-19 pandemic. Americans skipped 9.4 million cancer screenings during 2020 alone, according to a study published in JAMA Oncology.
Cedars-Sinai is investing in multiple strategies for expanding access to screening, as well as providing a seamless path to treatment for patients whose mammograms lead to a cancer diagnosis. A partnership with RadNet, a network of outpatient imaging centers, is bolstering these efforts.
"Breast cancer screening requires a joint effort between health systems and imaging centers that offer robust and efficient cancer screening in our communities," says Dr. Robert Figlin, the Steven Spielberg Family Chair in Hematology-Oncology and deputy director of Cedars-Sinai Cancer.
"The relationship between Cedars-Sinai Cancer and RadNet expands access to screening and helps patients and their families when they need additional diagnostic services or treatment."
---
---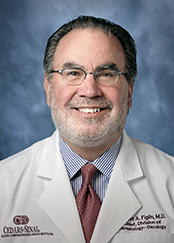 IM Hematology Oncology
Accepting New Patients
Stopped in her tracks
Laurel was on her usual daily walk with a good friend when she took the call from her primary care doctor following her biopsy.
"She said, 'My friend, I do not have good news for you,'" Laurel says. "It stopped me in my tracks because I wasn't expecting that."
She next met with a surgical oncologist at Cedars-Sinai Cancer in Tarzana, and they developed a treatment plan. She left that first appointment with plans for an MRI and a meeting with a medical oncologist and a genetic counselor.
On July 1, Laurel underwent surgery to remove the cancerous tissue and four lymph nodes. Further testing of the tumor revealed she has triple positive breast cancer, meaning tumor cells grow in response to estrogen, progesterone and a growth-promoting protein called HER2. These cancers tend to spread quickly but are generally very responsive to medical treatment.
---
---
Moving on the path forward
Following her surgery, Laurel received chemotherapy every week for 12 weeks, which was followed by four weeks of radiation. Every three weeks, she is now receiving infusions that target the cancer cells' HER2 receptors.
The call informing her of her diagnosis was the low point of her experience with breast cancer, but the follow-up appointment after her surgery was uplifting.

"Everything was caught so early that the actual cancer was only a few millimeters across," she says.
---
---
Grateful for early diagnosis
While her treatment continues, Laurel feels the most difficult parts are behind her. She's settling back into the normal rhythm of life on the border of Los Angeles and Ventura counties, where she lives with her husband.
She moved from New York to Los Angeles in 1979. After her soap opera work, she was a stand-in for sitcoms during their rehearsals, replacing child actors who could only work limited hours. One of her favorite memories from that time was when, while standing in for a 14-year-old character, she got to sing a duet of "Silent Night" with soul legend Gladys Knight.
Now she looks forward to creating new memories, like playing with her first grandchild, whom her family is expecting in the spring.
"I'm grateful that we found my cancer when we did," she says. "I shudder to think what would have happened if I had decided I didn't feel like having a mammogram, especially with an aggressive cancer. Now I bug all my friends. I ask them when they had their last mammogram and tell them when they need to make an appointment."
Make an Appointment
---
Find a Doctor
Call Us 7 Days a Week, 6 am - 9 pm PT