#LittleDodgerFan Alika Throws Out First Pitch
Aug 04, 2018 Cedars-Sinai Staff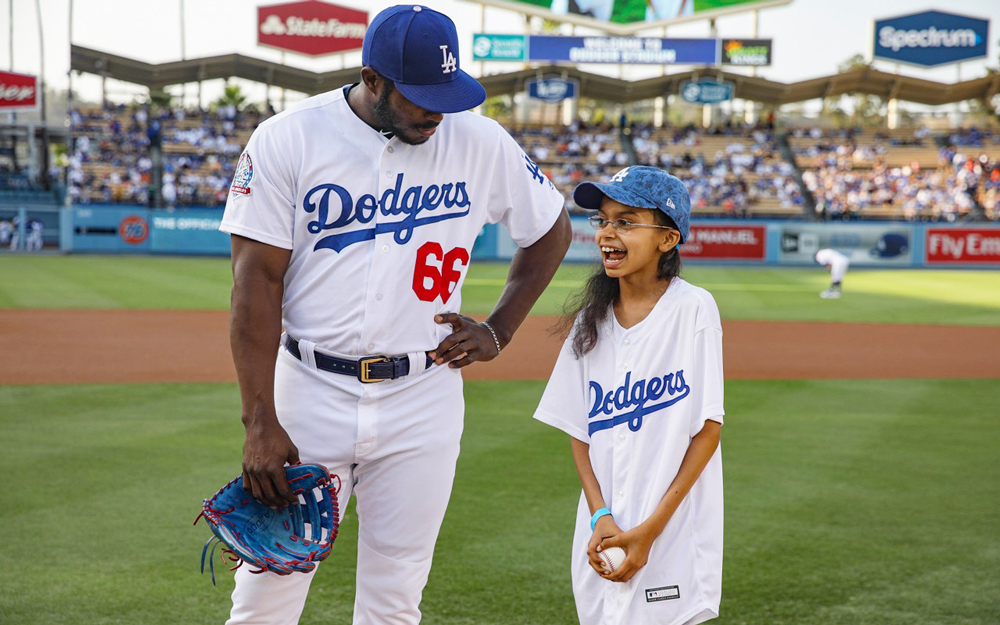 Over the weekend, 9-year-old pediatric cancer patient Alika Mallett had the time of her life when she was invited to throw out the ceremonial first pitch during #LittleDodgerFan Day at Dodger Stadium.
---
"This will be the memory of a lifetime for all of us."
---
Alika, who is currently undergoing treatment for a brain tumor, was joined on the field by her parents, Leah and Justin. More than 20 other family members, including her 3 siblings, watched proudly from the stands.
"She's really been looking forward to this. She's had it on her calendar and she's been practicing her throw," said Chris Budge, Alika's aunt. "This will be the memory of a lifetime for all of us."
Dr. Shivani Upadhyay, Dr. Fataneh Majlessipour, and Dr. Charles Simmons, all members of Alika's care team, joined her on the field as she threw the pitch to her favorite player, Yasiel Puig.
---
"People ask how I can work in pediatric cancer. It's patients like her, that are so resilient, that make what we do so special."
---
Alika and Puig first met earlier this year, when Puig let pediatric patients from Cedars-Sinai shave his head to raise awareness for childhood cancer. Alika and her siblings were there to join in on the fun and even did some of the barbering.
Alika won over the crowd at Dodger Stadium Saturday night with her infectious smile. She even got to start the game with Vin Scully's famous words: "It's time for Dodger baseball!"

---
---
Alika, whose name means "beautiful butterfly" in Hawaiian, was first diagnosed with a brain tumor at age 2. She was airlifted from her hometown to Cedars-Sinai and underwent her first surgery the next day. Her tumor came back when she was 4, and again at 8 and 9. Now she's being treated with chemotherapy and radiation.

"She's one the toughest patients I've ever seen, she never lets her situation define her," says Dr. Upadhyay. "She's very determined."

Make an Appointment
---
Find a Doctor
Call Us 7 Days a Week, 6 am - 9 pm PT