Dodgers Superfan Elysa Throws Out First Pitch
Jul 30, 2017 Cedars-Sinai Staff
Yesterday, 6-year-old Cedars-Sinai leukemia patient and third-generation Dodgers fan Elysa Shapiro had the thrill of a lifetime when she not only attended her very first Dodgers game, but also got to throw out the first pitch ahead of Sunday's game.
As part of Cedars-Sinai's #LittleDodgerFan Day at Dodger Stadium, Elysa was joined on the field by her parents, Howard and Nancy, and her Cedars-Sinai physicians Dr. Shivani Upadhyay and Dr. Charles Simmons.
Elysa's parents describe their daughter as a Dodgers superfan.
"She loves the team," said Howard. "Even when she was younger, she would do home run trots around the living room."
"This is so surreal," said Nancy. "For her to be at the stadium for her very first game and throwing out the first pitch, it's incredibly amazing and wonderful that the hospital wanted to do this for us."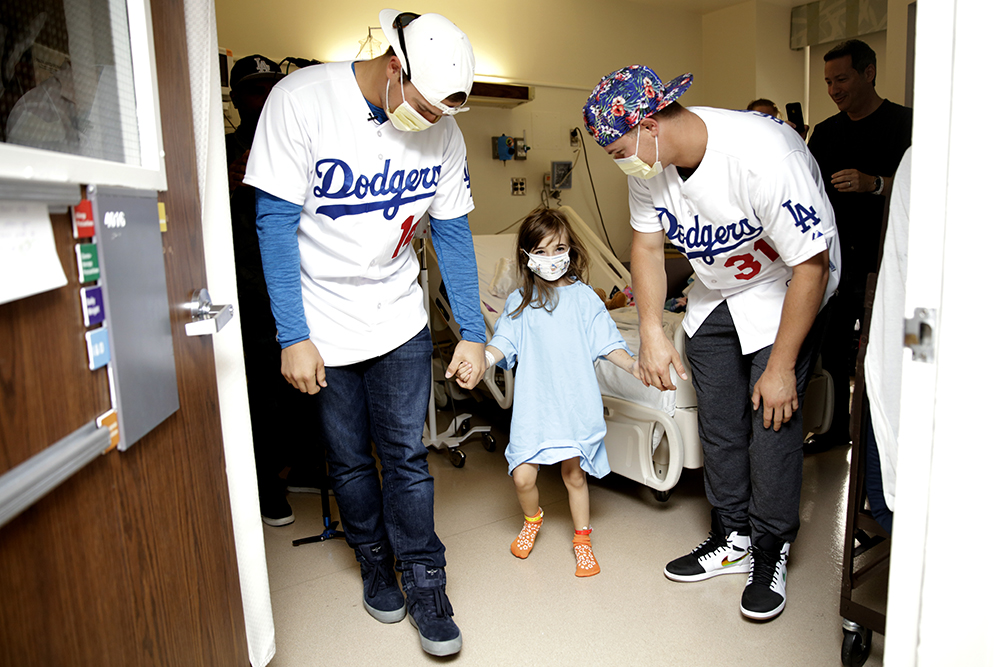 Elysa was first diagnosed with leukemia last July. During her first phase of treatment, she was hospitalized at Cedars-Sinai for more than a month. A day after she was admitted, Dodger Clayton Kershaw visited the hospital and spent time visiting with Elysa. She later got another surprise when Dodgers Joc Pederson and Kike Hernandez—her favorite player—stopped by for a visit.
Elysa, who had refused to get out of bed, decided Kike and Joc's visit was motivation to go for a walk. With a player on each arm, Elysa joyfully led the players to her favorite spot, the playroom.
"They were amazing with her," said Nancy. "She's wildly in love with Kike now; she wants him to be her big brother."
On Sunday, Elysa reconnected with her Dodger friends. Joc caught her first pitch and Kike made sure to visit the Shapiros before starting in the game. Dodgers manager Dave Roberts also came by to say hello to the family.
"This was the best day of my life!" exclaimed Elysa, while she enjoyed her first Dodger Dog.
To top off the experience, Elysa got to say Vin Scully's famous words before the game started: "It's time for Dodger baseball!"
"It was fun to see her just so excited," said Dr. Upadhyay, Elysa's pediatric oncologist. "It just shows the resilience of kids."
Elysa, who loves Meghan Trainor and Taylor Swift, is getting ready to start first grade in the fall. Nancy said she's doing really well with her treatments and is looking forward to more Dodgers games in her future.
---
Make an Appointment
---
Find a Doctor
Call Us 7 Days a Week, 6 am - 9 pm PT