Supporting LGBTQ+ Youth: Tips for Parents and Family
Jun 03, 2019 Cedars-Sinai Staff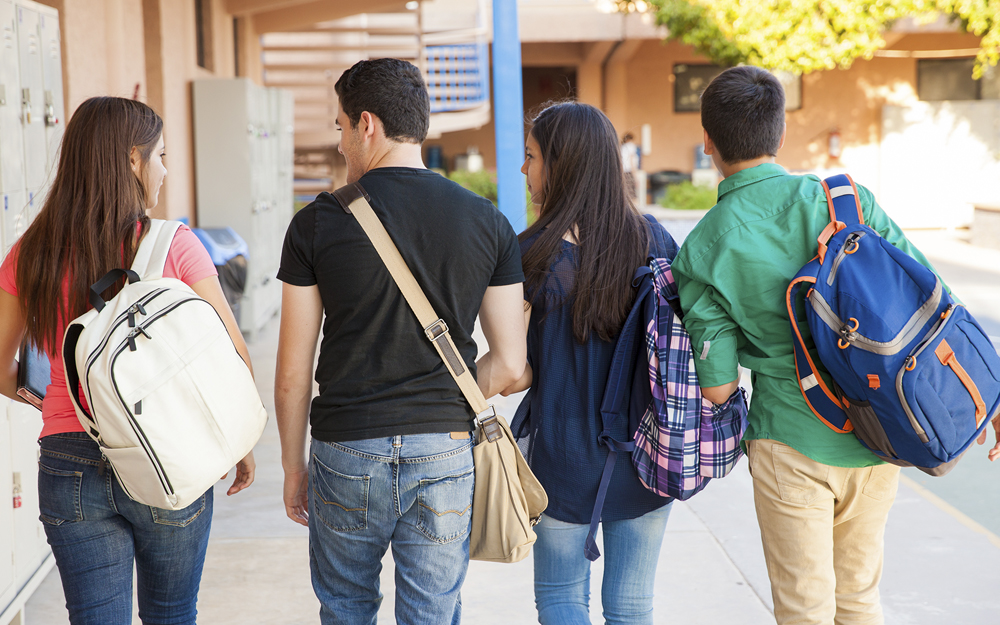 The self-esteem of kids and teens is often delicate and a careless word or action can have a significant negative impact.
This is true of all children, and lesbian, gay, bisexual, transgender, queer, or questioning (LGBTQ+) youth often have it especially tough.
---
---
LGBTQ+ kids are at higher risk of being the target of bullying and discrimination, and they may face rejection from some of the most influential people in their lives: friends, teachers, family members, and parents.
If you're in one of those roles for an LGBTQ+ child or teen, you're in a great position to support them, says Jonathan Vickburg, a mental health supervisor and counselor with the Cedars-Sinai Share & Care program.
"We can all learn more," Jonathan says. "We need to be open to educating ourselves. Coming from a place of curiosity and empathy is the best stance for approaching these issues."
He offers this advice for supporting LGBTQ+ kids:
---
"Step into their world in order to have an empathic and connected conversation."
---
Ask questions first
If something comes up on TV or a child comes to you with a video they found online, ask them what they think first before offering your opinions. This is especially effective with teenagers.
"If the parents or adults start by dominating the conversation, it shuts down the teenager," Jonathan says.
"Step into their world in order to have an empathic and connected conversation."
Seek support for yourself
Educate yourself about sexual orientation and gender.
Know that it's not a phase and it's not something that needs to be changed. Embrace your child's sense of self.
If you're the parent of an LGBTQ+ child, search out support and education when you need it.
Resources to explore:
Words matter
Be inclusive in your language as much as possible to show your kids what supporting LGBTQ+ people looks like.
One example: Never use "gay" in a disrespectful manner and don't tolerate it from anyone at any age.
You can respond to hurtful language by saying something like, "It doesn't matter who said it—it's not OK to use disrespectful language."
Find opportunities to say positive things about LGBTQ+ people
LGBTQ+ people and relationships are becoming more commonly represented in pop culture, including in shows and cartoons for kids and teens.
Even if you're not sure your child is LGBTQ+ or you know they aren't, use these opportunities to say something supportive and kind.
---
---
React to "ew" by teaching empathy
Little kids are likely to react to new things by saying "ew," including new foods, different cultures, or different sexualities.
The answer is to have a conversation. Jonathan will ask kids he's working with if anyone has ever said "ew" to something they did or something they liked and how that made them feel.
"Focus on how we can appreciate the differences in others and not judge them," he says.
Get involved
Push for your school to have a gay-straight alliance or gender sexuality alliance.
Advocate for inclusive sex education.
Stay in contact with teachers so you know when issues arise on campus.
---
---
Recognize and respond to changes in your child
Abrupt changes in behavior have a cause. "If all of a sudden, they're closing their door and not talking to you anymore, something has changed," Jonathan says.
Resist the urge to lecture and instead create opportunities for positive interactions, such as a family dinner together.
Avoid telling them they "shouldn't" feel a certain way and instead validate their feelings with empathetic statements such as, "It sounds like what you're going through is extremely painful."
If a child is withdrawing from you and friends and has lost interest in things they once loved, you might have reason to be more concerned.
If you ever suspect your teen feels suicidal, address it immediately and calmly. Let them know you love them and consult with a professional to get support.
If you or your teen are considering self-harm or need to talk, there are resources available to help. Call the National Suicide Prevention Lifeline at 1-800-273-TALK (1-800-273-8255) or Teen Line at 1-800-TLC-TEEN (1-800-852-8336).
---
Share & Care is just one of the ways Cedars-Sinai is working toward a healthier Los Angeles. Learn more about our community benefit programs.
Make an Appointment
---
Find a Doctor
Call Us 7 Days a Week, 6 am - 9 pm PT