Raising Awareness of Leukemia in the Latinx Community
Apr 15, 2022 Victoria Pelham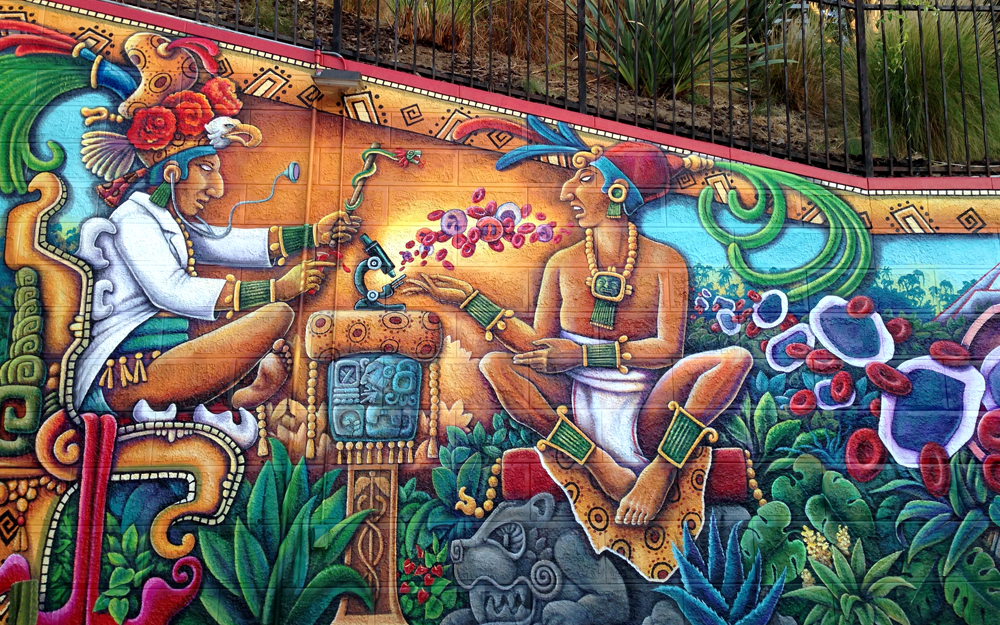 On one end of the painting, a Mayan shaman in traditional attire sits atop his throne, wielding a modern doctor's stethoscope, microscope and vial of blood. He carries a medical staff wrapped in Quetzalcoatl, an ancient "feathered serpent" god revered by the indigenous peoples of Mexico and Central America.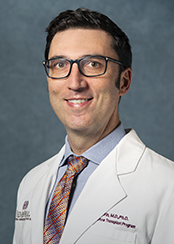 IM Hematology Oncology
Accepting New Patients
Across from him is his patient in the same Mayan cultural dress and jade jewelry. Between the two, healthy white blood cells and lymphocytes spill out of the doctor's tube—"what you're supposed to see in the blood stream," clarifies Cedars-Sinai hematologist-oncologist Dr. Noah Merin.

---
"Leukemia has a big impact on Latinos. It hits young people in the prime of their life."
---
It's a somber moment. In focus on the other side of the painting, the patient's blood vessels reveal massive leukemia cells known as lymphoid blasts.
The mural adorns a retaining wall in a predominantly Latino corner of Lincoln Heights in front of Dr. Merin's house. He commissioned it to call attention to a cancer that disproportionately affects the Latinx community—but is treatable if caught in time and with appropriate care.
---
---
Leukemia rates among Latinos
Two types of leukemia—acute lymphocytic (ALL) and acute promyelocytic (APL)—are more widespread in Latinos and more likely to be diagnosed younger, according to a Texas Tech University Health Sciences Center review. Among people under the age of 20, Hispanics have the highest rate of leukemias of all ethnicities—in children, by more than 20%, cancer organizations note. 
Latinos also face survival disparities: A separate study found 10-year survival for adult Hispanic patients with ALL was 28%, compared with 39% for non-Hispanics. For APL, that figure was 69% versus 76% of their counterparts.
"Leukemia has a big impact on Latinos," he says. "It hits young people in the prime of their life. It's a fatal disease, but it's curable with a stem cell transplant." 
Researchers have found genetic and genomic mutations linked to ALL in people of Latino descent, although its prevalence in the Latino community could also be environmental. Risk factors include certain jobs such as farmers involved in cattle ranching, dairy production and herbicide use and exposure to some pesticides. Epidemiological studies are ongoing.
---
---
Depicting blood cancers' impact on Latinos
Dr. Merin, whose practice is 50% Spanish-speaking, wanted to merge modern medicine with Mayan iconography reflecting Latin American roots. He tapped neighbor and artist Bruce Silkwood for the piece, painted in a three-dimensional style known as trompe l'oeil. 
In the mural, the Mayan doctor also discusses the patient's symptoms, which include fatigue, bleeding gums, easy bruising, weight loss and night sweats, and diagnosis them with leukemia, mirroring Dr. Merin's own conversations with Latino leukemia patients.
---
---
Leukemia treatment revolution
Treatment has dramatically improved in recent years with the introduction of cutting-edge stem cell science, Dr. Merin emphasizes. Latino patients no longer have to rely on difficult-to-find blood and bone marrow donors, which were especially challenging for Latino patients. 
Cedars-Sinai's Blood and Marrow Transplant Program offers transplants replacing blood cancer cells with hematopoietic stem cells (from inside either the bone marrow or blood) that can generate every kind of blood and immune cell. 
One recent study found access to academic medical center treatment helped to even outcomes between Hispanic acute leukemia patients and their counterparts. But the latest therapies aren't available everywhere.
If diagnosed with leukemia, you will need to select a provider or choose a treatment center for your care plan. 
---
---
How to seek out specialty care
The Leukemia and Lymphoma Society points out that because of its rare nature, leukemia patients benefit from the care of a hematologist-oncologist, who specializes in blood cancer treatment, or pediatric hematologist-oncologist for children.
You can find a specialist by asking your primary care provider or insurance for a referral, but make sure to also check with your health insurance plan to find out what they cover. Some plans require a primary care referral for a specialist consultation. 
You can also choose a treatment center before a provider. The LLS recommends selecting a Joint Commission-accredited hospital with the ability to offer the treatments you need. A center that is university-affiliated is more likely to offer the latest, leading-edge cancer treatments, have a team of support staff and a unit offering stem cell transplantation, the LLS notes.
"The awareness is to help people recognize they need to go to a specialist and be seen at a specialty center that can perform curative therapies," Dr. Merin says.
---
Tags:
Make an Appointment
---
Find a Doctor
Call Us 7 Days a Week, 6 am - 9 pm PT