Leukemia Care
With the right treatment, many people with leukemia go on to live long, fulfilling lives. Our experts include specialists with decades of experience in leukemia care. They work with our dedicated team of certified nurse practitioners, pharmacists and other skilled health professionals. Together, they work to provide great outcomes and care experiences for patients.
---
---
Our Approach to Leukemia Care
People turn to Cedars-Sinai for expert, skilled care for leukemia. At Cedars-Sinai, you'll find:
We have the experience and expertise to get you the right diagnosis and treatment plan. Our team is with you every step of the way, from your first appointment through treatment and recovery.
Our team works together to find the right treatment plan for you. We consider the type of leukemia you have, your health and your preferences to tailor an effective care plan that is appropriate for you.
We work with other health professionals throughout Cedars-Sinai to provide you with whole-person care throughout your time with us.
What Is Leukemia?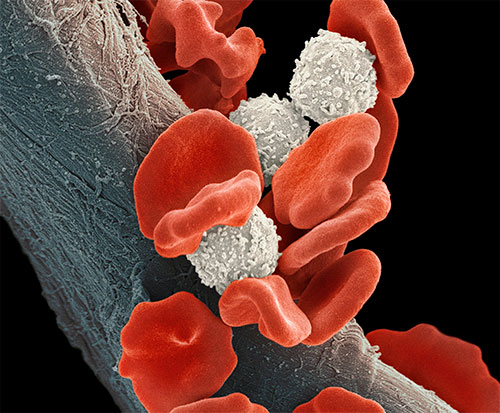 Leukemia is a cancer that usually comes from blood-forming cells that live in the bone marrow. The large bones in your body contain bone marrow. Bone marrow makes almost all of the cells in your blood.
Acute leukemia cells are called blasts. They appear similar to normal stem cells that reside in the bone marrow. In patients with acute leukemia, blasts grow and divide but they do not mature correctly. The leukemia cells then crowd out and replace normal cells.
Chronic leukemia cells resemble normal blood cells, but they can accumulate in large numbers in the blood, bone marrow and spleen.
There are four major types of leukemia. The type is determined by which cells the leukemia affects. The leukemia types are:
Acute lymphocytic leukemia (ALL)
Acute myelogenous leukemia (AML)
Chronic lymphocytic leukemia (CLL)
Chronic myelogenous leukemia (CML)
Our Leukemia Treatments
Oral medications (medications you take by mouth)

Antibody therapy (type of immunotherapy using artificial antibodies—immune system proteins—to kill cancer cells)



CAR T-cell therapy (new type of immunotherapy that programs your immune system to better recognize and fight cancer)
Have Questions or Need Help?
If you need a diagnosis, treatment or second opinion, call or send a message to the Hematology and Cellular Therapy care team.