Parkinson's: Improving Care for Patients in the Hospital
Mar 18, 2022 Cedars-Sinai Staff
Patients with Parkinson's disease are rarely hospitalized for their condition, but many are admitted to Cedars-Sinai for unrelated health concerns. In the hospital, Parkinson's patients are at higher risk for complications because of their complex needs. Deviations from their individualized, time-sensitive medication regimens can result in longer, unnecessary stays.
Cedars-Sinai is taking extra care to make sure patients with Parkinson's fare well and go home as soon as possible—starting with a new alert system that notifies care teams about each patient's prescriptions and unique medication schedules.
Dr. Michele Tagliati, the Caron and Steven D. Broidy Chair in Movement Disorders and director of the Cedars-Sinai Movement Disorders Program, says the collaborative effort further strengthens Cedars-Sinai's commitment to patient care.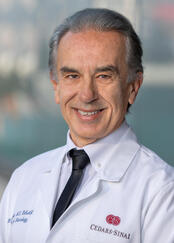 Neurology
Accepting New Patients
"Our philosophy is to make zero mistakes," Dr. Tagliati says. "We want to make sure no one is suffering unnecessarily and nobody falls through the cracks."
Every year, about 1,200 patients with Parkinson's are admitted to Cedars-Sinai for illness or scheduled procedures. Many of these patients rely on personalized, carefully honed drug regimens to regulate dopamine and control their Parkinson's symptoms.
---
"Our philosophy is to make zero mistakes. We want to make sure no one is suffering unnecessarily and nobody falls through the cracks."
---
The timing of these drugs is crucial: If a dose is missed, in as little as a few minutes, Dr. Tagliati says, a patient can develop tremors or become delirious, stiff, clumsy or slow, making them prone to dangerous falls.
The new medication management system, paired with a hospital-wide education and training program, notifies care teams each time a patient with Parkinson's is admitted. Pharmacy residents contact the patient's family or care facility to find out precisely when the patient should receive their medication, and the residents then share this crucial information with the patient's nurses, physicians and caregivers.
"Especially when patients are admitted for an emergency like appendicitis, their care team may not even know they have Parkinson's," Dr. Tagliati says. "Staff whose expertise is in surgery may not have an appreciation for the need to give medication at exact intervals."
---
---
The system also informs care teams whether each patient has a neurologist and whether their specialist knows they are hospitalized. If not, a physician from the Neurology team will monitor the patient's care and offer immediate support.
Dr. Tagliati says the new effort is unique on the West Coast and hopes eventually to publish outcomes data to help guide other institutions in improving care.
"Cedars-Sinai is really showing we have the ability to put bring our different expertise together for the benefit of our patients," he says. "We're leading by example and hoping other centers may be able to eventually learn from our experience."
Tags:
Make an Appointment
---
Find a Doctor
Call Us 7 Days a Week, 6 am - 9 pm PT