How Supportive Care Medicine Helps Patients
Dec 03, 2021 Carrie St. Michel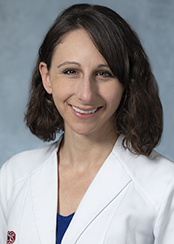 "When someone is diagnosed with a serious neurological condition, their whole world changes in an instant. While we may not be able to cure that condition, we can preserve quality of life by preventing or managing their symptoms, provide emotional and spiritual support to them and their family, and help them plan for what comes next. That's precisely what neurology supportive care medicine does," says Dr. Jessica M. Besbris, director of the recently launched Neurology Supportive Care Medicine Program at Cedars-Sinai.
Dr. Besbris further describes neurology supportive care medicine as "whole-person and whole-family care that's designed to provide the best medical care that matches patients' preferences and helps them to live their best lives."
This approach to care, says Dr. Besbris, is sometimes confused with hospice care, which is significantly different. "Hospice care is applied exclusively when someone is felt to be in the last months of life, and life-prolonging therapies are no longer available or desired. Hospice is intended to be end-of-life care and the primary focus is on providing comfort." Supportive care medicine, Dr. Besbris adds, is provided throughout the course of illness, often at the same time as life-prolonging therapies.
---
"While it's challenging to walk along a patient's journey through a serious illness, it's also incredibly rewarding"
---
The neurology-supportive-care connection
Early in her medical training, Dr. Besbris was introduced to the principles of supportive care medicine, also known as palliative care—an introduction that changed the course of her career.
"There are many neurological conditions that are progressive and have a profound impact on patients' quality of life, their personhood, their ability to function and their longevity. Supportive care medicine can play a positive role in all of these areas, so it seemed to me like such an obvious marriage of two subspecialities and I saw it as the best way I could serve neurology patients," Dr. Besbris explains.
The Neurology Supportive Care Medicine Program was created for patients diagnosed with serious neurological diseases and conditions, including:
---
---
Meeting neurology patients' unique needs
Dr. Besbris works closely with all members of a neurology patient's care team.
"My role isn't to take the place of a patient's primary neurologist, who still plays a vital role in patient care throughout illness. I'm one extra layer of support and my role is to augment that care," says Dr. Besbris. "I focus on the things referring doctors have said they need help with, and also on the things that are the highest priority to the patient."
---
---
Patients with serious neurologic conditions often have unique needs as they may lose their ability to communicate, motor and cognitive skills can be impaired and behavioral changes may occur. The Neurology Supportive Care Medicine Program's services are designed to address these challenges:
Symptom management—A wide array of symptoms and side effects can be managed, including agitation, anorexia, anxiety, constipation, depression, difficulty breathing, difficulty sleeping, dyspnea, fatigue, irritability, mood changes, nausea, pain, poor appetite, psychosis, sialorrhea, spasticity and trouble eating.
Emotional and spiritual support—Serious neurologic illnesses are extremely stressful for patients and patients' loved ones. The Neurology Supportive Care Medicine team has resources and tools to help all parties navigate these inherent difficulties.
Care planning—The Neurology Supportive Care Medicine team can assist patients in designating a healthcare agent who can act on their behalf and documenting treatment preferences.
"While it's challenging to walk along a patient's journey through a serious illness, it's also incredibly rewarding," Dr. Besbris says. "To be able to be the person who understands what's important to the patient and to know you've been able to make a difference is very meaningful, and I'm truly grateful to be in a position to help in this way."
---
Tags:
Make an Appointment
---
Find a Doctor
Call Us 7 Days a Week, 6 am - 9 pm PT