Healthnetwork Foundation Recognizes Cedars-Sinai Providers
Feb 05, 2021 Cedars-Sinai Staff
As part of its commitment to patient care, Cedars-Sinai works with a range of partners to make it easier for people to get the level of attention they need.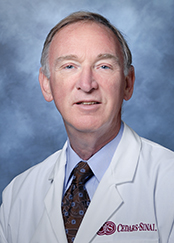 One of those partners, Healthnetwork Foundation, recently honored Richard A. Lewis, MD, and Cecilia Patino, RN, with an Exceptional Care Award. Healthnetwork is a unique program that connects busy executives with top hospitals nationwide to provide streamlined care. As a global business hub, Los Angeles attracts many international executives, and Cedars-Sinai is positioned to offer them the health services they need—from physical exams to specialized care for acute or chronic concerns.

Dr. Lewis, a neurology expert, whose research focuses on neuromuscular disorders, ALS, inherited neuropathies, CMT, inflammation neuropathies (GBS + CIDP) and myasthenia gravis, received the Healthnetwork 'Foundation's Service Excellence Awards, which is presented annually to ten physicians who have demonstrated a high level of integrity and compassionate care to the network's members.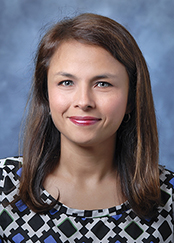 As an international clinical coordinator, Cecilia helps Healthnetwork's members access Cedars-Sinai's world-class care. "Healthnetwork is a great organization," she says. "Besides making sure business leaders get care without delay, they help secure funding for medical research." She describes the program as a win-win since it is about both healthcare and philanthropy. "Business leaders have unique schedules and requirements, and Cedars-Sinai and Healthnetwork understand this," she adds. "We mobilize quickly to make sure these patients' needs are met." Cecilia's job requires great people skills as well as the ability to organize lots of sensitive material. Time is also of the essence.

Once Healthnetwork refers a patient to Cedars-Sinai, Cecilia secures the necessary permissions, contacts the patient as well as their doctors and previous hospitals, and compiles medical records—including imaging and lab tests. "Sometimes, Healthnetwork will request a specific doctor, and we make that happen as long as it's in the patient's best interest," she says.
The team coordinates the patient's appointments and helps locate accommodations, drawing on their relationships with local hotels and executive apartments. "I was so touched when I got the Healthnetwork award," says Cecilia, who has been with Cedars-Sinai since 2013. "I'm committed to giving patients the best possible experience, and it's meaningful to have that recognized."
Tags:
Make an Appointment
---
Find a Doctor
Call Us 7 Days a Week, 6 am - 9 pm PT