Faces of Cedars-Sinai: Robot Service Tech Robert Anchondo
May 25, 2020 Agata Smieciuszewski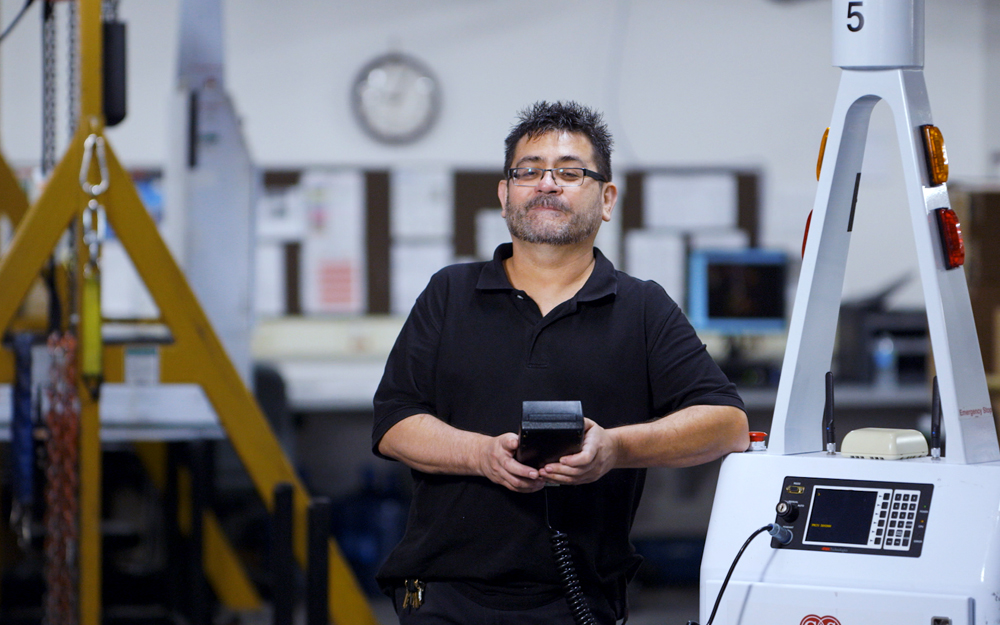 At Cedars-Sinai, 28 robots, or automated guided vehicles, carry surgical supplies, linens, food and waste on special floors throughout the hospital. 
We chatted with Robert Anchondo, the service technician in charge of programming and maintaining the robots, to learn more about his unique job and his life outside of work.
---
"My advice for people at home is to just stay focused, because it's so easy not to stay focused when you're at home—that's the hardest part."
---
What does an average day look like for you?
Robert Anchondo: My main job function is to maintain the 28 robots at Cedars-Sinai. They're self-guided, with batteries, sensors and an interface. They work off of targets on the walls, and it's my job to ensure all parts are working together in order to keep things moving throughout the hospital.
---
---
How has COVID-19 affected your job?
RA: With less surgeries happening during COVID-19, we're dealing with much less surgical supplies moving around the hospital.
I also have to make sure these vehicles are disinfected before I work on them—that's just a given. But now there's an extra awareness with equipment and working with crew.
I work alone in the maintenance shop, but there's a crew that helps oversee the system from a different area of the hospital. We're all making sure that we're as safe as possible by wearing masks and taking the extra step of cleaning the interfaces on the robots.
Do you have any tips for people who are working at home for the first time?
RA: My advice for people at home is to just stay focused, because it's so easy not to stay focused when you're at home—that's the hardest part. I also make sure to stick to my normal schedule.
---
---
Outside of work, do you have any hobbies that you really love doing?
RA: I do, but we're kind of closed in right now—everybody is. But usually I really like to go camping, especially in Northern California. I love going to El Capitan beach. I like to ride my bicycle and stay fit as much as possible.
At home, I'm basically a robot nut, so I like to research a lot of new stuff about robots and learn about what's out there and what's new. I also like to cook and socialize, so it's hard not to be able to do that right now.
Are you from L.A.?
RA: No, I'm from southern New Mexico. All my family is still there. I wanted to explore and wound up in the military. Then I went back to New Mexico for a while, and then to L.A. 13 years ago. I've always liked it here.
What's your favorite part of living here?
RA: We're beach people—I love Venice Beach, Zuma Beach, Will Rogers Beach. 
I spend a lot of time exploring restaurants in Studio City, where I live. I love Mexican food. My favorites are Tito's Tacos on Washington and Cactus Taco in Studio City.
What motivates you at work?
RA: If I can come in here, make a difference, keep things running and get a sense of accomplishment and then go home and enjoy life—that's a good setup, because not everybody always gets that lucky.
Tags:
Make an Appointment
---
Find a Doctor
Call Us 7 Days a Week, 6 am - 9 pm PT