Faces of Cedars-Sinai: Jazmine Victoria, ER Care Coordinator
Sep 20, 2019 Cedars-Sinai Staff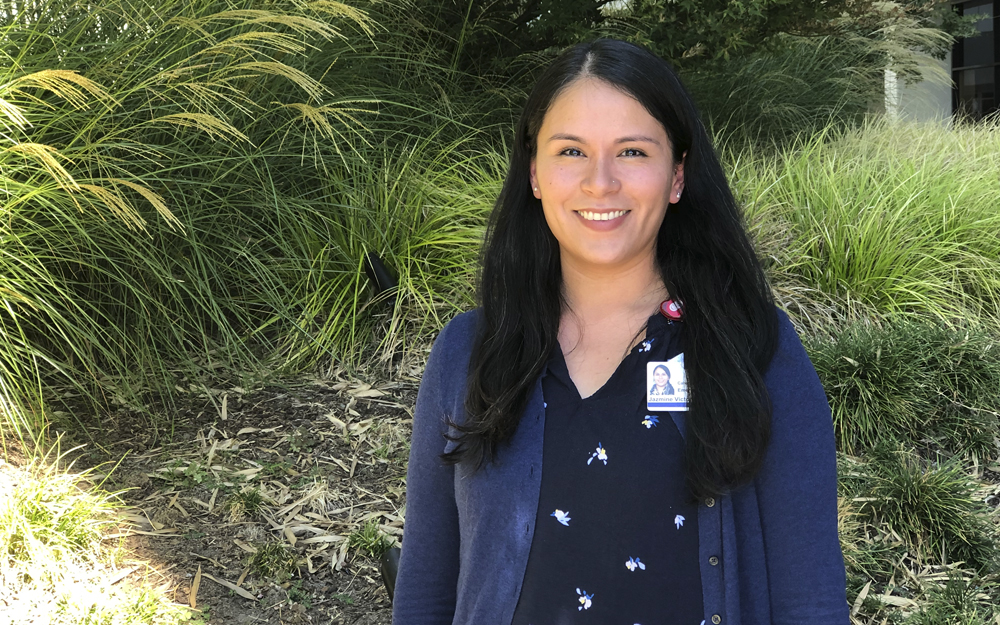 Meet Jazmine Victoria!
As a care coordinator for the Ruth and Harry Roman Emergency Department, Jazmine can make as many as 100 calls a day to patients, doctors' offices, and insurance companies.
She also works behind the scenes to coordinate necessary follow-up care for patients discharged from the ER.
---
"Being in the ER can be tough for patients but it helps to have someone advocating for their ongoing health needs."
---
Her primary goal is to increase access to healthcare by connecting patients with primary and specialty medical providers as well as community resources.

When she's not at work, the Boyle Heights native is studying epidemiology—an area of public health that works to control and prevent disease. She aspires to work for the Centers for Disease Control and Prevention (CDC) as one of its "disease detectives."
We sat down with Jazmine to discuss her current role and what's inspired her future career.
What is your day-to-day like?
Jazmine Victoria: I start my day by going through the patient-referral requests from the night before and early morning. I then prioritize the requests, go over the patients' medical histories, and look at the healthcare needs for each individual patient.
For example, I coordinate with the patient's doctor to get specialist referrals or connect patients to primary care doctors or health insurance. Once I get my plan in place, I start calling people. 
---
---
How do you create relationships with patients you don't see in person?
JV: Being a good listener and asking the right questions can go a long way in my line of work.
Even though I don't physically see every patient, I do get a sense of who they are by talking with them over the phone.
What do you love most about your job?
JV: I love that I can help people get the care they deserve.
Being in the ER can be tough for patients but it helps to have someone advocating for their ongoing health needs.
Where does your passion for epidemiology come from?
JV: After college I completed a 2-year fellowship with the CDC's Public Health Associate Program. I was able to work in several public health areas.
I spent a year working with the communicable disease program alongside epidemiologists and was immediately drawn to that type of work.
My current job requires me to be inquisitive and a good problem-solver—important skills in the field of epidemiology.
---
---
What are some of the best compliments you've received at
Cedars-Sinai

?
JV: A woman who I helped gave me homemade tortillas and chicken tamales. I made quesadillas with the tortillas. They were delicious!
Another time, someone called me a diamond. People are just really grateful and sweet.
Do you have any hobbies?
JV: I love singing while playing my black acoustic steel-string guitar. It really helps when I'm feeling overwhelmed from working and going to school full-time. 
What's the first song you learned to play on the guitar?
JV: Esto es lo que soy by Jesse & Joy. The first time I heard the song I was immediately drawn to the singer's style. There's a lot of emotion behind her voice.
Then I paid attention to the lyrics, which are about empowerment. The singer is saying that she wants to be loved for exactly who she is. The strumming pattern sounded like something a beginner would be able to play… all reasons that made me want to learn that song and pick up a guitar.
---
---
Jazmine's facts of life:
Favorite ER show: "Nurse Jackie." 
What she avoids after hearing why people are in the ER: "Scooters! I'll never get on them." 
Hero: "My mom. She taught me to be independent and a hard worker. Thanks to her I'm able to keep up with the high demands of this job!"
Favorite place to eat in LA: "King Taco! Their red salsa is delicious!"
Tags:
Make an Appointment
---
Find a Doctor
Call Us 7 Days a Week, 6 am - 9 pm PT