Faces of Cedars-Sinai: Nurse Celina Minissian
Oct 19, 2020 Victoria Pelham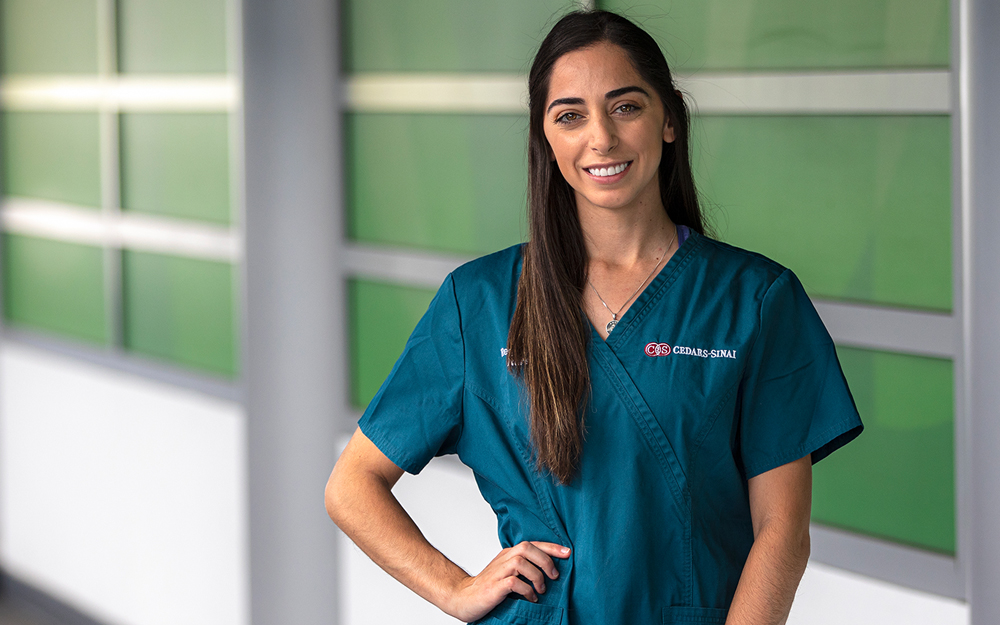 When Celina Minissian decided to volunteer at Cedars-Sinai as a high school junior, she had no idea how much of an impact the hospital would have on her life. At the time, her dream was to play professional soccer. 
The game brought her from her native Pasadena to compete as a center midfielder at the University of California, Davis. That is, until a series of injuries forced her into the hospital once again and set the ball rolling on a different career track.
---
Once I figured out that I couldn't pursue soccer during college because of injuries, I knew I needed to find another path. Nursing was almost a calling for me. It just all fit. 
---
How did you decide on nursing?
Celina Minissian: It all began when I was a teen volunteer. I got glimpses of nursing. Then, when I had back surgery, I was in the hospital for a couple days and was there with the nurses under their care.
I realized, "Wow, this is an amazing profession," just being able to put yourself aside for your shift, giving your all to your patients and doing everything you can to make them feel comfortable and safe at the hospital.
---
---
Once I figured out that I couldn't pursue soccer during college because of injuries, I knew I needed to find another path. Nursing was almost a calling for me. It just all fit. 
It encompasses so much of who I am, my personality and the compassion I have to care for people.
I'm very driven, and I know what I want. When I made those goals, I knew I was going to work really hard to accomplish them. I volunteered again at Cedars-Sinai as a Transforming Care at Bedside (TCAB) volunteer and decided this is definitely where I want to be.
---
---
Your aunt, Dr. Margo Minissian, noticed that spark in you early on too. Did she play a part in pointing you in that direction?
CM: My aunt has always told me I had an amazing personality for nursing. She was the one who relayed the information that Cedars-Sinai had the teen volunteer program, and we'd always have those conversations about nursing. She has definitely been a major mentor in my life and an encouragement through it all. 
How do your experiences on the soccer field translate to your job now?
CM: I was the one to be a playmaker on the field and a leader for my team in that position. I was also captain. I underwent many surgeries during my time as a competitive athlete—knee surgery, back surgery and ankle surgery all during my undergrad years.
Those set me back a lot in terms of my competitiveness and being able to be with my team on the field. It made me very resilient, and the intense rehab I had to go through really set me up for building my drive and my desire to get back onto the field. I think that led to how I approach nursing.
---
---
You were hired at
Cedars-Sinai

in May. What's it like starting as a nurse in the middle of a pandemic?
CM: There were a lot of changes being made in the new graduate program, but I thought they did an amazing job. I was the first cohort the new grad program had to shift, in terms of doing virtual education and in person with physical distancing.
In the units, there are a lot of changes being made as well, so we've had to be very flexible in the learning experience. Coming in as a nurse during this pandemic has been very humbling, to say the least, and also very exciting for me as a new graduate because it's opened a lot of doors for me to learn and experience more.
Many of our patients are immunosuppressed, so it's a really scary time for them. Being there to show that comfort and compassion for them has honestly been really fulfilling. It's only given me more drive to be there for my patients. 
What does your job entail?
CM: I'm a night shift nurse. Most of my patients come in for cardiothoracic surgery, such as heart and lung transplants, valve replacements and pacemaker inserts. They're medically stable but still at risk for surgery complications. We also get trauma patients and patients who have lung procedures.
We try to ensure they are safe and comfortable. During the night, we do our best to make sure they get the sleep they need to recover while keeping a close eye on them. 
My patients can decline very quickly, so being able to assess and evaluate them thoroughly and often is crucial. 
My unit is all I've ever known because I worked as a volunteer there, as well. The teamwork on that unit is incredible. If I need help, they're always there. 
Tags:
Make an Appointment
---
Find a Doctor
Call Us 7 Days a Week, 6 am - 9 pm PT