Changing the Conversation Around Pregnancy Loss
Oct 06, 2021 Lisa Fields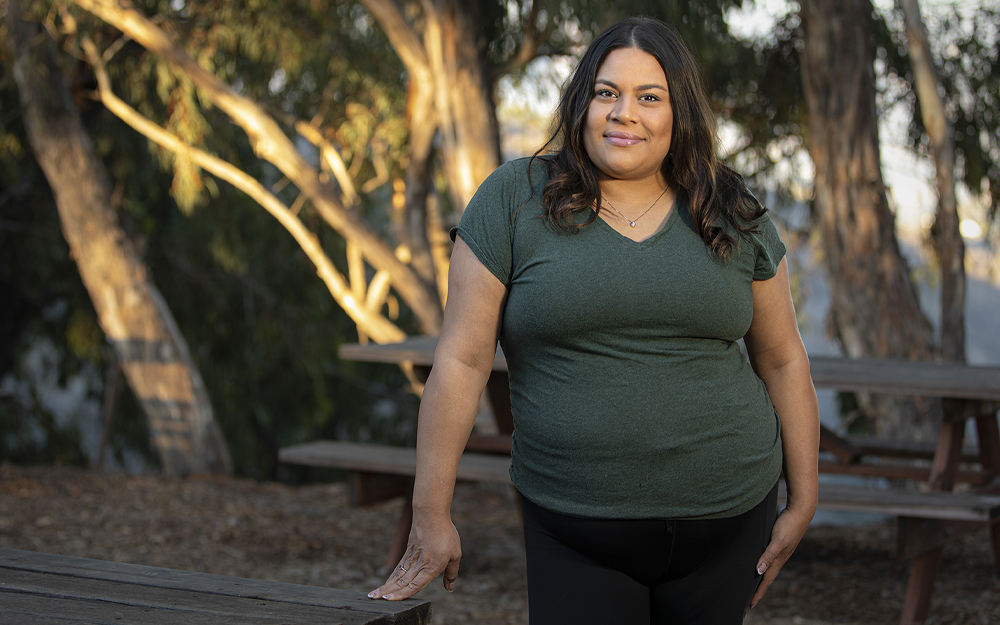 Two weeks after Priscilla Stark of Panorama City announced on Instagram that she was expecting her first baby, her pregnancy was terminated for medical reasons, at 20 weeks. Because Priscilla had shared the initial news widely, she and her husband Tim felt compelled to let friends know about the pregnancy loss, so they composed an email with their tragic update. Few people responded the way that Priscilla had envisioned.
"They said, 'Well, God has a reason for everything,' or, 'You will be pregnant before you know it and holding your new baby in your arms,'" Priscilla says. "They have good intentions, but when you're going through a loss, it's not recognizing the fact that, hey, my baby died, and I just need you to sit here with me. I don't need you to make it better."
When Priscilla lost a second pregnancy at 20 weeks less than a year later, in December 2020, she didn't share the information with many people.
"After the first time of getting so many hope-filled-dream messages, I'd rather just be alone," Priscilla says.

---
"Too many people are uncomfortable with death, so people say things that they think are well-meaning, but they end up being really hurtful."
---
Breaking the 12-week rule
There's an unspoken rule that many people follow when they learn that they're pregnant: They wait until the end of the first trimester before telling people, because 10-15% of pregnancies end in miscarriage during the first 12 weeks. But waiting until the second trimester doesn't put people in the clear; between 1-5% of pregnancies end in loss after 12 weeks, as Priscilla's did.
Telling select friends or relatives about your pregnancy early may serve two purposes: It enables you to celebrate your entire pregnancy with loved ones and have a support system in place if you experience loss. Women who lose a pregnancy may feel guilt, shame or other mental health stressors. If empathetic friends or relatives already know about your pregnancy journey, it may be easier to entrust them with your emotions after a loss.
"Not sharing because there's a 12-week rule makes you feel very isolated and very alone," says Dr. Eynav E. Accortt, director of the Reproductive Psychology Program and a clinical psychologist who specializes in perinatal mental health and pregnancy loss. "The partner may know, but a lot of times, the partner is also grieving."
If you share pregnancy news early, Dr. Accortt suggests telling only those who will be supportive if the unthinkable happens.
"Too many people are uncomfortable with death," Dr. Accortt says, "so people say things that they think are well-meaning, but they end up being really hurtful."
---
---
Clinical Psychology
Accepting New Patients
Changing the dialogue surrounding pregnancy loss
Many people feel less sure of what to say when an unborn baby dies than when an adult dies.
"One thing that grief counselors recommend is, 'Ask the person about their loved one,' so if it's a father or a best friend, just say, 'What's one of your favorite memories of that person?' The opportunity to speak out loud about a wonderful memory is soothing and you feel supported," Dr. Accortt says. "But when it's a baby, a fetus even, there's not any real memories that have been made."
When a friend or relative experiences pregnancy loss and you don't know what to say, offer condolences instead of trying to make things better or justifying a reason for the loss.
"Say, 'I wish you didn't have to go through this,' 'I'm so sorry for your loss,' 'I'm bringing dinner over,' 'I'm always here for you,' 'Do you want to talk about what you're going through?' and just listen," Dr. Accortt says.
"Saying 'It must have happened for a reason' isn't helpful at all. This is an individual that just lost a dream. They didn't just lose one fetus. In the moment, it feels like your dreams have been shattered – the dreams for your future family. Having someone tell you it happened for a reason is terrible. What's the reason? Am I a bad person? Did I deserve this pain?"
Some people hesitate to bring up pregnancy loss when a friend loses her baby, in case they upset the friend by reminding her of the loss. Whether or not you mention it, she's already thinking about it.
"Talking about them just makes my experience more real," says Priscilla, who appreciates it when friends mention the names of her lost babies, Henry and Sienna. "Make sure that the person is allowed to feel their pain with you around. The way to truly be helpful to someone who's in pain is to really just let them have their pain and be there with them."
---
If you've experienced pregnancy loss and are seeking support, the Cedars-Sinai Perinatal Grief/Loss Support Group meets online every Thursday. The group is led by a licensed clinical social worker and is open to anyone within the U.S. Registration is required.
Make an Appointment
---
Find a Doctor
Call Us 7 Days a Week, 6 am - 9 pm PT