Why Does a Hospital Have an Escape Room?
Nov 28, 2018 Cedars-Sinai Staff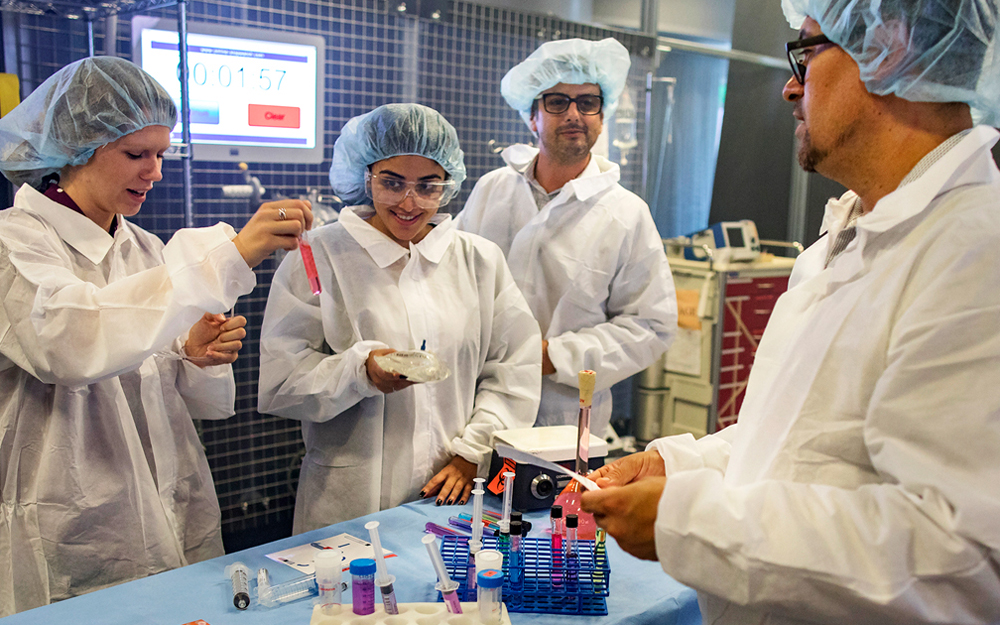 At Cedars-Sinai, an escape room has turned into more than just a fun activity—it's also being used in a research project.
The room, which started as a team bonding activity for Cedars-Sinai employees, has become a research project exploring how teams work together in complex situations.
Groups get 45 minutes to find a cure for a "virus" that has been released into the room. Their behavior is recorded and analyzed by researchers.
"Participants can take what they learned in the escape room and apply it to other real-life situations," says Tara Cohen, PhD, research scientist and assistant professor in the Department of Surgery.
We talked to Tara Cohen and program development coordinator Brittany Bancroft to learn more about the project.
What are you studying with this project?
The way people work together as part of a team can impact how successful they are at performing team-related activities. We wanted to explore that idea by focusing on specific behaviors and roles that participants take on in a situation that requires teamwork.
We observe how individuals behave during the escape room to identify which specific roles they demonstrate: doer, innovator, connector, team builder, challenger, or organizer. After teams participate in the escape room, we debrief participants about which skills the team performed well, as well as opportunities for improvement.
Why are you studying this?
The purpose of this study is two-fold: to investigate the value of the escape room for team-building and to use the escape room setting to study and understand important processes for effective teamwork.
By understanding the processes that team members use when working together, we can develop teams that are more likely to function optimally.

---
---
What are you hoping to achieve?
We are hoping to understand if this type of team-building experience is helpful in enhancing team cohesion and also to learn about the factors that may contribute to high-performing teams.
How does this affect patients?
A healthcare team that works together effectively is going to be most successful at caring for patients.
As clinical care gets more complex, good communication and collaboration skills can help reduce errors and miscommunication and lead to better overall patient care.

Make an Appointment
---
Find a Doctor
Call Us 7 Days a Week, 6 am - 9 pm PT