A New Kidney in the Nick of Time
Feb 13, 2023 Amy Paturel
Allison Maldonado was a happy baby. She delighted in singing, dancing and frolicking in the flower beds. A favorite pastime: playing "kitchen" with her older sister. 
"She used to pretend to cook for everyone," says Allison's mom, Suzy. 
When Allison was only 14 months old, her eyelids became so swollen that she could barely open them. Suzy was introducing new foods at the time, so she assumed the swelling was a food allergy. 
"But the swelling didn't dissipate. It got worse, and Allison's pediatrician ordered blood work," Suzy says. "By the end of the week, I was rushing Allison to the emergency room because her belly was so distended and her face was so swollen." 
---
"When she got frustrated because a kidney didn't work out, or wasn't the right fit, I would remind her that the kidney was probably the perfect kidney for someone else—and most important, that hers would arrive soon enough."
---
After eight hours of waiting and testing, Suzy was told that Allison needed to be admitted to their local hospital in Madera. Her swollen eyelids were not a sign of allergies—they were a sign of compromised kidney function.
Facing kidney failure
By the fall of 2017, when Allison was a few months shy of 5 years old, her nephrologist at another hospital requested a second biopsy. The test showed that Allison had focal segmental glomerulosclerosis, or FSGS, a rare disease that interferes with the kidneys' ability to filter waste from the blood. 
FSGS is a serious condition that requires specialized services. Doctors treated her with three different medications to prevent protein from spilling into her urine. Unfortunately, the potent pharmaceutical cocktail was only mildly effective. When Allison's kidneys began shutting down in November 2020, her nephrologist referred her to Cedars-Sinai's pediatric nephrology team. 
Allison's blood work then showed signs of kidney failure. About a month before her 8th birthday, Allison started dialysis.
Doctors were able to get her protein levels under control, but Allison's disease continued to progress. 
"With FSGS, the kidneys leak a ton of protein, which not only damages the kidneys but also leads to malnutrition because the protein you need for growth and development is lost in the urine," says Dr. Helen P. Pizzo, a pediatric nephrologist at Cedars-Sinai Guerin Children's.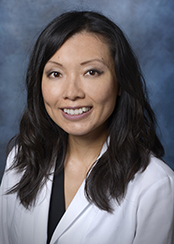 Peds - Nephrology
Guerin Children's Provider
Peds - Nephrology
Guerin Children's Provider
Guerin Children's Provider
Getting on the transplant list
FSGS can also weaken the immune system because protein is required to build and maintain immune cells. As a result, Allison couldn't develop an immune response to standard childhood vaccines. She was highly susceptible to infections, and her blood pressure levels were skyrocketing. 
"Allison spent a lot of time sleeping and in pain. Her muscles hurt and she often felt nauseous from dialysis," says Suzy, who drove her from Bakersfield to Los Angeles three times each week for dialysis. 
"There were moments along the journey where she just wanted to be by herself. She was angry at everyone and everything, and she wouldn't play with her siblings."
After three months on dialysis, Allison's condition worsened. Dr. Pizzo saw only one solution to alleviate her uncontrolled high blood pressure: remove both of Allison's kidneys and get her on the transplant list. 
---
---
Waiting for a kidney
Allison's immune system was weak from her disease while the world was navigating the pandemic. Suzy restricted visits with family, but she was determined to provide some sense of normalcy for them.  
"Traveling has always been our thing, so we planned small trips to San Diego and Monterey—destinations that were close enough that we could return to the hospital if absolutely necessary," Suzy says. 
Once doctors removed Allison's kidneys, they set out to boost her immune system, catch her up on vaccinations and prepare her body for a kidney transplant. 
"The tough thing about FSGS is that it's notorious for coming back in the new kidney," Dr. Pizzo says. "We prepared the family for that possibility, while also medically preparing Allison so that her body wouldn't attack the new kidney." 
---
---
Finding the "right" kidney
Once Allison was ready for transplant, it took a long time to find the "right" kidney. Both Allison and Suzy were hopeful, but at times it was difficult to stay positive. 
"I did what I could to give her hope," Suzy says. "When she got frustrated because a kidney didn't work out, or wasn't the right fit, I would remind her that the kidney was probably the perfect kidney for someone else—and most important, that hers would arrive soon enough." 
That attitude helped both mom and daughter cling to hope. But by the 13th potential match, even Suzy had lost confidence. She began questioning why Allison wasn't good enough for a kidney. 
"At one point I started crying, and she told me, 'It's OK, Mommy. Maybe this one wasn't good, but my kidney will get here,'" Suzy says. 
Allison, only 8 at the time, was echoing Suzy's words.
According to Dr. Pizzo, finding a kidney that was small enough for Allison was a challenge. 
"It took between six and nine months—and at least a dozen close calls—before we could get her transplanted," she says. "On one occasion, we even wheeled her into the operating room before we learned the kidney wasn't the right fit, and we had to send her home."  
---
---
Adjusting to a new kidney
In the fall of 2022, doctors finally found a match for Allison. The new kidney was transplanted into her abdomen, and Allison spent 11 days in the hospital. Unfortunately, within hours of Allison's transplant, there was protein in her urine, an immediate recurrence. 
"We were able to control the protein loss, and since we do so much research at Cedars-Sinai, Allison has access to the latest developments for her disease," Dr. Pizzo says. "In fact, Allison is part of a clinical trial investigating LDL treatments, which help remove cholesterol from the body and potentially reduce inflammation in the kidneys." 
Allison had 12 weeks of LDL treatments. She wrapped up the grueling schedule at the height of the holiday season. And as of two months ago, her new kidney stopped spilling protein.
"Now that she does have her transplant, she's very cautious about it," Suzy says. 
A return to smiling, dancing and traveling
For someone about to turn 10 years old, Allison shows remarkable maturity. She pays attention to what she eats and limits junk foods. She even watches her urine, and if it's on the yellow side, she makes sure to drink more water.
"Now, Allison is always smiling, dancing and giggling," Suzy says. "It feels like we have our girl back, and I'm forever grateful to her donor and his family for their selfless decision."
When Allison gets the "all clear," the Maldonados plan to return to her love of travel.
"She really wants to go to Monterey again. There's a slime shop she wants to visit in Lake Tahoe, so that's at the top of the list," Suzy says.
Make an Appointment
---
Find a Doctor
Call Us 7 Days a Week, 6 am - 9 pm PT