A Planned Partnership
Nov 06, 2018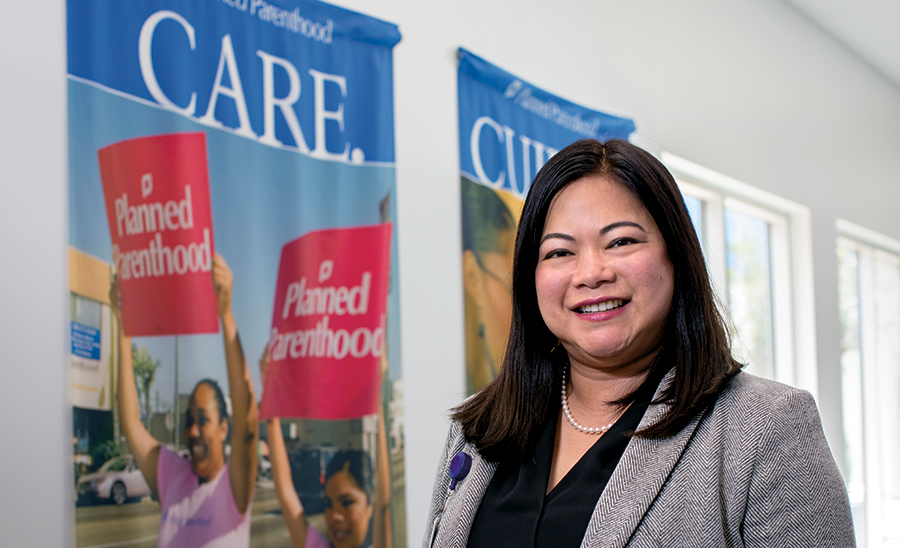 Anne Matining, RN, MBA
Vice President of Patient Services at Planned Parenthood Los Angeles
---
As they care for patients at Planned Parenthood's Santa Monica Health Center, Cedars-Sinai's OB-GYN medical residents learn lessons that transcend textbooks. Whether they're offering information about contraception or diagnosing a serious medical issue such as cervical cancer, the residents are gaining invaluable experience while helping women lead healthier lives. Anne Matining, RN, MBA, vice president of Patient Services at Planned Parenthood Los Angeles (PPLA), shares how the care provided by residents extends a valuable, long-term partnership between PPLA and Cedars-Sinai.
How are the OB-GYN residents helping you achieve your goals?
They're making a huge difference. Since they started working at our Santa Monica Health Center in July 2018, they've cared for more than 1,000 patients. They've made it possible to provide advanced OB-GYN services at this location—including cancer screenings and treatment for conditions such as endometriosis and polycystic ovarian syndrome, among many other health issues. Services also include contraception, breast exams and mammogram referrals, and testing and treatment for sexually transmitted infections. We also recently started a prenatal program to reach patients who might otherwise go without this vital care, and we're making plans for the residents to provide infertility counseling and treatment at this clinic in the near future. We're exploring how we can dig deeper to add other health services as well.
---
The medical residents and faculty who supervise them are phenomenal partners in elevating care at our Santa Monica Health Center."
---
How do the residents improve patients' lives?
One great example is a 33-year-old woman with no health insurance who had a history of abnormal Pap smears. After a series of additional tests that also showed abnormal findings, it was clear she needed surgery to reduce her cancer risk. The team was able to refer her to the right surgeon at Cedars-Sinai. She qualified for financial assistance, which enables our low-income patients to get a higher level of care if they need surgery or hospitalization. This patient was very grateful to be able to get the minimally invasive procedure she needed, and then return to the Santa Monica Health Center for follow-up care.
How does this experience prepare residents for the future?
A big part of their training here is about how to approach care in a way that is truly patient-focused. While strengthening specialized OB-GYN medical skills, the residents are developing a bedside manner that will serve them well in their future practices.
What do you find most exciting about this partnership?
The medical residents and faculty who supervise them are phenomenal partners in elevating care at our Santa Monica Health Center and increasing access to care. Planned Parenthood is an important part of L.A.'s health safety net, and the Cedars-Sinai residents are helping to make this safety net stronger. Their involve-ment has been an exceptional experience for our staff members who work alongside them. They've learned so much from this collaboration. It's also very satisfying to partner with an organization whose values and mission mesh so well with ours. This is an ideal marriage between two organizations that share a deep commitment to helping the underserved.
More Partnership Highlights
Cedars-Sinai

's OB-GYN medical residents do family-planning rotations at Planned Parenthood's West Hollywood Health Center.

Cedars-Sinai

provides capacity-building grants to PPLA.
PPLA participates in

Cedars-Sinai

's Community Clinic Initiative to strengthen L.A.'s health safety net.
Make an Appointment
---
Find a Doctor
Call Us 7 Days a Week, 6 am - 9 pm PT