Fighting Cancer in any Culture
Oct 21, 2019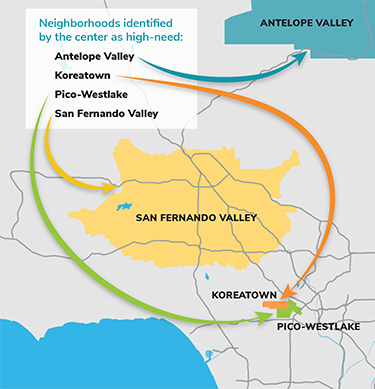 Cedars-Sinai is tackling health disparities by meeting with people in their communities.
Los Angeles is home to one of the most diverse populations in the country, including traditionally underserved groups that experience higher rates of cancer, chronic illness and death. A lack of financial resources, health insurance, information and transportation—as well as culturally ingrained reticence to openly discuss serious health issues—can take a heavy toll. The Cancer Research Center for Health Equity, at Cedars-Sinai's Samuel Oschin Comprehensive Care Institute, is tackling the problem in Southern California communities, neighborhood clinics and in its own laboratories. The team analyzes environmental, cultural and genetic factors to understand disparities in cancer rates and promote prevention and early detection through tailored outreach in a number of languages.
---
Once we determine why certain groups don't get screened for cancer, we can be smart about how to address that problem. We bring the power of translational research to affected populations. It's making a big difference."
Robert Haile, DrPH, MPH, Cedars-Sinai Chair in Cancer Population Health Sciences and director of the Research Center for Health Equity
---
South L.A. Lung Cancer Coalition
In Los Angeles County, African Americans experience the highest rate of delayed diagnosis for—and, subsequently, death from—lung cancer, in part because many healthcare plans don't cover lung cancer screening. In collaboration with University of Southern California, the center has assembled a group of about 15 local organizations, including the Southside Coalition of Community Health Centers, to advocate for lung cancer screenings and smoking-cessation programs. The center hopes the community support will help in its fight to change healthcare policy at the state level.
LGBTQI Outreach
The LGBTQI population is disproportionately affected by human papillomavirus (HPV)-related cancers of the head, neck and anus. The center partnered with Cedars-Sinai physicians to provide HPV-prevention outreach at eight LGBTQI Pride events this spring and summer, including the San Fernando Valley Pride festival.
---
It's a very grassroots empowerment approach. We're making and maintaining long-term relationships."
Zul Surani, director of Community Outreach, Engagement and Operations for the Research Center for Health Equity
---
Health and Faith Initiative
Health educators partner with Latino, Korean and Filipino churches to develop and deliver talks about population-specific cancer risk and prevention, and connect people with community health clinics for screenings. Researchers pair with community health workers to better understand the barriers to screenings and treatments in order to develop the most effective strategies to motivate people to seek preventive care.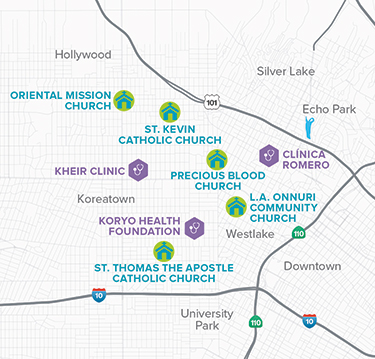 Faith-Based Organizations
L.A. Onnuri Community Church
Oriental Mission Church
Precious Blood Church
St. Kevin Catholic Church 
St. Thomas the Apostle Catholic Church
Community Clinics and Federally Qualified Health Centers
Clínica Romero 
Kheir Clinic
Koryo Health Foundation
---
We spent most of our lives not talking about cancer with anyone."
Myong Shim Lee, who participated in a cancer-education workshop at Los Angeles Onnuri Church in Koreatown and now advocates for cancer screenings in her community
---
In 2016 4 in 10 people living in the U.S. were people of color.
By 2050 people of color will make up more than half of the population.
Breast cancer rates for Korean American women increased by 4.7% each year between 1990 and 2005
Anal cancer among the gay, bisexual and transgender population is estimated to be 20x higher than the general population
By 2030 Latino men are forecast to have the highest rate of liver cancer and Latino women the second highest
Filipino American men have poorer five-year survival rates after colorectal cancer than any other group
Make an Appointment
---
Find a Doctor
Call Us 7 Days a Week, 6 am - 9 pm PT