Women in Neurosurgery
Aug 01, 2019 By Stephanie Stephens
Three female residents forge futures in the historically male-dominated specialty of neurosurgery.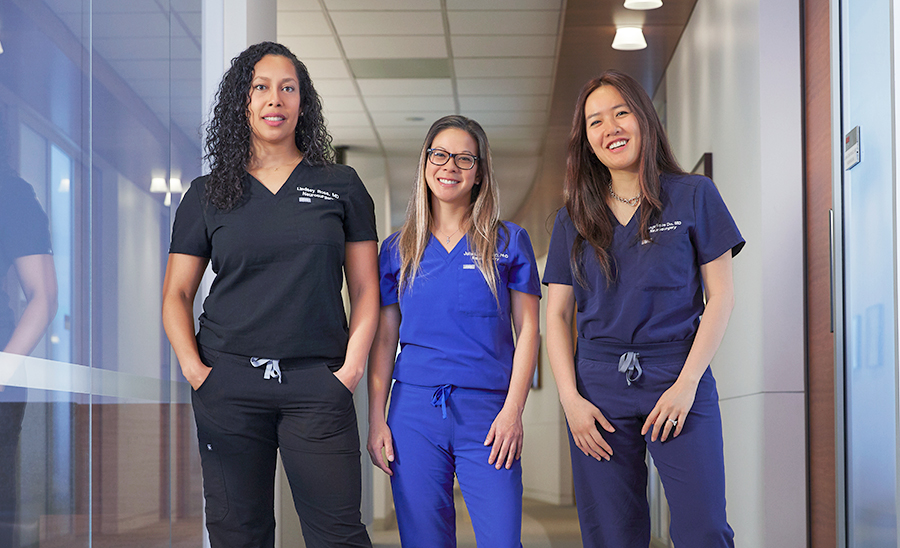 Even after decades of progress, women still only account for about 17% of neurosurgery residents in accredited programs nationwide. As recently as 2018, the Journal of Neurosurgery lamented that the goal of gender parity in the field seems "remote."
But not at Cedars-Sinai, where the number of female residents in neurosurgery recently reached an all-time high. Out of a total number of 1,424 female residents nationwide, three are being trained at Cedars-Sinai: Julie Chan, MD, PhD, Angelique Do, MD, and Lindsey Ross, MD.
While this number—which keeps rising—may seem small, these women's contributions in operating rooms, to patients and even in the foreign countries where they volunteer are immense.
"They are among the best and the brightest attracted to the field," says Keith Black, MD, chair of the Department of Neurosurgery, director of the Maxine Dunitz Neurosurgical Institute, and the Ruth and Lawrence Harvey Chair in Neuroscience.
"If we didn't recruit women into our program, we'd be missing half of the talent. My colleagues across the country see a similar trend." It's a trend that Cedars-Sinai continues to foster.
Meet the Residents
Julie Chan, MD, PhD
Her father's death from a traumatic brain injury sparked Chan's "passion for studying neurosciences in hopes of discovering new ways to treat traumatic brain and spinal cord injury and prevent others from suffering his fate," she says.
Chan believes that neurosurgery's challenges are similar whether the doctor is male or female. "I find the central nervous system fascinating: It is the one organ system whose inner workings we know the least about, yet it is truly integral to who we are as individuals and can't be artificially replaced."
Her dedication was quickly spotted by Tiffany Perry, MD, assistant professor of Neurosurgery. "Her patients love her, even when she wakes them up early," she says. "I see a lot of me in Dr. Chan—she has nonstop energy."
Chan thinks it's remarkable that she gets to have such a visible impact on human life. "It's all about the patients and their families," she says. No matter how challenging the day or week has been, she sees those moments of connection as the greatest gifts.
Angelique Do, MD
When Do contemplated studying neurosurgery, she recognized its "boys' club" reputation and the time commitment required but determined she wouldn't be happy doing anything else. She says that being a woman probably contributes to the empathy she brings to patient interactions.
"Women do pay particular attention to details, like those little hints patients give you when they talk to you," Do notes. "We are usually sensitive to important emotional needs, and sympathetic with patients. I remember a patient telling me during my morning rounds, 'You're always smiling at 4 a.m. You must really love your job.' And I do."
As Perry mentors Do and her fellow residents, she regards them as full-fledged colleagues rather than just as trainees. For example, Perry collaborated with Do on a paper about what she calls "an interesting but rare spinal cord tumor."
---
If we didn't recruit women into our program, we'd be missing half of the talent. My colleagues across the country see a similar trend."
—Keith Black, MD
---
Like her colleagues, Do has earned her status in Perry's eyes. "If Dr. Do says she'll do something, you know it will be done in a timely manner because she's passionate about her work," Perry says. "She's also trustworthy, honest and has exceptional follow-through skills." 

Do is well-aware that in some professional situations, empathetic traits such as caring and kindness must take a back seat to decisiveness and authority, lest she be labeled in a manner a male might not.
"When it's stressful, and there are lots of things coming at you, you may say something in an irritated kind of way, like anyone would, and be perceived as 'difficult,'" she says. Although she says she's never been treated differently than her male colleagues, she remains vigilant about her self-expression. "I just remember to check myself."
Lindsey Ross, MD, Chief Resident
Arriving at Cedars-Sinai in her early 20s as a Pauletta and Denzel Washington Family Gifted Scholar in Neuroscience inspired Ross to pursue the field of neurosurgery.
"When we created the program, we hoped it would attract and retain talented doctors," Pauletta Washington says. "It is now instrumental and successful in identifying women such as Dr. Ross. I'm happy to know she and other women residents are shattering the glass ceiling."
Ross had considered surgical oncology or even a career in health policy before she found her home at Cedars-Sinai.
"That summer, one of my good friends was struck by a vehicle and suffered from traumatic brain injury and broken cervical spine," she says. "Daily, I woke up early to shadow Dr. Black, and in the evening sat in the intensive care unit with my friend and his family. When something like that happens in life, it's like you're being called in a certain direction."
Ross noticed few women in neurosurgery. "Then Dr. Black said, 'This is something you can do,' and it changed my career outlook," she says.
"With Dr. Ross, I see a great daughter, mom, humanitarian and neurosurgeon," says Perry, who performed spine surgeries—accomplished without the aid of imaging or routine instruments—alongside Ross on a medical mission in Uganda earlier this year. "It's been beautiful to watch her grow and transition to being so balanced in all her roles."
Ross says other female physician leaders have modeled polished professionalism. "Women in this specialty have to be very dedicated but also prepared when a patient asks, 'Are you here to clean the room?'" she says. "They don't do it with mal intent, and fortunately the culture is changing."
That change has unwavering support from both Black and Perry. "These women distinguish themselves extremely well, rise to the top and perform in an exemplary way as residents and faculty," Black says.
"In medicine now, patients shop for not only the phenomenal physician, but also someone to connect with and comfort them," Perry says. "It's who we are and what we do, and we're showing you can have it—and do it—all."