Valve Value
Feb 15, 2021 Cedars-Sinai Staff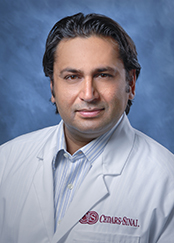 Raj Makkar, MD, keeps a framed photograph of one of his patients on his desk: a centenarian grinning in front of a vibrant yellow logo at his favorite country radio station. Makkar met him eight years ago when the patient underwent heart valve replacement surgery at age 100.
"At the time, the idea of operating on a 100-year-old man was shocking to some," says Makkar, associate director of the Smidt Heart Institute and the Stephen R. Corday, MD, Chair in Interventional Cardiology. Minimally invasive heart valve techniques have grown exponentially in the last decade. Makkar and his team team pioneered this this growth, building the largest center for minimally invasive valve replacement and repair while also leading national and international studies in the field.
"At first, we were offering minimally invasive valve replacement in patients who weren't the best candidates for open-heart surgery," says Makkar, the most experienced transcatheter aortic valve replacement (TAVR) surgeon in the U.S. "Now we consider those options even for low-risk patients because the outcomes are as good—if not better—than with open-heart surgery."
With TAVR, a valve passes through a flexible tube threaded through the artery starting in the groin. When it reaches the heart, a balloon expands to press the valve into place. Valves can also be repaired by passing a clip through the catheter to join the valve's leaflets, or flaps, back together. In addition to the aortic valve, the heart's mitral and tricuspid valves can also be replaced through this method—an important advancement in minimally invasive heart surgery.
These new options are important for older people who are more likely to be among the 2.5% of Americans who have heart valve disease. As people age, calcium deposits can build up in the heart valves, making them stiffer. About 1.5 million Americans have aortic valve stenosis, a narrowing or hardening of the aortic valve. This valve's three leaflets open and close to allow blood to pass from the heart into the aorta, the largest artery, and prevent blood from backflowing into the heart. Symptoms from valve damage usually surface after age 70. While the disease can result in death within three years of diagnosis, replacing the valve can restore life expectancy to normal.

In 2020, Cedars-Sinai investigators published a multicenter study in the New England Journal of Medicine comparing the long-term outcomes of patients who underwent TAVR with those who had traditional surgery. More than 2,000 patients participated, and their average age was 81.6. The study found no statistical difference in death or disabling stroke rates between the two groups— and TAVR patients had the benefit of minimal anesthesia and shorter hospital stays.
When Makkar shares these findings with colleagues across the world, he often speaks of his 100-year-old patient, who sent him photos, letters and postcards from his travels until he died at 106.
"He had a very active, happy life for years after his surgery," Makkar says. "He's an amazing example of the power of our new technologies."
Just a decade ago, surgical options were limited for people like 77-year-old drummer Denny Seiwell, who came to Cedars-Sinai with a life-threatening aortic aneurysm. But advances in minimally invasive techniques are making major operations safer.