Mission Critical: Racial Disparities in COVID-19
Dec 01, 2020 Sharon Isonaka, MD
Healthcare providers must uncover and examine racial disparities in COVID-19—and work to address the underlying inequities that fuel them
Last June, soon after California reopened businesses that had closed to help stop the spread of the novel coronavirus, COVID-19 infection rates began to climb. As Cedars-Sinai saw a "second wave" increase in COVID-19 patients requiring hospitalization, we needed to know: Who was still getting sick, and why? 
---
"We cannot ignore the underlying circumstances that put ethnic minorities more at risk for both contracting the virus and being hospitalized with more severe forms of COVID-19."
---
Every week since March 2020, we have collected and examined data about our COVID-19 patients, providing real-time knowledge to clinicians and leadership to gain clinical insights and best prepare for patients. As summer began, we were concerned by an alarming shift in demographics. We saw a decline in the percentage of non-Latino white patients, a steady number of Asian and Black patients, and a large spike in Latino patients. Additionally, our post-Memorial Day patients were considerably younger, with comparatively lower prevalence of chronic conditions such as hypertension and diabetes, but a higher rate of obesity.
We already knew that, in L.A. and across the United States, COVID-19 inflicts a disproportionate cost on minority populations. Nationwide, Blacks and Latinos are nearly five times more likely than white people to be hospitalized for COVID-19. But widening disparities in race and ethnicity among patients requiring hospitalization highlight larger social and economic inequities. We cannot ignore the underlying circumstances that put people of color more at risk for both contracting the virus and being hospitalized with severe forms of COVID-19. They are more likely to work essential jobs in settings of high exposure to the public and close and frequent contact with other workers. They are less likely to have access to healthcare and more likely to live in crowded, multigenerational housing, where they can't easily keep distance from each other. Black and Latino children in L.A. represent a small percentage of all kids who undergo COVID-19 testing but are up to eight times more likely than white kids to contract the virus. Greater rates of poverty and economic instability contribute to such disparities.
---
---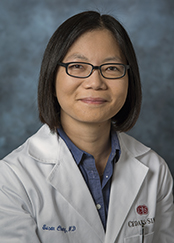 At Cedars-Sinai, we are committed to disentangling these complex social determinants of health to identify ways we can make a difference. First, we need better data on race and ethnicity when it comes to COVID-19.
Dr. Susan Cheng, a public health research expert, leads the Coronavirus Risk Associations and Longitudinal Evaluation (CORALE) study. Along with more than 100 colleagues, she is collecting, analyzing and reporting data, including demographics and outcomes by race and ethnicity, on all patients treated for COVID-19 throughout Cedars-Sinai. This invaluable information helps us pinpoint key sources of disparities that directly affect Angelenos. We also ensure that clinical trials and the cutting-edge investigational treatments pioneered at Cedars-Sinai are offered to patients across all race, age and gender groups. Inclusivity is the only way we can develop treatments and preventive interventions that work for everyone. 
Healthcare providers need to devote a greater focus on keeping people in good health, especially as they avoid medical visits for fear of contracting COVID-19. Safe, increased access, including telephone and video visits, ensure that people who are at greatest risk can manage their health during the pandemic. 
Cedars-Sinai invests in proactive, preventive care through grants to safety-net organizations that serve our most vulnerable patients. Since last March, Cedars-Sinai has pledged $25 million to local nonprofit organizations, including $6.5 million in COVID-19 relief. These investments increase access to care and also help build stronger, more stable community resources through education, training and infrastructure development. In partnering with our communities to encourage health, we can start to overcome some of the deeply ingrained, complicated barriers that prevent people from getting the best care. 
---
---
We are also developing a system that will help us better understand our patients' holistic health so that we can connect them with tailored resources when they leave the hospital. This project is twofold: On a large scale, we are collecting data so we can understand the biggest gaps in health. On an individual level, we're facilitating connections that help with shelter, food, transportation and other basics that people need to stay well—a strong base of community services they can access readily. Helping to sustain the connections between such resources and the communities they benefit is an obvious move, and we are making that bond tighter. 
We understand that environments and experiences are profound determinants of health. During the pandemic, the evidence is more clear and dramatic than ever before. Healthcare leaders need to recognize and understand underlying social and economic factors that make so many of our patients vulnerable. Until we bring to light the deeper reasons why people are sick, the cycle will continue to be perpetuated. 
Providing the best care for all in our community is part of our mission, and it is very personal for many members of our own Cedars-Sinai family—especially people of color who navigate their own risk while dedicating their careers to caring for our patients. Our job, making sure people are as healthy as they can be, means not just waiting until we need to cure them, but addressing fundamental and basic needs that promote their health. 
About Sharon Isonaka, MD
As vice president of Clinical Transformation, Isonaka leads initiatives to make healthcare more efficient and affordable while maintaining the highest level of quality.
An expert in strategic, evidence-based healthcare delivery, her work focuses on improving systems of care to promote best practices and optimal outcomes.
Tags: