Postdocs Play Pivotal Research Role
May 07, 2017 Cedars-Sinai Staff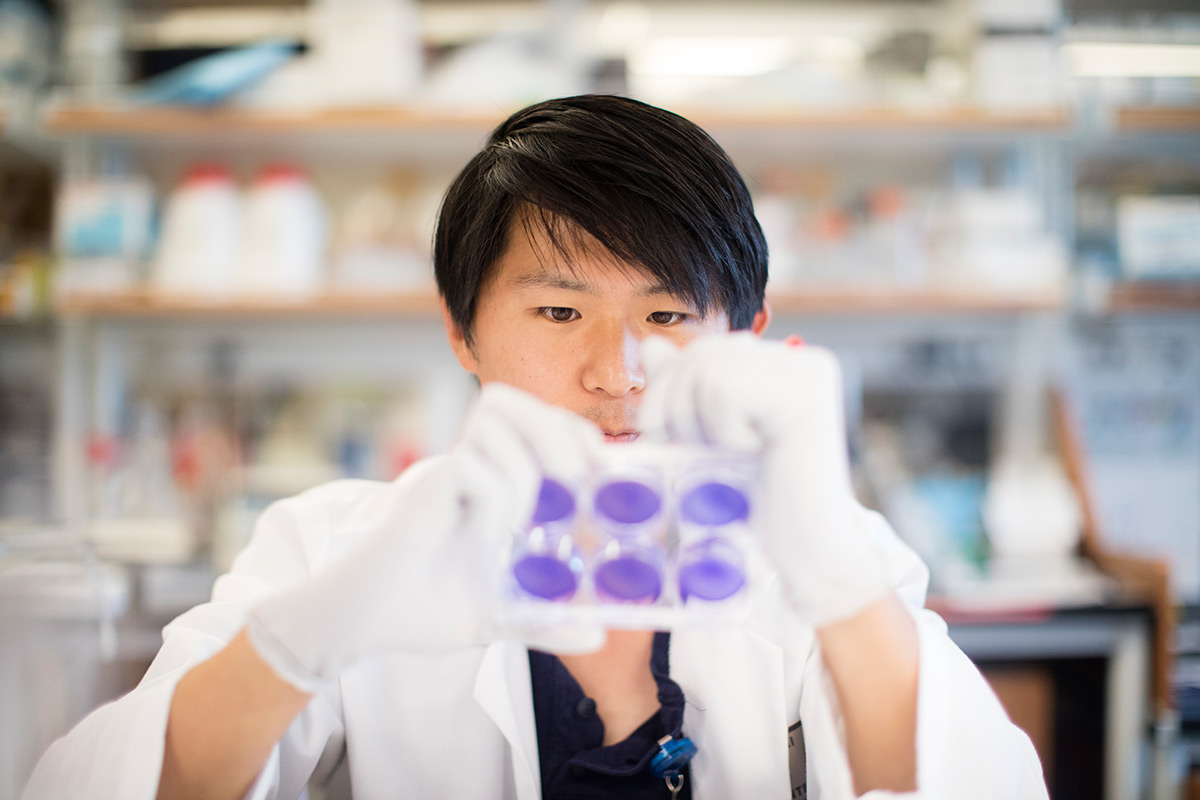 Cedars-Sinai is considered a leader in biomedical science for at least 144 reasons — which is the exact number of postdoctoral scientists who work here.
"Without postdocs, we wouldn't have as many active research projects," says Cathryn Kolka, PhD, associate director of the Postdoctoral Scientist Program. "They also provide lab training to graduate students and do a lot of the hands-on lab work and analysis."
Education is an integral part of Cedars-Sinai's mission — an unusual priority for a medical center not integrated with a university. The program provides scientists and other junior researchers with up to five years of advanced training under faculty mentors. Postdocs have gone on to eminent research careers in academia and industry.
On the ninth floor of the Advanced Health Sciences Pavilion, at a lab bench piled high with cell culture plates, you'll find one such postdoctoral scientist: Jon Sin, PhD, who exemplifies the crucial role that postdocs play in Cedars-Sinai's robust research initiatives.
Sin was the first author on a much-cited study published in November 2015, in the journal Autophagy, that examined how the body removes damaged mitochondria — the energy engines of cells — from injured skeletal muscles. He concluded that this process, known as mitophagy, is essential for maintenance and repair of these muscles.
That study set the stage for Sin's current work examining mitophagy in heart disease. He is searching for medications that could treat myocarditis, an inflammation of the heart muscle that can stem from a viral infection. "I'm picking apart the cell pathways that the virus likes to hijack," he says, "and then testing drugs that can disrupt that interaction or block the pathway to suppress viral infection."
He's also interested in extending his work to other clinically relevant viruses, including influenza and Zika.
After earning a doctorate in cell and molecular biology from San Diego State University in 2013, Sin was invited by one of his mentors — Roberta Gottlieb, MD — to help build the Gottlieb Laboratory and the Metabolism and Mitochondrial Research Core at Cedars-Sinai.
"One of Jon's talents is his ability to notice things," says Gottlieb, director of Molecular Cardiobiology and the Dorothy and E. Phillip Lyon Chair in Molecular Cardiology in honor of Clarence M. Agress, MD. "He really pays attention to the cells he's studying, and when he sees something unusual, he follows up on it. Jon's keen observations have led to several exciting discoveries." Careful scrutiny is just one of Sin's abilities.
"Jon has excellent bench skills," Gottlieb says. "When I was a postdoc, only about a third of my experiments were successful. Jon has a much higher batting average, enabling him to generate publishable data more quickly."
Looking ahead, Sin says he hopes to continue to conduct high-impact research for years to come. He appreciates the opportunities he has at Cedars-Sinai.
"This is a great place to grow as a postdoc and a great place to create science," he says.