Picture Perfect
Feb 19, 2019 Cedars-Sinai Staff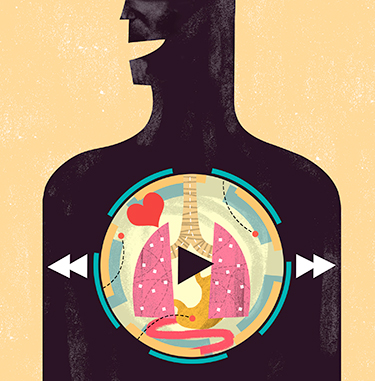 A picture may be worth a thousand words—but, diagnostically, only if it's precise. Toward that end, Cedars-Sinai scientists developed a new quantitative cardiac MRI technique aimed at increasing accuracy while improving patient comfort. Dubbed MR Multitasking, the innovation solves the longstanding problem of how to snap a clear image when a beating heart, flowing blood, and breathing lungs could blur the picture.
"Our solution is like producing a video instead of a still image," says Anthony G. Christodoulou, PhD, a research scientist in Cedars-Sinai's Biomedical Imaging Research Institute and the study's first author.
The study—which involved 10 cardiac patients and 10 healthy volunteers—demonstrated MR Multitasking's diagnostic reliability, notes Debiao Li, PhD, director of the Biomedical Imaging Research Institute and primary investigator. The research team completed three cardiac MRI tests simultaneously in just one 90-second scan, generating images that could take more than 30 minutes using other approaches. While the method doesn't necessarily shave time off a patient's visit, the amount of data physicians gather in that visit is markedly enhanced.
The technique is also more relaxing for patients because they are no longer required to hold their breath.
MR Multitasking is already being studied at several medical centers in the U.S., China, and South Korea, and the team is expanding its use to diagnosing cancer and other conditions.
"People have to breathe no matter what disease they have, so the ability to separate out the motion is important to many medical specialties," says Li, the Karl Storz Chair in Minimally Invasive Surgery in honor of Dr. George Berci.