Under Pressure
Oct 27, 2021 Susie Wampler
A One-Size-Fits-All Approach to Evaluating Blood Pressure Could be Detrimental to Women's Health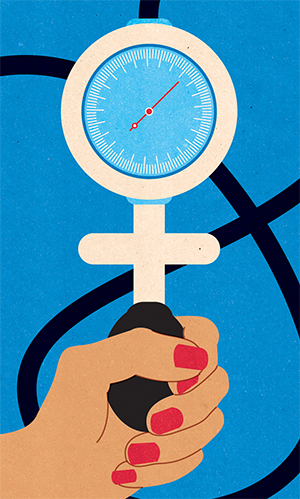 A one-size-fits-all approach to evaluating blood pressure could be detrimental to women's health, according to analysis from the Smidt Heart Institute.
The higher number of a reading, called systolic pressure, gauges the force of blood against artery walls during heartbeats. The bottom number measures diastolic pressure, or the pressure exerted between heartbeats. For decades, 120 mmHg has been considered the normal upper limit for systolic blood pressure in all adults.
But while that number may be safe for men, the threshold of risk for women may actually be 110 mmHg—or even lower—notes Susan Cheng, MD, MPH, MMSc, director of the Institute for Research on Healthy Aging at the Smidt Heart Institute and director of Cardiovascular Population Sciences at the Barbra Streisand Women's Heart Center.
Cheng and her research team compared women to women and men to men, rather than the common model of comparing women to men. After examining the blood pressure measurements of more than 27,000 participants across four different studies, 54% of whom were women, they found that systolic pressure levels higher than 110 mmHg in women were associated with risks of heart disease and stroke.
"Based on our research results, we recommend that the medical community reassess blood pressure guidelines that do not account for sex differences," says Cheng, who is also the Erika J. Glazer Chair in Women's Cardiovascular Health and Population Science.
---