Compassion Is Critical
Oct 25, 2017 Sophia Kercher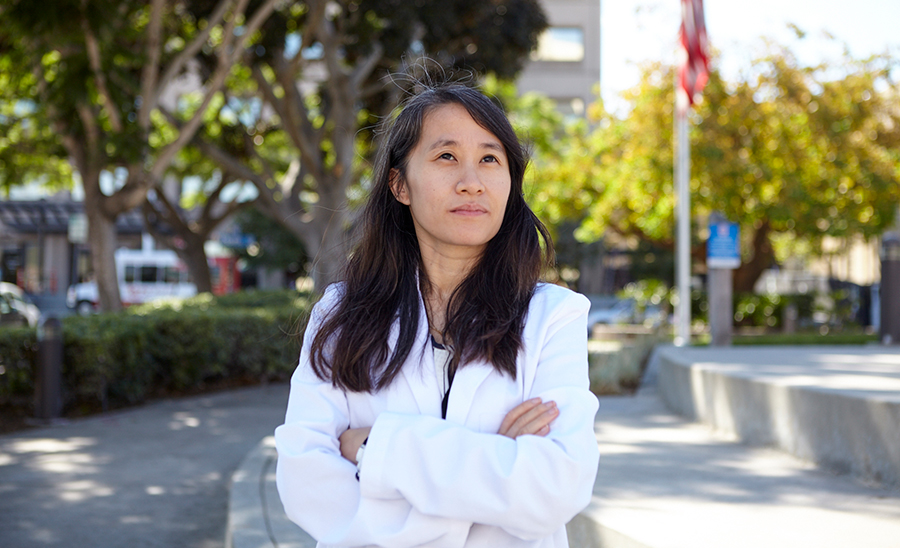 Patients coming to the pulmonary and critical care unit at Cedars-Sinai often present the most harrowing symptoms.
"We see patients who are really sick, and it can be frightening for them," says Jeremy Falk, MD, associate director of Cedars-Sinai's Lung Transplant Program. Such situations require a physician who is calm, compassionate, and confident. Quynh Hoang, MD, is among those who rise to the task.
"She does a very good job of reassuring and calming the patients, who are often in high-stress, high-anxiety situations," Falk, her former mentor, says. Hoang's time as a pulmonary and critical care medicine fellow at Cedars-Sinai leads Falk to use words like "superstar" and "brilliant" to describe her.

The opportunity to work in a well-respected clinical setting drew Hoang to a Cedars-Sinai fellowship before she headed to Scripps Mercy Hospital San Diego, where she now teaches residents and cares for vulnerable patients as head of the intensive care unit. It's a long way from where she started life.
Hoang was born in Vietnam, one of seven children. "During the Vietnam War, my father fought for the South Vietnamese Army and was placed in a reeducation camp as a prisoner after the war," she says. As part of the United Nations' Humanitarian Operation immigration program, her family came to the United States in 1990 as refugees. Hoang was 6.
"It was definitely scary but exciting at the same time," she recalls.
She says the deep sense of empathy she feels when working with extremely sick patients comes from her background as a refugee.
"It gives me perspective," she says. "I think it's helped me be a more compassionate physician knowing how difficult it is for some of my patients to navigate English and the healthcare system — because the healthcare system is difficult for anyone to navigate, even without a language barrier."
Her family settled in Syracuse, New York, where her mother worked as a housekeeper in a hotel and her father was a factory worker.
Hoang attended Cornell University, initially interested in studying to be a teacher until she got hooked on a neurobiology class and decided to go to medical school and attend the State University of New York Upstate Medical University. Afterward, she was accepted to the renowned Yale New Haven Hospital residency program.
When Hoang arrived as a fellow at Cedars-Sinai in 2014, she thought her focus would be on clinical care. However, she found herself drawn to research on pulmonary hypertension, a critical condition in which blood pressure in the lungs rises to dangerous levels and can ultimately lead to fatal heart failure.
According to Hoang, while new medications can lower blood pressure in the lungs and improve survival and patients' quality of life, too many patients fail to respond to such treatments and must undergo heart and lung transplants.
With the help of the significant patient care resources at Cedars-Sinai, she set about investigating why this happens, hoping to discover factors that would lead to improved survival. She currently is finalizing her findings for publication.
Meanwhile, not a day goes by that her background doesn't inform her interactions with critical care patients. "They are vulnerable in a different way than my family was," she says. "But the feelings of fear and being scared of the unknown are similar."