Caregivers Take on New Pandemic Roles
Nov 10, 2021 Nicole Levine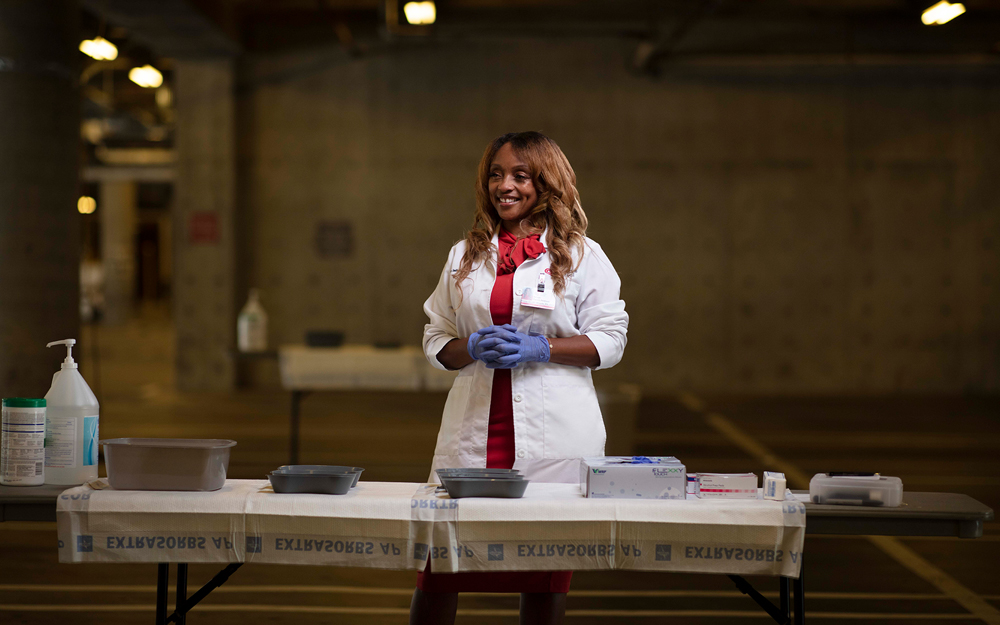 The challenges of the COVID-19 pandemic have demanded that healthcare providers flex all of their clinical muscles. For some, that means changing jobs—trading suits for scrubs, Oxfords for Crocs or scalpels for syringes. Others have stepped out of exam rooms and into parking structures.
This agility keeps the health system operating smoothly. Here, care providers share how their daily duties have changed to make the best use of all their skills—and to meet the needs of patients and the community during the pandemic.
Chelsea Hahn, RN
From the Spine Center to the Beverly Center
Usual job: Nurse in the Spine Center helping patients with back and neck problems 
Pandemic jobs: Hahn volunteered in Urgent Care and then at a drive-through COVID-19 testing site that served as many as 600 patients a day. Most recently, she was clinical leader for the drive-through COVID-19 vaccination clinic at the Beverly Center. 
Safety first: "At the testing site, we focused on keeping our patients safe and explaining to them why we were doing such an invasive test. Lots of people were scared. But it was gratifying to see people and have that instant of making them feel better in a difficult moment."
Light at the end of a long tunnel: "I'll always remember our first cohort of vaccine recipients. They were the 65-and-older crowd. They hadn't been out of their houses for a whole year. They were so happy to see another human being. Behind their masks, you couldn't see the smiles, but you could see them glowing. It was the beginning of them getting to see their grandchildren again, hugging their sons and daughters again."
Randy Sherman, MD
Best Shot
Usual job: As director of Plastic Surgery and the General William and Willa Dean Lyon Family Chair in Reconstructive and Plastic Surgery, Sherman leads a team of surgeons that rebuilds limbs and organs lost to disease or injury, reconstructs nerves, manages complex wounds and more. 
Pandemic job: Sherman pivoted to administering COVID-19 vaccines.
Answering the call: "The reason why is about as simple as it can be: It just seemed like the right thing to do! Surgeons were really forced to abdicate most of their cases to make way for the care of COVID-19 patients. Nurses were giving vaccines, and it was straining the system because those nurses were badly needed in other places. So when the call came out asking for volunteers, it was really, really easy to go fulfill that role."
Pitching in: "When there's a fire, you either run away from it or you throw water on it. You might not be the head of the fire brigade, but you can contribute."
Alaina Armendariz, RN
Labors of Love
Usual job: She'd just transferred to her dream nursing job in Labor and Delivery. "My colleagues didn't even know what I looked like without a mask yet." 
Pandemic job: She returned to the eighth-floor postsurgical unit. 
Forging relationships: "As nurses, you get attached to your patients. In Labor and Delivery, they come and go quickly and mostly they're healthy. My eighth-floor patients were often with us for extended periods of time, sometimes for a month or more. I was their nurse, and I was doing caregiver and family roles, answering phone calls, updating their loved ones. In some ways, I grew more attached to my patients than I ever had before." 
Keeping perspective: "We go where we're needed, and we do what we need to do. In World War I and World War II, nurses were asked to go above and beyond and sacrifice. It's some of the same things for different reasons. We always find a way to adapt."
---
---
Gena Smith-Woods, RN
Wearing More Than One Coat
Usual job: Patient relations team members like Smith-Woods combine the clinical know-how of a seasoned bedside nurse, the uncanny navigational ability of a longtime administrator and the polish of a public relations maven. Smith-Woods worked exclusively in the Samuel Oschin Cancer Center helping patients navigate appointments and treatment sessions. 
Pandemic job: She and her colleagues were dispatched to areas that most needed their skills on any given day. Among her duties: administering COVID-19 vaccinations, making discharge follow-up calls to allow bedside nurses to concentrate on inpatient care, and serving as a liaison for patients and their loved ones. Smith-Woods stresses the team effort: coworker Sandra Keane gave employee vaccines and assisted Spanish speaking patients. Eskedar Gobeze, who speaks Amharic, administered vaccines and helped organize a COVID-19 clinic for employees. 
Same but different: "We kept the same mission but adapted to the situation. There was no typical day. A lot of the time, it was about managing the fear and helping bridge the gaps between patients and their families who couldn't visit. We got through it with resiliency, empathy and kindness."
Claire Enriquez, MD
Resident Experts 
Usual job: Enriquez was in a rotation in Infectious Diseases as a second-year resident when the pandemic hit. 
Pandemic job: She continued her work as a resident, but being a resident during a pandemic is a dramatically different experience from the intense but predictable schedule of a newly minted doctor. She worked frequently in the ICU with some of the sickest COVID-19 patients.
Learning to cope: "I took up bike riding, and now I try to ride every day. Spending time outside helps me disconnect from the hospital and connect with nature. That little time to focus on me gives me the patience to give 100% when I'm back in the hospital with the people who really need us to take care of them."
Gift of perseverance: "My mentality and how I approach work day to day changed. If I ever start to feel stressed or a little overwhelmed, I know we will get through it. No matter what happens, I have the resources, people and strength to know we can push through together."
---