A Deep Dive with Data Scientists
Aug 09, 2019 Cassie Tomlin
Data scientists, hunched over computers and steeped in spreadsheets, are among the heroes of medicine. They study the human body at the tiniest scale, digging through vast detail to distill meaningful patterns from our genes, tissues and behaviors. The result? A deeper understanding of health that informs new ways to predict, identify and treat disease. Here, we introduce Cedars-Sinai's data heroes.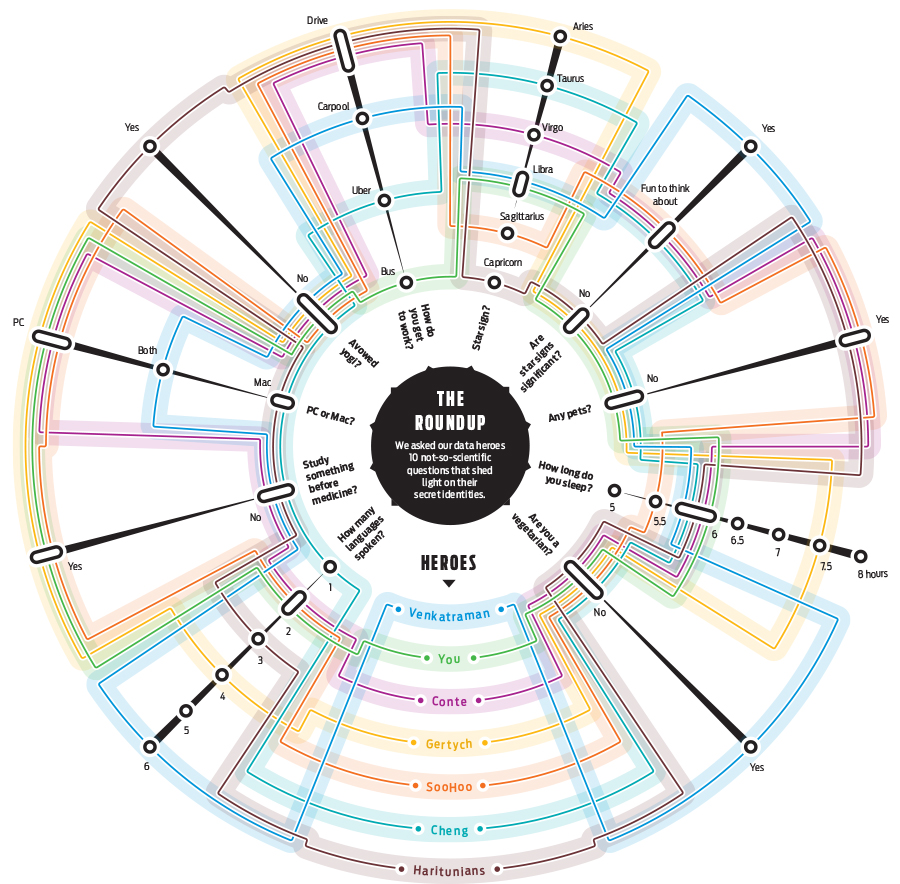 Vidya Venkatraman
Bioinformatics Director, Advanced Clinical Biosystems Research Institute
Venkatraman analyzed hundreds of thousands of blood proteins to uncover a novel predictor of heart disease, early signs of which have eluded traditional scans and tests. She identified about 200 protein biomarkers that signify hard-to-detect plaque buildup in artery walls. In a new study, patients draw tiny blood samples at home and mail them to Venkatraman's team every three months. Using advanced computer programs, she tracks the biomarkers in their blood to monitor their evolving heart health. "Proteins send us messages," she says. "They're tiny and immediate indicators of what's going on that may be missed in the clinic."
Assistant Professor of Surgery and Biomedical Sciences
Two years of genomic research led You to identify an aggressive type of prostate cancer, a discovery that could eventually contribute to new and more precise diagnostic tools. He scoured the internet to compile 50 publicly available datasets of anonymous prostate cancer patients into one comprehensive virtual cohort, paring down the collection of 4,165 men to study 1,321 of them. He trained artificial intelligence to sift through gene expressions, treatments and outcomes for each patient. This allowed him to sort the conclusions into three groups of prostate cancer patients based on the aggressiveness of the disease. He is now developing software tools aimed at predicting a patient's likely response to a drug or therapy in order to identify who could most benefit from treatments like immunotherapy. 
Stanley Conte, MSN, RN
Associate Director, Smidt Heart Institute
Conte's meticulous data-collecting supported an opportunity for more efficient care: shorter hospital stays for minimally invasive heart surgery patients. Searching for trends in patient outcomes, Conte aggregated nine distinct data sets into a spreadsheet numbering hundreds of columns. He and Joseph Ebinger, MD, director of Clinical Analytics, led a study of 200 patients who underwent transcatheter aortic valve replacement. They found that, after the procedure, not all of them needed the stay in the intensive care unit that had previously been standard practice. The finding trimmed two days off of hospital stays for low-risk patients, resulting in quicker recovery and reduced cost.
Assistant Professor, Pathology and Lab Medicine
Assistant Professor, Surgery
Gertych developed an artificial intelligence tool that recognizes miniscule tumor growth patterns in prostate and lung cancer, which can help identify the severity of the disease and predict outcomes. In a recent study, he used 800,000 extremely high-resolution digital images of cancer tissue to train a computer program to detect structural differences. "The computer performs precise analysis that you simply cannot manage with the human eye," he says. "I find it fascinating to work with the molecular biologists and pathologists. They understand the cellular process on a deep level that I do not, and I deliver quantitative and meaningful data."
Director, Research Informatics and Scientific Computing Core
SooHoo's team funnels thousands of patient records—with millions of data points—into clinical research that pairs people with the newest investigational treatments. He notes that, in an era of deep data and fastidious record-keeping, scientists are able to launch studies into human health based upon data patterns. He also co-administers Cedars-Sinai's contributions to All of Us, a nationwide precision medicine initiative collecting the health information of 1 million people. Eventually, this research effort will act as a resource for scientists seeking to study vast health data.
Erika J. Glazer Chair in Women's Cardiovascular Health and Population Science
Director, Cardiovascular Population Sciences, Barbra Streisand Women's Heart Center
Director, Public Health Research, Smidt Heart Institute
Cheng studies sex differences—specifically, how women and men age differently on a molecular level, and which tiny compounds might protect people of each gender from health decline. She and her team are analyzing data from tens of thousands of people followed over decades, including timestamped bloodwork, physical measurements, cognitive tests, lifestyle information, disease outcomes—"anything you can assess." Cheng looks at the smallest variables to understand why some people are more resilient than others, and how health maintenance and other behaviors lead to illness. "Using 20-year-old blood and other tissue, and already knowing who eventually developed a disease, we explore the molecular makeup to find key indicators of future health," she says. "If we are ultimately aiming for personalized therapies, the first order of difference is sex."
Assistant Professor
Haritunians studies millions of genetic variations to understand which play a role in inflammatory bowel disease (IBD) risk, severity and response to therapy. She gleans insights on the disease from a repository of thousands of IBD patients whose genetics have been "read" using small, computer-chip-like "arrays." The arrays are glass slides on which a patient's DNA is processed, through a chemical reaction, to reveal their genetic variations. She hopes her genetic research, paired with clinical and lifestyle records, will help identify subgroups of the disease—which may eventually inform more efficient, personalized treatments. "My goal is to use genetics to understand what each patient needs to help manage the disease so it's not so debilitating," she says.