The Family Doctor
Sep 15, 2018 Connie Sommer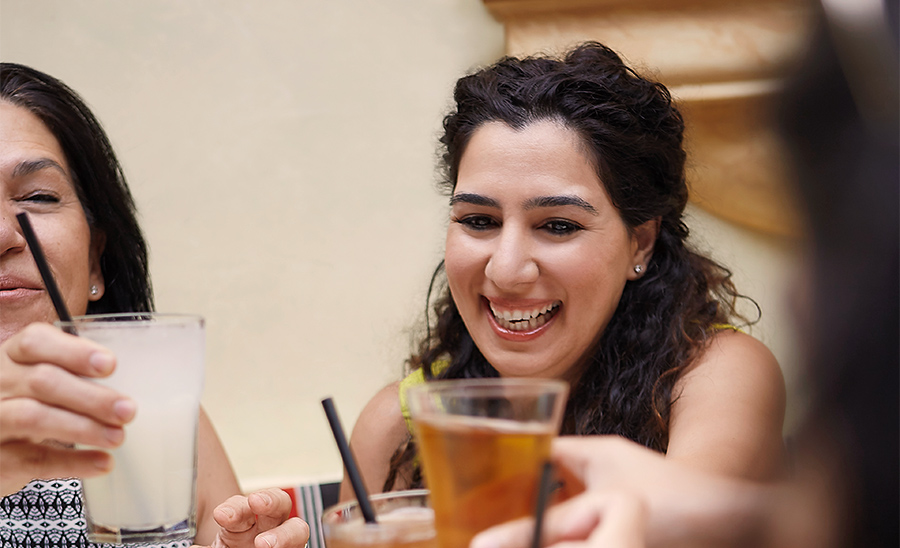 Growing up in the San Fernando Valley, Lorie Kavafyan, now a doctor of osteopathic medicine (DO), loved spending time with her grandmother, whom she called Yaya. And Yaya loved visiting her doctors. So Kavafyan found herself in many medical offices.
Yaya suffered from diabetes, and she experienced many of the disease's complications. But no matter how ill she felt, a doctor's visit would always cheer her up.
"She'd walk out of there feeling like a million bucks," Kavafyan says. "We used to joke it was like therapy for her, it made her so happy."
Today, Kavafyan is a newly minted internist, practicing at the Cedars-Sinai offices in North Hollywood. She says her grandmother particularly appreciated her own internist, and observing that relationship was one reason Kavafyan chose her career.
"I want to be the person for my patients that my grandmother's doctor was for her," she says.
Kavafyan knows she's succeeding when patients refer friends and family members to her. And they do—almost daily, she walks into an exam room to find a spouse, child, co-worker or friend of one of her existing patients. "It makes me feel like I have been accepted into their family," she says.
"It is gratifying when, even after I have to deliver an unpleasant diagnosis, a patient comes back to me for medical guidance," she says. "That's my favorite part of the job, seeing that my patients trust me and value my judgment."
Kavafyan's life has been filled with caring, lasting relationships. She grew up in the Granada Hills area of Los Angeles, amid an extended Armenian family. Her parents emigrated from Turkey before she was born and opened a sandwich shop in Woodland Hills. Her grandmother lived with them and cared for her and her younger sister while their parents worked. On Saturday evenings, Yaya held court as 30-plus aunts, uncles and cousins descended on the Kavafyan house to fill the table with traditional dishes such as mantee—the dumplings that were Yaya's favorite specialty—Armenian pizza known as lahmajun, and fattoush salad.
---
My goal was always to come back to Southern California. This is where my home is—with my family."
---
Kavafyan's schooling was equally close-knit. From kindergarten through 12th grade, she attended AGBU Manoogian-Demirdjian School—an Armenian school in Canoga Park, where she learned and played with the same 70 kids for 13 years. "You grow up with everyone kind of being your family member," she recalls.
Starting college at UCLA "was a big adjustment," Kavafyan says. "Each class is, like, 200 students." One benefit, though, was meeting people with radically different backgrounds from her own.
When she was ready to pursue her medical degree, she chose an osteopathic school in Arizona. Osteopathy adopts all the advances of modern medicine, but takes a more holistic approach, Kavafyan explains. "The belief," she says, "is that all parts of the body work together and influence each other, so we treat the whole person as opposed to a single symptom."
Two months before she graduated, Kavafyan learned she'd landed a residency at Cedars-Sinai. She raced to tell Yaya, who was ecstatic to have her grandchild returning home. But a month later, with Kavafyan still in Arizona, Yaya died. The graduation ceremony became a bittersweet occasion—in Kavafyan's graduation photos, her mother and aunts wear their black mourning clothes.
Their spirits lifted when Kavafyan returned to Los Angeles for her residency, which she completed in June 2017. "My goal was always to come back to Southern California," she says. "This is where my home is—with my family."
Her childhood network continues to enrich her life: Her husband, whom she married in January 2018, attended AGBU with her for two years. During her residency, they reconnected at the house of a mutual friend.
Memories of her grandmother's care still inspire visits with her own patients. Kavafyan says that, even during the hardest moments, "if Yaya's doctor would come in, speak to her in Armenian, hold her hand, her face would just change. She would smile and say, 'I'm good. I'm good.'"
Tags: