Diabetes Dealt Her In—and She's Playing to Win
Mar 30, 2023 by Nicole Levine, photos by Al Cuizon and Bill Pollard
A bridge player overcomes her diabetes diagnosis with the help of a skilled partner--her endocrinologist.
Duplicate bridge is a test of raw prowess and guts. All players get a chance to play the same sets of cards, and the spoils go to whomever plays those hands most successfully. Chance is eliminated. Skill, wits and guile rule the day.
Lisa Caras is a remarkable duplicate bridge player, earning the level of bronze life master that recognizes her as a champion of the game.
In bridge and with diabetes, you have to know what your best choice is. You need to ask yourself 'What are my risks? My challenges?' Most of all, you must trust your partner, and in this case, Dr. Moore is my partner."
Lisa Caras
But outside of the orderly rules of duplicate bridge, there's no guarantee that everyone is dealt the same hand. Consider Lisa's diabetes diagnosis—a disease that affected both her mother and grandmother. As with a tough bridge deal, persistent planning, careful reasoning and a fantastic partner are helping Lisa live happily and healthily with diabetes.
"You have to know what your best choice is," she says. "You need to make a plan. You need to ask yourself, 'What are my risks? My challenges?' Most of all, you must trust your partner, and in this case, Dr. Moore is my partner."
First Steps After Diagnosis
Lisa started seeing Lisa Moore, MD, a Cedars-Sinai endocrinologist, following a blood test that showed high blood sugar levels. The diagnosis of Type 2 diabetes triggered Lisa's fear, and memories of her grandmother injecting insulin into her arm with heavy glass syringes. 

"I thought I was a dead woman," she says. "I thought I had neglected my health for too long. Dr. Moore and I believe that I was prediabetic for upward of 10 years and just didn't know it." 
Lisa was previously diagnosed as insulin resistant, meaning that her body doesn't respond normally to the sugar-regulating hormone insulin. Memories of her grandmother's experience mixed with online misinformation made her reluctant to start an insulin regimen. 
"I was partly self-diagnosed, and what I was reading wasn't exactly scholarly information or reliable, evidence-based content," she says. "I was dealing with all these preconceived notions, and I had to decide: Was I going to rely on these things I thought might be true, or would I rely on science and what this doctor is recommending?"
She decided to trust Dr. Moore. 
---
---
Adjusting to a New Routine
In November 2021, Dr. Moore prescribed medical interventions and lifestyle changes to help Lisa get her diabetes under control.
"I asked her to take insulin. I asked her to check her blood sugars, to come in and see me, and to be accountable. And I asked her to lose weight," Dr. Moore says. "It was a lot."
The insulin pen was not as intimidating as the large, heavy syringes Lisa remembered her grandmother using, and she quickly incorporated those daily injections into her routine.
Next, she tackled meal planning. Food isn't only fuel for many people, Dr. Moore says. Lisa agreed that, for her, eating has an emotional component.
"As a child, food was rebellion," she says. "My sister was the kid with the fast metabolism who could eat anything she wanted. I was the kid who got celery sticks after school. It took time to get past the idea that eating healthfully was a punishment."
She traded ice cream for lower-carb options and started setting specific mealtimes. She realized that ever since she began working from home during the pandemic, the refrigerator had become a nearby distraction from the numbers she juggles as a finance professional. To combat the snack habit, she started planning mealtimes mindfully, eating intentionally and dodging the urge to graze.
For exercise, she took tried-and-true advice: Take stairs instead of elevators. Park a little farther away. And look for reasons to move just a little more. 
"There's a misconception that if you're on insulin, it means you failed," Dr. Moore says, "or that you're about to die, and that's clearly not true. In Lisa's case, it's what turned things around for her. She got her sugars under control. She got a better sense of control of her illness."
The small changes added up quickly: Within a month, Lisa felt noticeably better. She even lost 4 pounds. The positive reinforcement helped her stay on track.
---
---
"I've Got the Power!"
Just three months into her treatment, Lisa returned for a check-in with Dr. Moore. Her blood tests showed blood sugar levels close to the normal range. She'd also started steadily losing weight and has dropped 34 pounds so far. What Lisa didn't anticipate was Dr. Moore's next treatment suggestion: stopping her insulin injections. 
"Not all patients who go on insulin have to take it forever," Dr. Moore says.
So much great news in a single appointment called for an impromptu celebration. At Dr. Moore's request, a nurse went online and found the song "The Power," a 1990 electronic dance anthem by Snap! that's best known for its refrain, "I've got the power!" They danced in the office.
"I picked that song because when Lisa came to me, I think she felt very powerless, afraid and overwhelmed," Dr. Moore says. "She was scared, and she found within her the strength to follow her treatment plan. She did every single thing I asked her to do. She got her power back."
These days, Lisa embraces physical workouts and especially likes taking her recumbent trike out for a ride in the fresh air. She's excited about getting back to her mental workouts, too: The tremendous intellectual challenge of bridge is part of what has kept her hooked on the game. 
"I play for immortality, and I'm playing to achieve the silver life master," Lisa says. "Somewhere, in some annals of the American Contract Bridge League, my name exists as a bronze life master. I'm going for the next level up now."
Last year, pandemic restrictions eased enough that she was able to play face-to-face bridge with other players, rather than just online. 
She's confident she can play her diabetes hand with the same skill and confidence and continue a winning streak for good health.
"You just have to remember you have a choice," she says. "We have the power to make decisions and changes."
Face Diabetes Without Fear
---
Blood sugar levels, insulin shots, new dietary habits and doctor's appointments can all be managed. In many cases, patients must first face their fears about their diagnosis. Dr. Moore, offers some advice.
A diagnosis is not a failure. Diabetes has a genetic component. Lifestyle factors can contribute, as well. "Think of it as an invitation to improve your health," Dr. Moore says.
It's OK if you're struggling to follow your treatment plan perfectly. Just ask for help. "Partner with your doctors and be honest with us," she says. "If you're struggling, we can come up with a new plan. The more you share about your struggles, the more we can help."
One size does not fit all. A dietitian and doctor can help tailor your eating plan and exercise specifically to you. "We can help you figure out the right number of carbs and the right amount of exercise," she says. "Don't worry about what you read on the internet. Modest changes can make a big difference." 
---
Empowering Women at All Ages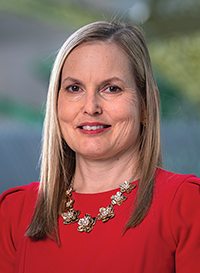 Girl Scouts promise on their honor to help people at all times. Endocrinologist Lisa Moore, MD, hasn't left that ideal, or the Girl Scouts, behind. 
She's been a Girl Scout leader for 17 years and has served at the council level with Girl Scouts of Greater Los Angeles. She assists girls in reaching their Silver and Gold Awards—the highest honors in Girl Scouting. 
Beyond Scouting, she helps women and girls around the world in other ways. She sews sustainable menstrual kits that have been sent to Africa, Cuba, Ukraine, Nepal and Central America—including pads that can be washed, dried and reused. The kits she sends contain a three-year supply. 
"In some places, women and girls are expected to stay home during their periods, but these pads let them keep doing their usual activities and stay in school," she says. "It's about limiting disruptions to their education.
IM Endocrinology
Accepting New Patients