In Perfect Harmony
Aug 08, 2019 Katie Sweeney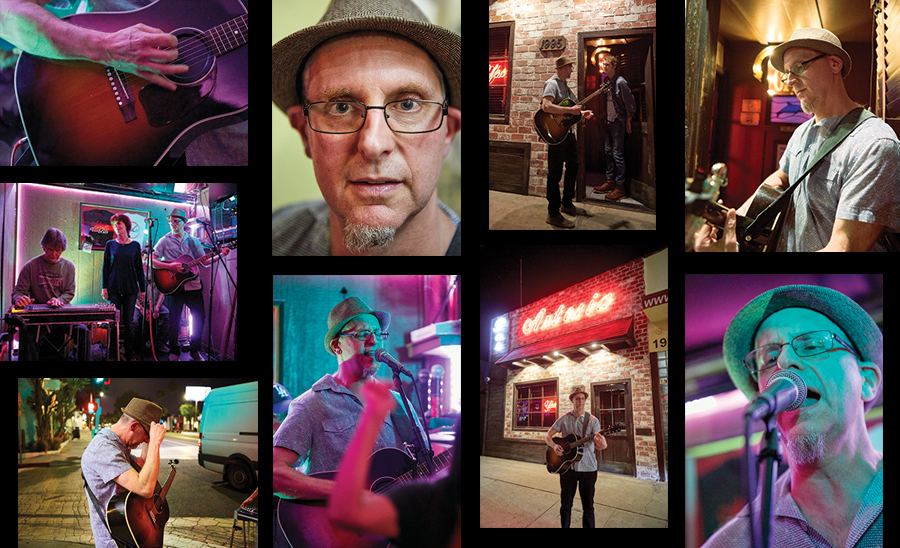 It's just past 10 on a chilly Monday night in Redondo Beach, and inside the dimly lit Artesia Bar, patrons are scattered in ones and twos, chatting over beers. Flat-screen TVs silently flash cartoons and talk shows. And over the PA, the soulful voice of Ben Gilmore, MD, sings a ballad he wrote for his dad: 
On his last day
I can still hear him say
The only truth I've known:
He said this life ain't no silver and gold
So hold on to those songs in your soul.
Performing on the stage with his six-piece, country-rock-Americana band—Dreamers and Drifters—Gilmore doesn't exactly look the part of a family doctor. His white coat and stethoscope are nowhere to be seen—replaced by a gray AC/DC T-shirt, blackish jeans, an olive-green fedora and a Telecaster electric guitar slung across his 6-foot-2-inch frame.
But don't assume that his two sides—physician and musician—are a country mile apart. Two of those bandmates on stage are his patients. And the female vocalist with the tambourine? She's a doctor he met during his medical residency at UCLA.

"I love music and medicine," explains Gilmore, a primary care physician with Cedars-Sinai in Playa Vista. "With both things, you're trying to connect with another person—either by writing a song or helping a patient."
The only child of musical parents, he was born in Corvallis, Oregon, and grew up mostly in Orange County, California. His mom worked as a piano teacher, while his dad was a professional French horn player and professor of music at the University of California, Irvine.
Gilmore played the violin from age 5 to 13. Then, as a high-schooler, he happened upon a different instrument: a dust-laden, nylon-string guitar, long forgotten in the family garage. His dad tuned it and showed him a few chords. It was love at first strum.
"Music was fun again," he says. "Basically, I picked that guitar up and I haven't put it down since."
He's played in multiple bands and, as a medical student at the University of Michigan, he and a classmate worked the coffee shop circuit as an acoustic guitar duo. Today, he squeezes in time for songwriting and twice monthly gigs among the other important parts of his life, work and family: He and his wife, Sujin, have two children, ages 5 and 6.
Medicine is as close to his heart as music. "What I like about primary care is that you form lasting bonds with patients," Gilmore says. "Your job is to see the whole picture."
Bass player Ken McGlynn—his patient for two years—attests to how closely Gilmore tunes in. "He really listens," McGlynn says. "He has a real conversation with you."
For Gilmore, music is a form of medicine, too. He saw that firsthand with his dad, who died in 2013 after battling Alzheimer's. "Even when his disease was pretty advanced, he could pick up the French horn and play, and he became more like his old self," Gilmore says.
Those are all good reasons to hold onto those songs in his soul. But here's another one: "It's just fun," he adds. "The best part is making music with my friends."
The Music of Medicine: Dr. Gilmore's playlist picks for your current mood
STUCK ON THE 405:
Long White Line"—Sturgill Simpson
"Traveller"—Chris Stapleton
RX FOR THE BLUES:
"Sing a Simple Song"—Sly and the Family Stone
"Jessica"—The Allman Brothers Band
WHEN A SAD SONG FEELS RIGHT:
"Angel Flying Too Close to the Ground"—Willie Nelson
"Arkansas Blues"—Hayes Carll
READY FOR A WORKOUT:
"Can't You ­Hear ­Me ­Knocking"—The Rolling Stones
"Seven Nation Army"—The White Stripes
POST-WORK DE-STRESS:
"Memphis Rain"—Aaron Lee Tasjan
"Uncloudy Day"—Willie Nelson
TRYING TO FEEL COOL—EVEN IF YOU'RE NOT:
"Jack of Diamonds"—Waylon Jennings
"Cheap Sunglasses"—ZZ Top
Tags: