Fit to Give
Sep 01, 2018 Cassie Tomlin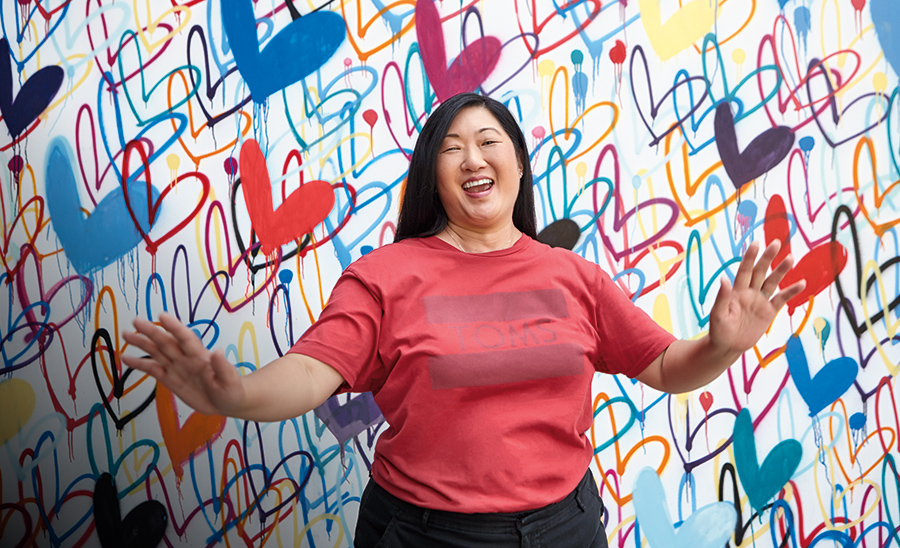 Judy Sosebee's physician helps keep her headaches at bay so she can keep giving back—from Playa Vista to Peru.
Judy Sosebee fondly remembers the week all of her fingers ached, rubbed raw from fitting shoes on hundreds of schoolchildren in rural Peru.
"Not 100, not 200, but hundreds of little kids stepping on my hands while they sprinted off to play," she says with a laugh.
Sosebee made the trip through her job at the shoe giant TOMS. The voyage was entirely in character for the curious, philanthropically minded executive assistant. She actively seeks new adventures and opportunities at the office and volunteering across L.A. Between 4 a.m. circuit-training workouts, full workdays that seep into nights and spur-of-the-moment beach barbecues with her fiancé, Michael, she tirelessly gives back—harvesting surplus fruit for food pantries and serving meals at shelters in her "downtime."
With her jam-packed schedule, Sosebee doesn't have time to be sidelined by the migraines that can strike unexpectedly and destroy her day. That's why the active Westsider was thrilled last fall when she found Joanne Belgarde, MD, whose Cedars-Sinai office is within walking distance of TOMS' Playa Vista headquarters.
"Knowing that my doctor is right there makes all the difference," Sosebee says. "Whether I simply want her to check if something is normal or I need a test, she's just down the street."
Out of the Darkness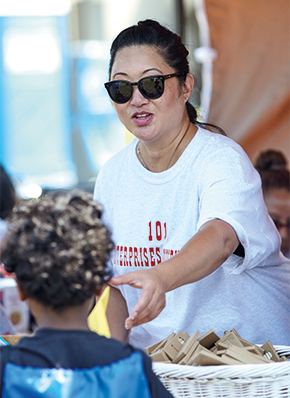 Sosebee made her first appointment with Belgarde, a primary care physician, as soon as Cedars-Sinai opened its facilities at Runway Playa Vista. Sosebee has suffered from migraines since childhood, and her new doctor says they could be worsening as she enters the early stages of menopause.

"As women get older, the hormones that typically regulate our menstrual cycles begin to decline. During this transition, cycles become irregular and sleep is disrupted, which can trigger these episodes," Belgarde says. "Headaches a normal person experiences are magnified in a migraine sufferer. Unfortunately, with menopause, there are limited options to prevent them."
Sosebee's migraines can appear either once every few months or daily but, regardless of their frequency, they take a toll she can't afford.
"It feels like someone hit you in the head with a bat so hard that you can't see," she says of the attacks, which can be triggered at work, at home, or while she's out and about. "Your whole body hurts, and you just want to crawl up in a dark place and go to sleep."
In fact, Belgarde says the best initial therapy is to take migraine-specific medication and to retreat to a dark, quiet room and lie down. But such rest usually isn't possible for Sosebee, especially while she's on a deadline for one of the three executives she supports. So Belgarde prescribed injections of Imitrex, which helps sufferers who can't get relief from nonsteroidal anti-inflammatories like ibuprofen. When Sosebee needs it, the injection subdues her symptoms so she can stay productive.
"Without it, I'd be taking an Uber home and crawling into bed," Sosebee says.
The Right Fit
Sosebee sought out her position at TOMS five years ago so she could contribute to its inspiring mission. For every pair of shoes the company sells, it gives a new pair to a child in need. Since 2006, the organization has donated more than 86 million pairs of shoes in more than 87 countries, including some close to home, like those donated to the Los Angeles LGBT Center.

Participating in local community service helped Sosebee develop an exceptional sense of compassion and urgency. She credits 13 years of working for the Los Angeles City Council with opening her eyes to the challenges facing people who are homeless.
Now, with a doctor so close to help with her migraines, she has more time and energy to stay connected, serving dinners at a Westside shelter  for those who are chronically homeless or planning work dinners in a big outdoor space at TOMS.
It was at a company-organized health fair in this courtyard that Sosebee first met Belgarde. Sosebee was immediately attracted to the doctor's friendly personality, and the feeling was mutual.
"She was so vibrant and boisterous," Belgarde says of their first meeting. "She made me laugh, and she was super excited to find out we are right across from her office." During visits, the two radiate the chumminess of old friends, with a rapport that runs deep.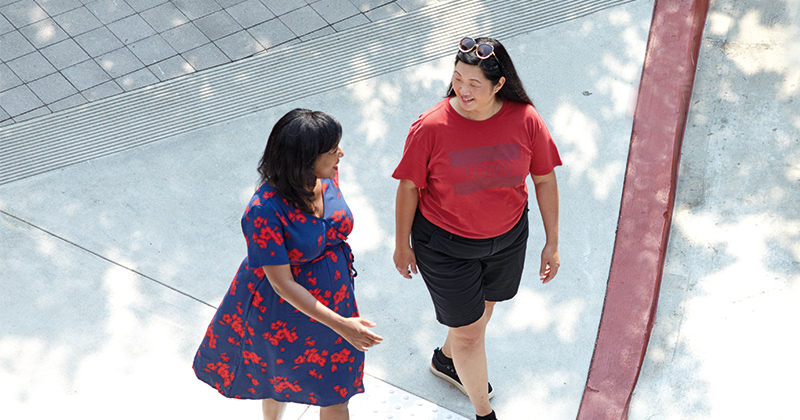 Judy made me laugh, and she was super excited to find out we are right across from her office."
Joanne Belgarde, MD, Playa Vista
Community Minded
Sosebee's commitment to her health mirrors her devotion to the wellbeing of others—Belgarde calls her a responsible and engaged patient. For small questions, the two communicate via My CS-Link™, an online tool that also allows Sosebee to view her medical records and book appointments without calling. She says this efficiency encourages her to check in when she's not feeling well, and frees her to focus on the more enjoyable aspects of life.

These days, Sosebee has become more health-focused, paying closer attention to diet and fitness. The self-avowed "foodie" says her new doctor encourages her to eat better in a way that's not pushy. Sosebee still loves to check out restaurants so she can challenge herself to recreate the dishes in her own kitchen, and she and Michael grill octopus and shuck oysters—but not too often, because she's conscious of keeping her cholesterol down.
She also has started taking vitamin B12 supplements to correct a deficiency, and her intense early-morning exercise routine gives her more energy and helps her sleep.
Sosebee is grateful that she's healthy enough to make another shoe-giving trip this fall, this time to Paraguay. And she'll keep seeking out people and groups that need support, because she has energy to give.
"At some point in my life, I might need help," she says. "You can always find little ways to assist."
Joanne Belgarde, MD
Belgarde completed her residency in internal medicine and pediatrics at Georgetown University Hospital in 2011, then joined Cedars-Sinai as an internist. She and her husband have twin boys, and the family enjoys outdoor activities like flying kites in Westchester parks near their home. A first-generation college graduate whose parents are Haitian immigrants, she was born and raised in Los Angeles.
Employer Health Fairs
Judy Sosebee met her primary care physician at a health fair hosted at her workplace. Cedars-Sinai partners with employers to spread the news that high-quality care is close to the office. With primary and specialty care locations from Silicon Beach to the Inland Empire, Cedars-Sinai is making it easier for Angelenos to stay on top of their health.

Joanne Belgarde, MD, Sosebee's physician, sees firsthand the benefits of meeting future patients in the neighborhoods where they live and work. "We do our part to keep the people in our community healthy by going out and letting them know we are here for them," she says.
Employers can call Cedars-Sinai's Network Development Office at 310-385-3308 to arrange a health fair.
OB-GYN Services Available
Women in Playa Vista and nearby communities can now access Cedars-Sinai obstetrics and gynecology care right in their neighborhood. The OB-GYN offices join primary care, pediatrics and urgent care at Runway Playa Vista, providing care for patients through all stages of their lives.

Tags: