Don't Delay Urgent Health Needs
Mar 08, 2021 Victoria Pelham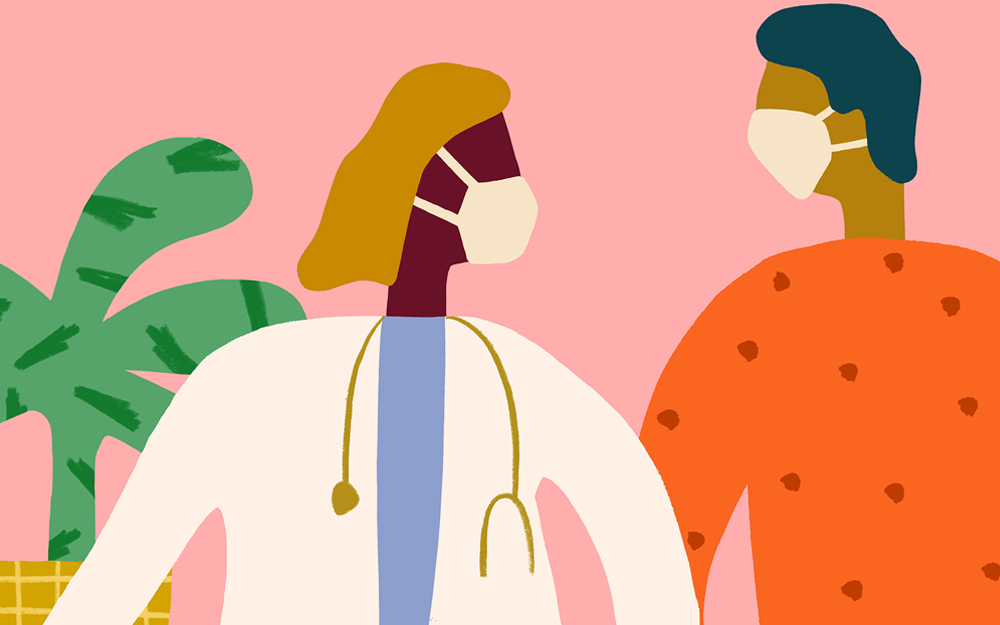 As COVID-19 has swept across America, many people have avoided the doctor's office instead of welcoming it as a source for health and wellness. In late April 2020, outpatient care across the country plummeted by nearly 60%.
But skipping a doctor's appointment out of fear of contracting COVID-19 is an unnecessary gamble. The real risk arises from hiding away from needed care:
Some patients who've spent months eschewing healthcare are being diagnosed with more serious conditions at later stages. Cedars-Sinai offices are open, safe and adhering to protective protocols grounded in the latest science.
"It is crucial to stay on top of your health by resuming regular appointments and seeing a doctor to address any changes in your body. Request a video visit so a doctor can lay eyes on you," says Michelle Shukhman, DO, an internist and primary care physician. "When in doubt, reach out."
Cancer Doesn't Wait
Since the COVID-19 outbreak, new cancer diagnoses have decreased by nearly 50%—not because patients aren't developing the disease but because it's not being assessed in a timely fashion.
"Unfortunately, patients are showing up and realizing that cancer doesn't wait," says Nimmi Kapoor, MD, a breast cancer surgeon at Cedars-Sinai's Tarzana medical offices.
Patients undergoing treatment for cancer, even those in remission, should continue regular visits for monitoring, surgeries and chemotherapy. And routine cancer screenings such as mammograms and colonoscopies are as vital as ever for catching disease in its early stages.
Julie Huynh, MD, an oncologist at Cedars-Sinai's Tarzana medical offices advises, patients to stay in touch with their doctors about any unexplained changes in their health, such as lumps, swelling, weight loss, a persistent cough or hoarseness, headaches, bleeding, bruising or severe fatigue.
"You can either catch something as early as possible or, if you're healthy, at least have one stress box checked off," Kapoor says. 
Unfortunately, patients are showing up and realizing that cancer doesn't wait."
- Nimmi Kapoor, MD
Manage Chronic Diabetes
Diabetics are at higher risk of severe COVID-19 complications and benefit from more monitoring by doctors, not less.
Left uncontrolled, diabetes can cause severe health complications like microvascular disease, which can sometimes lead to blindness, kidney disease, amputation, stroke, nerve damage and heart disease. A lapse into an unhealthy diet can be especially dangerous for patients with diabetes as it makes controlling blood sugar more difficult.
But Shukhman adds that patients can regain control with the help of a medical provider.
"People get off track—that's OK; life is not static," she says. "Diabetes is completely treatable and manageable as long as patients pay attention to their blood sugar and diet, take their medications and keep their routine follow-ups."
Protect Your Heart
Cardiac admissions in hospitals across the world have dropped by about 70% since March 2020, according to a survey conducted by a Cedars-Sinai cardiologist.
Meanwhile, deaths for stroke, heart disease and diabetes are up—indicating that hesitancy to see a doctor sooner rather than later can have serious consequences. Patients with hypertension, or high blood pressure, should continue seeing their primary care doctor every few months and watch their intake of high-salt and high-fat foods. Unchecked high blood pressure can raise the likelihood of heart attack, heart failure and stroke.
A combination of unhealthy habits and lack of routine healthcare can make blood pressure worse. That, in turn, leaves patients more susceptible to severe COVID-19. See a provider for chest pain and shortness of breath, as well as abdominal pain, fainting or palpitations, Shukhman says. Seek emergency care if you notice weakness or numbness, which can indicate a stroke.
---
---
Keep an Eye on Pain
Aches and pains might seem easy to ignore—but Joshua Scott, MD, encourages people to seek checkups for chronic pain, especially if it worsens.
Scott, a primary care sports medicine specialist with the Cedars-Sinai Kerlan-Jobe Institute, says left arm pain can be a sign of heart attack, while prolonged or worsening bone pain could indicate cancer.
"The longer you put off chronic pain, the worse it can become—people are usually in pain for a reason that needs to be addressed," he says.
Doctors say the key to making it through these trying times is to adapt to change and not allow new circumstances to get in the way of taking care of yourself.
"Make your health a priority for yourself and your family, because it can make all the difference," Huynh says.
The longer you put off chronic pain, the worse it can become—people are usually in pain for a reason that needs to be addressed."
- Joshua Scott, MD
Don't Delay Urgent Health Needs
Take quick action if your health takes an unexpected turn. When left untreated, pain, infections or sprains can spiral into more serious conditions. At urgent care clinics, physicians offer advanced diagnostic imaging and can point you to a specialist, if needed.
Urgent care clinics are safe and follow rigorous COVID-19 precautions, says Stacy Tarradath, MD, division chief of Urgent Care. Patients presenting with respiratory or possible COVID-19 symptoms are identified at the door and seen in a separate area.
Patients can prepare for their visit through the Save My Spot feature to reduce wait time.
"Anyone who develops concerning symptoms, at any age, should come in, get evaluated, get reassurance or be navigated to the right kind of support," Tarradath says.
---
---
Keeping You Safe
We are prioritizing the health of patients and staff at Cedars-Sinai medical offices and urgent care clinics by implementing:
Screening and temperature checks for every person entering our facilities
Universal masking of employees, physicians and patients

Physical distancing in our waiting areas and exam rooms
Increased cleaning and disinfection
Limiting the number of visitors to our facilities
Designating specific zones in appropriate care settings for patients with suspected COVID-19 symptoms