Chasing Health
Mar 15, 2019 Amy Paturel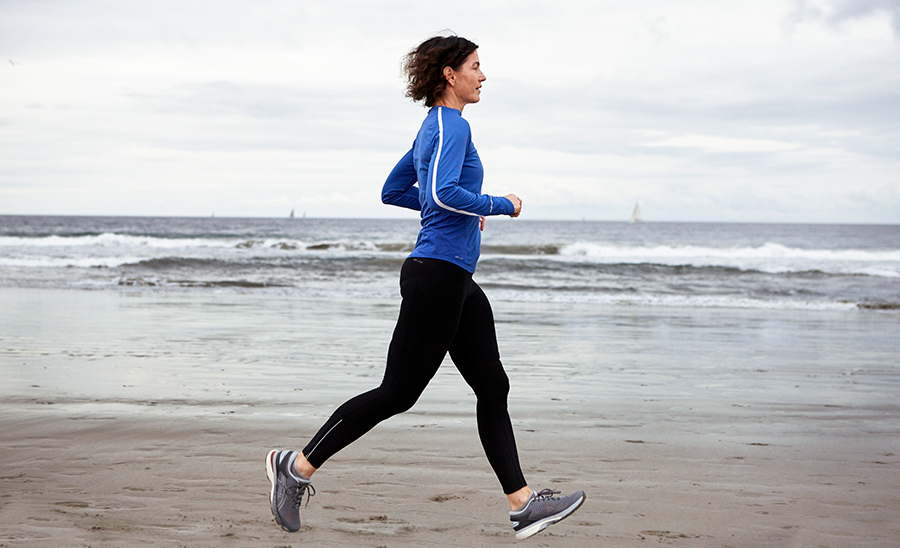 Stephanie Koven, MD, rises at 6 a.m., laces up her sneakers and runs west, toward the beach. She wants to be alone with the ocean before the streets of Santa Monica fill with hipsters, surfers and suits. The sound of the crashing waves helps clear her mind. And now that she's moved her practice to Cedars-Sinai's new offices in Santa Monica, she has more time for those freeing beach runs.
"Running is my happy place," says Koven, who has several half-marathons and marathons under her soles. "It makes me a better doctor, a better mother, a better human being."
Born in Los Angeles, Koven spent the first six years of her life hopping around the Pacific, from Hawaii to American Samoa, for her father's job in television production. Her family finally settled in Philadelphia, where Koven fell in love with the seasons, forest and lush green landscapes. But she wasn't jogging through these bucolic scenes. "Exercise wasn't part of my family's culture," she says.
Koven returned to California at age 18 to study anthropology at UC Berkeley—and saw that nearly everyone was playing volleyball, hiking or biking. "That was the first time I stepped into a gym."
While at Berkeley, Koven signed up for medical anthropology courses and volunteered at San Francisco General Hospital's emergency department. She had never dreamed of becoming a doctor or taken a single pre-med class—but she decided medicine was the right path.
"Anthropology is the study of people, so primary care medicine is not that far of a leap," says Koven, who earned a medical degree at UCLA, followed by residency at Cedars-Sinai.
The first member of her family to become a doctor, Koven runs into opportunities to use her medical expertise even outside the clinic.
In 2017, while running the Portland, Oregon, marathon with a few Cedars-Sinai colleagues, Koven saw a runner collapse. He'd had a heart attack. "We all stopped running and did CPR on him," Koven says. "He survived."
Once, while traveling, she was nursing her infant on an airplane and had to pass the baby to her husband so she could tend to a woozy passenger. Years later, she was called onto the field after her 13-year-old son's soccer teammate took a hard hit. "I examined his leg, iced it down and sent him to urgent care for X-rays," Koven says.
She isn't surprised by these serendipitous encounters. Human connection is what attracted her to medicine—truly relating to people and helping them find solutions that fit their everyday lives.
Still, her favorite place to practice medicine is in her office with patients, many of whom she has known for years. "Medicine is exciting and thrilling, but the reason I became a primary care physician is to develop a relationship with my patients, to become a trusted source of information and assurance for them," she says.
Now that she's practicing in Santa Monica, she can foster those relationships a mile from the home she shares with her husband and three children, ages 13, 12 and 8. As a bonus, she's close to her other "happy place": the ocean.
Dr. Koven's 7 Stay-Healthy Strategies
Get a pet for companionship. Koven relaxes with Edgar, her mixed-breed rescue dog.
Swim laps for a full-body workout that's easy on joints.
Visit a farmers market for fresh, local produce.
Hit the beach for meditation and moments of tranquility.
Choose restaurants that use locally sourced, healthful ingredients.
Find a nearby bike path for running, walking or cycling.
Get your java fix but skip the whip.
Serving Santa Monica
Residents throughout L.A.'s Westside can access internal medicine (primary care), gastroenterology and cancer care services at Cedars-Sinai's new medical offices in Santa Monica. Neurology, cardiology, and ear, nose and throat specialists will arrive soon.
1919 Santa Monica Blvd.
Santa Monica, CA 90404
Call 1-800-CEDARS-1 (1-800-233-2771) to schedule an appointment.
Tags: