Bright Gray
Jul 15, 2019 Cassie Tomlin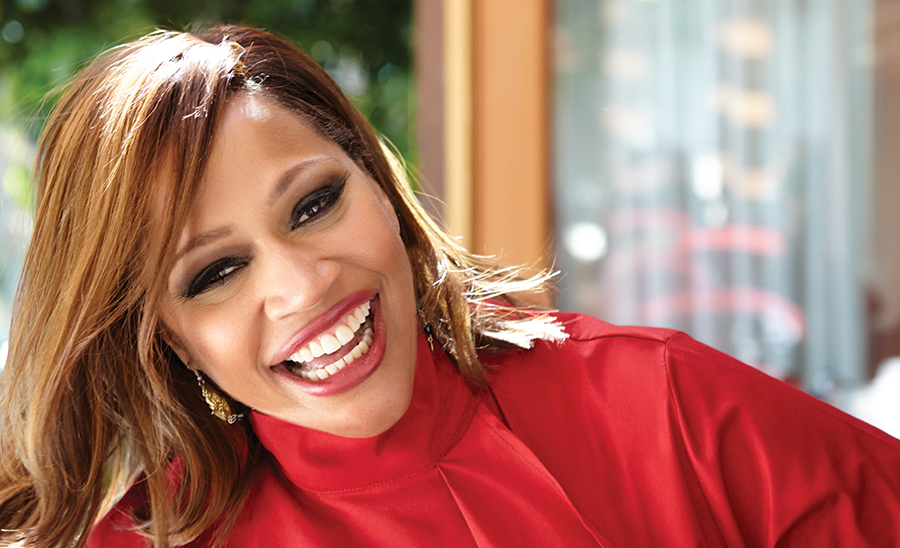 On a sunny Friday morning in March, Heather Gray glides through a Studio City backlot in four-inch-heeled boots, bangles jangling on her wrist as she waves to staff and crew riding beeping forklifts and speeding golf carts. Gray, a co-executive producer on the CBS daytime show The Talk, bobs in and out of sets and offices, finalizing dinner plans and bragging about her beloved staff while her phone blows up with calls and texts.
"My sister is a force," Nichole Gray says. "Bold stars like Heather tend to pick up a lot of really interesting people in their orbit."
Gray's orbit, professionally and personally, is ferociously loyal and fun. Her circle gravitates to her home for dinner parties, football-watching, Emmy Awards bashes and birthday celebrations. They stay in sync through long hours on the phone and getaways to Palm Springs.
This year, the group of friends, near and far, who have gravitated to her from childhood, through college and her career also sat with Gray through five months of twice-weekly infusions and jotted down notes at doctor's appointments. They've delivered lunch to her at the hospital and monitored her side effects from chemotherapy and steroids.
Last November, Gray was diagnosed with plasma cell leukemia, a rare, aggressive cancer of the blood and bone marrow. Within a week, she began treatment at Cedars-Sinai, with friends and family literally by her side.
"Everybody's rallied around me," Gray says from behind a massive desk crammed with family photos. "I'm thankful I have people who have propped me up and wouldn't let me wallow. Whatever comes my way, I have the support to handle it."

Bold Star
Gray was born a strong-willed dynamo in a small family of big personalities. She and her sister grew up just outside New York City, the daughters of schoolteacher Carol and orthopaedic surgeon Arthur.
"Some people just know you inside and out—she's that for a lot of people," says Janine Gilbert, a close friend since fifth grade who flew out the day after Christmas to spend time with Gray after her diagnosis.
Gray graduated from Brown University, then came to Los Angeles for law school at the University of Southern California. A studio internship drew her to the entertainment field, so, after graduating, she went to work in TV production.
In creative roles, Gray found her calling and, along the way, she kept building her tribe.
At The Tyra Banks Show in 2007, Gray was Marc Anthony Nicolas' first boss when he started as a "naïve, terrified" associate producer. She made sure he felt comfortable as she introduced him around the set. They still work together today.
"Heather taught me everything I know about caring for people you work with," Nicolas says. "She's been with me through my brightest and darkest moments, and that's what we're all going to do for her."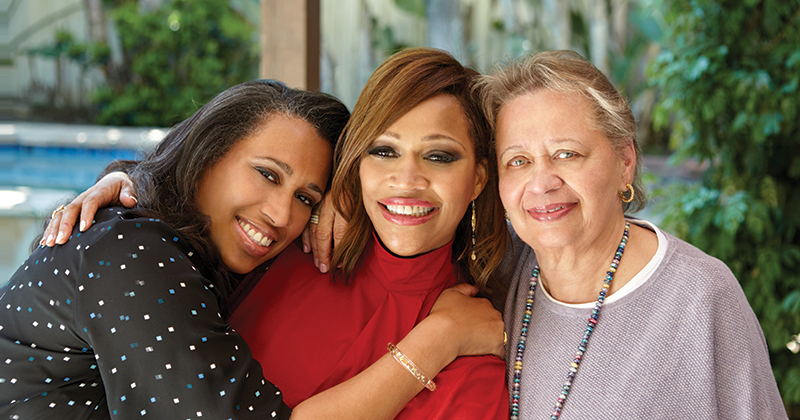 No one wants or deserves to be here, but sometimes when you rise to the challenge, the disease teaches you what you can do." 
—David Hoffman, MD
A Shadow Falls
Last fall, on a hike in Fryman Canyon Park, overlooking Studio City, Gray felt unusually winded. She'd also been getting stomachaches and headaches. She visited her primary care physician, suspecting she might have an ulcer. 
A blood test revealed her iron levels were dangerously low, so her doctor immediately texted David Hoffman, MD, a specialist at Cedars-Sinai Tower Hematology Oncology Medical Group. But even after Hoffman gave Gray an iron transfusion, her blood levels were still mysteriously off. After a bone marrow biopsy, she received a cancer diagnosis, on the 14th anniversary of her father's death from prostate cancer.
Stunned, Gray canceled her Thanksgiving trip home so she could begin treatment immediately. "It was really awful," she says. "My initial thought was 'Am I going to live?'"
Her mom and sister flew in from New York while her friends sprang into action to provide company—and keep her from Googling her prognosis. The disease usually affects much older patients, and the literature doesn't yet reflect outcomes from the newest treatments. For a few weeks, Gray was terrified.
But at her first doctor's appointment, her care team presented her with a plan. Their approach aimed for an ambitious goal: a cure for Gray. 
Hoffman and physician assistant Larisa Gallo enlisted Robert Vescio, MD, medical director of the Multiple Myeloma and Amyloidosis Program in the Samuel Oschin Comprehensive Cancer Institute because Gray's condition, plasma cell leukemia, is the end stage of multiple myeloma.
"They figured it out and moved really fast, so I was confident going forward," Gray says. "And they treated me, not the cancer."
She responded exceedingly well to her treatments, and side effects were mild. Another bolstering presence was her uncle, who has lived with multiple myeloma for five years. He reminds her to embrace her "new normal."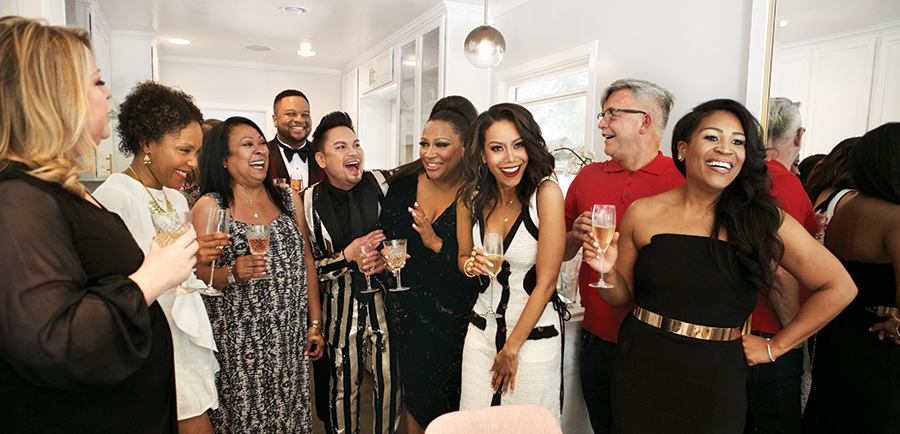 "Normal" for Gray meant she never went to an infusion alone. One or two of her closest friends always joined her.

"She's never in a bad mood—she's still Heather," says Simon Adlam. Chris Gordon echoes: "Even when we're in the infusion center, we're having a hoot of a time." 
Her doctors say extra attention from friends, and a positive attitude, really do help.

"They always ask good questions, and it turns out to be a big team effort," Hoffman, her oncologist, says." No one wants or deserves to be here, but sometimes when you rise to the challenge, the disease teaches you what you can do. It brings people together. The skies are bluer, the sun's brighter and it focuses you on what's important."

Planning for Brighter Days
In May, Gray underwent a stem cell transplant to help restore healthy bone marrow. After two-and-a half weeks in the hospital, Gray recovered at home for a month and will eventually start taking low-dose chemotherapy again. 
Her doctors say stem cell transplants have a long track record of helping patients achieve remission, but this is not expected to be the last step in her treatment. In the future, Vescio plans to potentially include immune therapy, which isn't standard treatment yet but shows promising results.
Gray is on board. "I'm really ready to move forward and find out how my life is going to be," she says. "This is something I have, but it's not who I am." 
Gray and her friends are planning a trip to Barcelona when she's fully recovered from the stem cell transplant. Even if her life is different, she's planning for sunny days.
"I realize there will be challenges," she says. "With my team, we'll weather them together, with the belief in a beautiful future ahead."
Hoffman is a board-certified hematologist-oncologist who has practiced in Beverly Hills since 2000. He graduated from the UCLA Geffen School of Medicine, where he also completed a residency and fellowship. He plays ice hockey and enjoys vacations with his wife and three teenage children.
Larisa Gallo, PA-C
Gallo graduated with a master's in medical science from Salus University in Pennsylvania and trained at Stanford University. She has worked at Cedars-Sinai since 2016. She plays tennis and likes to cook.
Vescio is medical director of the Multiple Myeloma and Amyloidosis Program in the Samuel Oschin Comprehensive Cancer Institute and has practiced at Cedars-Sinai since 2000. He graduated from medical school at University of California, San Diego, and completed a fellowship at UCLA. He enjoys skiing and gardening with his wife.
---
Cedars-Sinai

Tower Hematology Oncology Medical Group
Heather Gray's doctors are among many leaders in cancer treatment and research at Cedars-Sinai Tower Hematology and Oncology Medical Group. Physicians are engaged in studies and clinical trials for more than 10 cancers, including prostate, breast, lung and  leukemia/lymphoma. If you or someone you know is interested in participating in a study, contact GroupCancerTrialInformation@cshs.org
Tags: