Men's Health: Bin McLaurin Leads By Example
Jun 11, 2017 Cedars-Sinai Staff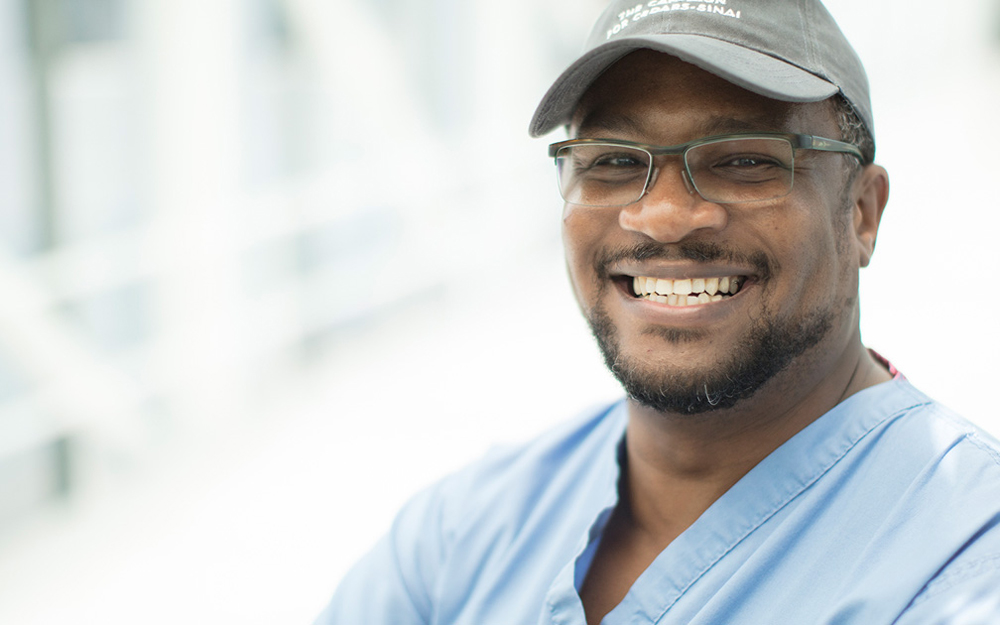 Bin McLaurin visited barber shops all over Los Angeles for his job at Cedars-Sinai. His goal: convincing barbers to learn how to conduct blood pressure screenings for the men who came to their shops.
I needed to follow my own advice
During one of these outreaches, in which Cedars-Sinai partnered with barbershops across Los Angeles to address higher rates of hypertension among African-American men, he realized he needed to take control of his own health.
"It dawned on me suddenly that I needed to follow my own advice," says Bin, a research assistant at the Cedars-Sinai Heart Institute. "I've worked at Cedars-Sinai for years, and I've been a volunteer before that. In all that time, I never thought it was necessary to see my primary care physician."

---
"We need to help men overcome their barriers and actively participate in their own health."
---
He made an appointment, and at that first meeting with his doctor, he was diagnosed with prostate cancer. He was treated with surgery, radiation therapy and hormone therapy over the next two years. He's still screened every 6 months with a blood test that measures the amount of prostate-specific antigen (PSA) in his blood.
"We work in this environment, and we take care of other people," he says. "So often, we don't have a relationship with our own doctors. I went to my doctor and they found an aggressive prostate cancer. If this could happen to me, it could happen to anyone."

Getting men to see their doctors and keep up with their screenings has become a crusade for Bin. He cites a favorite statistic: Men are 25% less likely than women to take part in preventive care.
There's strength in giving back
That needs to change, he says. He started with his own workplace, where he inspired and collaborated on Cedars-Sinai's first Men's Health Week program, which encouraged employees to be proactive about protecting their health. He raises money to support radiation oncology and genitourinary research at the Samuel Oschin Comprehensive Cancer Institute and now has a goal of raising $5,000 this year to support Cedars-Sinai's free prostate screening program in Los Angeles.
"There's strength in giving back," he says. "I'm grateful I went to my doctor, and I got the treatment I needed. Now we need to help men overcome their barriers and actively participate in their own health."

Since Bin shared his story, other men have sought his advice, running symptoms by him and asking about his experience. He gently encourages them to see their doctors. He starts the conversations with his own friends and family members, nudging them to keep up with their screenings. As part of a men's health organization, he's traveled and volunteered in the US and other countries, helping to address these issues in India, Ireland, and the United Kingdom.
He recognizes there's a certain fear in facing any kind of health tests, but he lets his story be a motivator: It's better to know and catch a disease early, when it's most treatable.
---
"Today, I am a grateful prostate cancer survivor and men's health advocate."
---
He offers lessons from his experience:
Don't wait til you need your doctor to find out who your primary care physician is
Know your primary care physician and see them regularly, Bin says. Many men don't have a primary care physician. Finding a doctor and making an appointment is a good first step to taking control of your health.
Know your numbers
Blood pressure, blood sugar, and cholesterol levels are a good place to start.
Be aware of what screenings you need
Screenings aren't always one-size-fits-all. Ethnicity, family history, and risk factors might make you a candidate for screening sooner than other men. For example, the American Cancer Society recommends prostate cancer screening for men beginning at age 50 if they are at average risk. Men at high risk—including African-American men and those who have a father, brother, or son with prostate cancer at a young age—should be screened beginning at age 45. Men who have more than one close relative who had prostate cancer before age 65 should start being screened at age 40. Your doctor can help you sort out which screenings you need, Bin says.
Talk to the men in your life
When he opened up about his story, he found many men would approach him one-on-one to ask questions. He brings up health issues with his friends in a nonconfrontational way. He suggests leading by example. "Usually, I start with me," he says. "I say that I've just had my physical. It shows it's not as scary as it's made out to be."
Make an Appointment
---
Find a Doctor
Call Us 7 Days a Week, 6 am - 9 pm PT