Heart Disease: When to Get a Second Opinion
Jul 12, 2023 Jasmine Aimaq
Though you may share your heart with many people, you've only got one—and it deserves the very best care. If you've been told you need a cardiac procedure, consider double-checking with the experts at the Smidt Heart Institute at Cedars-Sinai, which was named #1 in California and #3 in the nation for Cardiology & Heart Surgery in U.S. News & World Report's "Best Hospitals 2022-2023" rankings.
In recent years, scientists have made dramatic progress treating a range of cardiac conditions to keep your ticker going and improve your quality of life. The experts at Cedars-Sinai are at the forefront of research and care.
With Cedars-Sinai's Virtual Second Opinion platform now available in many U.S. states, more patients can connect with a Cedars-Sinai heart specialist to receive a detailed second opinion. Learn about the benefits of a virtual second opinion from our conversation below with Joanna Chikwe, MD, founding chair of Cardiac Surgery at the Smidt Heart Institute and the Irina and George Schaeffer Distinguished Chair in Cardiac Surgery in honor of Alfredo Trento, MD.
---
"Our research shows that choosing the right heart team makes a real difference: The quality of care can transform your quality of life."
---
What are the advantages of a virtual second opinion compared to an in-person second opinion?
Joanna Chikwe, MD: Traveling to the best heart teams takes precious time and resources away when you need them most. A virtual second opinion brings expertise to you, at a time and place of your choosing. Your family can be present to offer support even if they live in a different area, while you can connect with the best doctors for your needs.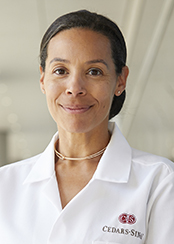 Surgery-Cardio-Thoracic
Accepting New Patients
Why is a platform like
Cedars-Sinai

's Virtual Second Opinion particularly useful for heart patients?
JC: Many patients with heart conditions can now choose between very different treatments. A virtual second opinion is a great way to make sure you are aware of all the options and can develop the right care plan with the input of an expert heart team. Patients seeking a virtual second opinion at the Smidt Heart Institute will be seen quickly and get the answers they're looking for in a timely manner. This is especially important for heart patients, where prompt evaluation and guidance may maximize the chances of a good outcome.
---
---
For what conditions would you recommend patients seek a second opinion with a
Cedars-Sinai

cardiology expert?
JC: I would encourage patients to obtain a second opinion if they have been diagnosed with severe valve disease (such as mitral regurgitation, aortic valve stenosis or regurgitation, or tricuspid regurgitation), aortic aneurysms, congenital heart disease, hypertrophic cardiomyopathy, or complex or re-operative heart disease. I would also suggest they consult with us if they are seeking minimally invasive and robotic surgery, since we have advanced expertise in these areas.
That said, heart health is so important that any patient considering a cardiac procedure should consider getting a second opinion. Our research shows that choosing the right heart team makes a real difference: The quality of care can transform your quality of life.
---
---
What would you tell a patient who's hesitant to seek a second opinion because they think it might upset their current doctor?
JC: Physicians want their patients to get the best care, regardless of where that care happens. Your doctor should be happy to help you choose the best specialist for your needs.
---
---
Can you recall a case where your second opinion made a real difference in the outcome?
JC: Most of the patients I see have mitral prolapse and severe regurgitation, which can be repaired with a minimally invasive technique, allowing many patients to keep their own valve and live a normal life. Every week I see several patients for a second opinion after they've been told that their only option is an artificial valve replacement through a big incision.
The difference between mitral valve repair and replacement translates into years of life, and years of freedom from repeat surgery, symptoms and medications like blood-thinners. For these patients, a second opinion is literally life-changing.
Tags:
Make an Appointment
---
Find a Doctor
Call Us 7 Days a Week, 6 am - 9 pm PT