COVID-19 Vaccine: What Women Need to Know
Mar 29, 2021 Victoria Pelham
More than 47 million people—nearly 58% female—have been fully vaccinated against COVID-19, according to March figures from the Centers from Disease Control and Prevention (CDC).
But health experts worry lingering fear and misinformation might keep some women from taking their shot.

---
---
Cedars-Sinai women's health providers break down the rumors and clear up what women should know if they're getting vaccinated—or are undecided.
COVID-19 vaccines can cause enlarged lymph nodes
Mammographers are seeing women who have been vaccinated against COVID-19 showing up for screenings with enlarged lymph nodes under their arms, usually on the side where they were vaccinated.
This reaction is not uncommon for vaccines—it's seen with the flu shot, for example, and signifies a strong immune system response, says

Cedars-Sinai

radiologist
Dr. Cynthia Litwer
.
But the reaction is occurring much more frequently in COVID-19 vaccine recipients than with others, she adds.
Early CDC
data
shows women are reporting more vaccine side effects than their male counterparts.
---
---
Don't worry about swelling
It's unclear why these vaccine reactions seem to be occurring more with the COVID-19 vaccine, but the reasons—and their true prevalence–will likely become better understood as more people receive them.

Providers say enlarged lymph nodes are not troubling and do not pose any health risks. All eligible women are encouraged to get vaccinated when the option is available to them.
The concern is that localized swelling could be mistaken for cancer on a mammogram or other screening, such as chest CT or PET scans. Swollen lymph nodes can sometimes signal metastasized breast cancer or lymphoma, so they require further study.
"If you're called in because of lymph nodes seen on your mammogram and you just got the vaccine, this is most likely due to the vaccination and temporary," Dr. Litwer says. "Don't panic."

---
---
Vaccine side effects aren't a reason to forego your mammogram
Messaging has been mixed around whether or not to delay mammograms post-vaccination, to avoid false positive cancer diagnoses or any confusion.
But the stakes are high, says Dr. Litwer, because many women have missed their routine mammograms during COVID-19. Breast imaging plummeted during the pandemic, with mammograms falling by 67% among insured women 46 to 64 years old, according to a
study
published in
JAMA Network Open
.
Cedars-Sinai
recommends women, ideally, get a mammogram before being vaccinated. If that's not possible, and you are up to date on annual screenings, Dr. Litwer suggests women wait four to six weeks after their second dose of the COVID-19 vaccine before getting a mammogram.
---
"If you're called in because of lymph nodes and just got the vaccine, that most likely is the cause. Don't panic."

---
However, if you are already behind, don't wait any longer.

Likewise, if you experience any potential breast cancer symptoms—such as a lump, pain or skin discoloration—come in immediately, regardless of vaccination date or status.

Waiting too long for a mammogram—or opting out altogether—can delay lifesaving cancer diagnoses, she warns. Starting at age 45, women with average risk
should
get an annual mammogram, then switch to every other year at 55, the American Cancer Society
recommends
.
Radiologists will perform additional testing, including ultrasounds on patients who present with enlarged lymph nodes. If the nodes appear to just be a vaccine reaction, they will follow up in six to eight weeks to ensure everything goes back to normal.

Vaccination has no effect on fertility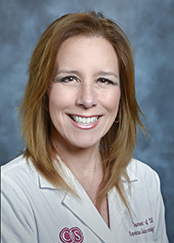 Current CDC
guidance
states there is no evidence any of the existing COVID-19 vaccines harm fertility. Reproductive health organizations and experts, including the American College of Obstetricians and Gynecologists and the American Society for Reproductive Medicine,
agree
.
Neither animal studies nor emerging results from vaccine recipients show an ill effect on pregnancies. Further, the receptors needed for COVID-19 infection haven't been found in the female reproductive tract.

"We still have a lot to learn, but the scientific data are reassuring that it should not impact fertility," she says.

---
---
Talk with your doctor about your options. If you are trying to get pregnant or due to begin fertility treatment, Dr. Pisarska recommends getting vaccinated when it is your turn. You should also address this with your healthcare provider.

Researchers are monitoring reactions
Because the vaccines were not specifically studied on pregnant or breastfeeding women, the CDC is collecting information about pregnancy outcomes, complications and newborn health through its voluntary
v-safe registry
. More than 40,000 pregnant women have reported.
The agency is also still monitoring adverse reactions for all vaccine recipients.
---
"At this point you're either going to get COVID, or you'll get the vaccine."

---
Vaccines are vital to protecting health
"At this point you're either going to get COVID-19, or you'll get the vaccine," Dr. Pisarska warns.
COVID-19 infection can wreak havoc throughout your body, causing problems including cardiac events, chronic lung disease, fatigue, cognitive difficulties and other chronic conditions. Pregnant women, especially, are at even greater risk of serious complications from hospitalization to ventilation and even death.

There are so many up sides to getting vaccinated, especially as more contagious—and potentially more dangerous—variants of the virus emerge. As more people become vaccinated and follow COVID-19 precautions, this will reduce the likelihood of additional variants appearing that otherwise could reduce vaccine efficacy over time.

That makes gaining herd immunity now crucial to defeating the pandemic, Dr. Pisarska stresses.

"The important thing is that we really need to control this," she says, "because we need to think about our future and the next generation."

Tags: