Vaccinated Centenarian Advises to 'Give It a Shot'
Mar 08, 2021 Cedars-Sinai Staff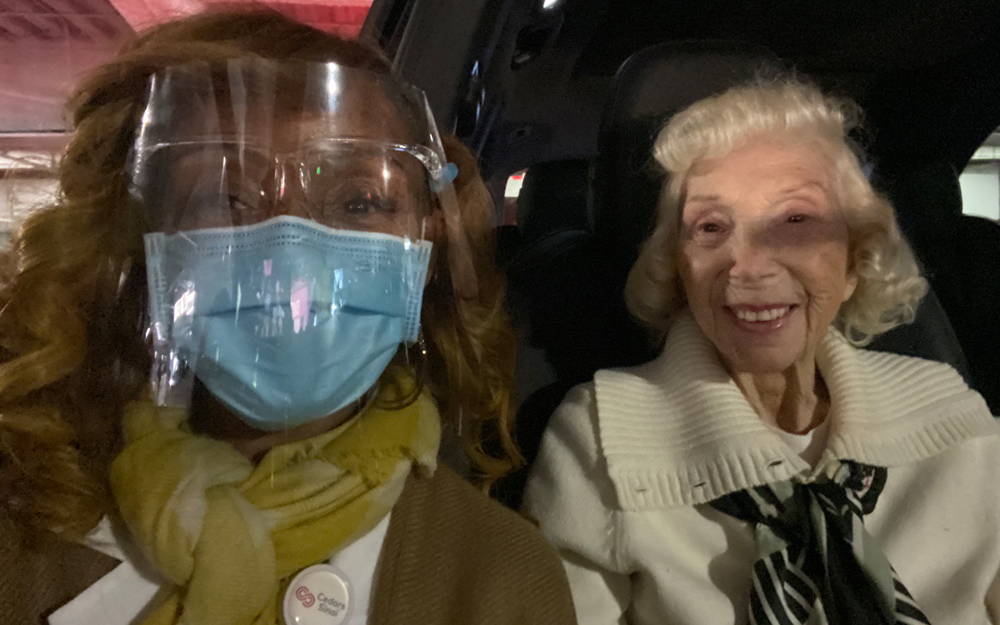 Even at age 100, one-time Las Vegas showgirl, actress and songwriter Janet Kellman still has star power.
When Janet arrived at Cedars-Sinai's drive-through COVID-19 vaccination clinic at the Beverly Center on Jan. 27, the nurse who administered her shot, Gena Smith-Woods, sensed that her patient had a special background. Janet came across as someone who, Gena says, "had great pride in how she presented herself."
"I was so intrigued with her whole disposition," Gena adds, noting the "very sweet smile" that lit up Janet's face. "You could tell she was some form of an entertainer because of the way that she was able to bring you in to where she was."
Gena, a 25-year Cedars-Sinai veteran, was on target. She learned from Janet's youngest daughter, Cindy Cooper, that Janet danced in Las Vegas shows and had bit parts in movies in the 1940s.
The centenarian also was in a vaudeville variety act in San Francisco with the magician "Think-a-Drink" Hoffman. Later she ran a small record label and wrote a campy song, "No! No! Cleo," that was a "Music City Top 40" single in Southern California in 1963.
Janet, whose storytelling skills have withstood the years, describes the path of her life as "unrealistic."
"No matter what I thought I would like to try, I would try," she explains. "I wouldn't question, 'Can I do it? Am I capable? Will I be rotten?' I just went ahead and tried."
Born in Poland in 1920, about five months after her father died of smallpox, Janet—then Szajna Kuffert—came to the U.S. at age 5 with her mother. They lived in New York, and Janet won a "Miss Brooklyn" title 18. Within a few years, she moved to Los Angeles. Instead of discovering a life of glamour, she wound up running a gas station in the San Fernando Valley.
Janet soon found the gas station work tiresome, but still made lots of friends with big shots from the nearby movie studios. When she heard dancers were needed for an upcoming musical, she saw an opportunity.
As Janet wrote at age 89 in an unpublished, 24-page memoir, "With just a few tap dancing lessons under my belt, but lots of moxie, I decided to give it a try. I dyed my black hair blonde, put on a sexy outfit and headed for the studio."
As Janet elaborated in a recent interview, "They didn't really know I wasn't a real dancer. I was a pretty good faker."
Before long, she landed a year-long dancing job at the El Rancho Vegas, one of the first resort casinos on the Las Vegas Strip.
"It was marvelous. We had so much fun," she says. After the shows, the performers would go out together. During the days, "we'd hang around the swimming pool, we'd meet all the guests. We'd do anything we wanted. The time was ours."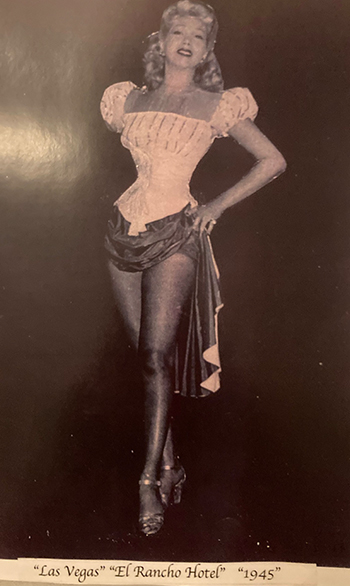 Back in Los Angeles, Janet also danced in a 1944 Warner Brothers production—Shine On, Harvest Moon, starring Ann Sheridan—and her show business career got into full swing.
While performing in a vaudeville act in San Francisco, Janet met "the love of my life," Sidney Kellman, an apparel sales executive. They married and raised three daughters in Beverly Hills.
Janet also went on to become a record label owner, interior designer and artist. Her paintings, which have been shown in galleries in Los Angeles and elsewhere around the U.S., are signed simply "Szajna."
Her husband passed away in 1986, and Janet filled her life with socializing, family and painting. A high point came when she volunteered to host, for six weeks, four Tibetan monks who were accompanying the Dalai Lama on a visit to Los Angeles. She met the Dalai Lama, too—an experience she called "thrilling."
In her memoir, Janet called the stay by the monks at her home "one of the most uplifting experiences of my life. A peacefulness imbued the house by their presence."
Recently, though, the COVID-19 outbreak has put her lunch outings on pause and left her feeling isolated. "It keeps me from having the freedom I want," Janet says.
And having lost a father who she never met to a smallpox epidemic a century ago, Janet is sensitive to the hazards of infectious diseases. Being born into a family that still was grieving over the death of her father, she wrote in her memoir that the tragic event, "may have been the catalyst for my need to grasp at life like a hungry child."
But now Janet has gotten the first of her two COVID-19 vaccinations—she was one of the Cedars-Sinai patients who, despite limited supply of the vaccine, was invited to get the shot because of her health profile. And that is bringing back her a sense of optimism. Janet is looking forward to celebrating her 101st birthday in June.
As for Cedars-Sinai's drive-through vaccination clinic, Janet and Cindy, who did the driving, praised its efficiency. "It was a breeze," Cindy says. Other than the wait to make sure Janet wouldn't have a bad reaction to the shot, "the whole thing took maybe 10 minutes," Cooper adds.
Janet says the vaccination "stung a little bit," and her arm was sore a few days, but otherwise she had no side effects. She was thankful to receive the protection against the disease.
Her advice for achieving longevity and a full life? "Stop worrying," Janet says with a laugh, admitting that she's a worrier herself. Then she adds: "I think you should just try new things all the time. Even if you think you can't do it, give it a shot."
Tags:
Make an Appointment
---
Find a Doctor
Call Us 7 Days a Week, 6 am - 9 pm PT