Treatment Journey: From Texas to LA to Find the Best Care
Apr 24, 2023 Amy Paturel
In June 2008, Edna Cockrell was sipping champagne at her granddaughter's high school graduation party in Beverly Hills when her feet began to swell. It looked as if two water balloons were attached to her ankles.
"My daughter ran to get ice packs," says Edna. "An hour later, the swelling had dissipated. My daughter asked if I wanted to go to the hospital. I told her no—I would follow up with my doctor when I returned home to Texas."
During that follow-up visit, doctors ran a series of tests.
"I passed everything with flying colors," says Edna. "But just as I was getting my jacket to leave the dressing room, I heard a knock on the door. It was the doctor telling me the chest X-ray uncovered something on my lung."
Edna had locally advanced lung cancer.
---
"Knowing that Dr. Mita is walking alongside me on this journey has been such a blessing," she says. "With his knowledge, expertise and access to new medications through clinical trials, he has made it possible for me to live this long."
---
A treatment odyssey
Edna was no stranger to cancer. Her husband had been diagnosed with stage 3 multiple myeloma in 2004. She knew early and aggressive treatment was critical to a successful outcome—and she was ready to follow doctors' recommendations.
"The first time I met Dr. Alain Mita, I felt an instant connection," Edna says. "Something inside me knew that this doctor was going to fix me up."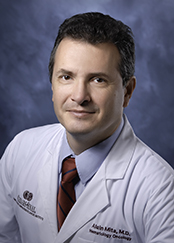 IM Hematology Oncology
Accepting New Patients
What she didn't know was that this journey would take her 14 years, roughly 150 cycles of chemotherapy and more than 70 immunotherapy treatments.
Dr. Mita connected her with a surgeon who performed minimally invasive surgery. The surgeon made three tiny incisions under her breasts, removed the tumor, and when Edna woke up from the procedure, she felt as if nothing had happened.
"I didn't have any pain and went right back to my usual activities," she says.
But since Edna had an aggressive type of lung cancer with a high risk of recurrence, Dr. Mita recommended chemotherapy. Unfortunately, within hours of Edna's first infusion, her kidneys began failing and she was hospitalized for three days.
After Edna recovered, Dr. Mita tried another type of chemotherapy. This time, Edna went into anaphylactic shock. She was allergic to the medication and had to be hospitalized again.
"After two chemotherapy attempts, it was clear she was not tolerating treatment," Dr. Mita said.
The only option: Watch and wait.
---
---
The perfect storm
Unfortunately, within a few months, just as Dr. Mita feared, Edna suffered from a pleural effusion in the right lung.
"The cancer was back—and when a cancer returns to the pleura, it's no longer curable," Dr. Mita says.
Instead of seeking a cure, Dr. Mita focused on maximizing her quality and quantity of life by finding a chemotherapy regimen she could tolerate. Even with aggressive treatment, the life expectancy for patients with metastatic lung cancer hovers around one year. Her husband's myeloma gives him about a 10-year life expectancy.
Edna and her husband accompanied each other to infusion appointments.
"We were both trying to take care of each other, but we were also getting help from friends and neighbors," Edna says. "At one point, it was quite funny because we were both hobbling around with walkers."
Sadly, Edna's husband died less than two years after his diagnosis, around the same time that Edna began thriving.
"It was a stark contrast to what we all expected for both of them," Dr. Mita says. "The third chemotherapy regimen worked, and she didn't suffer from any ill effects. In fact, she did remarkably well and remained on treatment for several years."
But then, in 2011, about a year after Edna started on chemotherapy, Dr. Mita had to hand off her care to another physician. He was moving to Los Angeles to take a position with Cedars-Sinai.
---
---
Reconnecting in Los Angeles
Edna's adult children were scattered all over the country, and she had no remaining family close by. But she didn't want to leave Texas.
"My son flew in from Seattle twice a month to help with the house, installing motion sensor lights and a security camera," says Edna. "I also made frequent trips to L.A. to see one of my daughters and her family, and to Baltimore to see my youngest daughter."
She stayed in Texas for two years, then when she realized it was no longer safe for her to live so far away from her family, she followed Dr. Mita to Los Angeles.
"As soon as I got settled in my daughter's home, I set out to find Dr. Mita," she says. "The first time I saw him in Los Angeles, three years after he left Texas, it felt like all was right with the world."
But in 2014, after five years on chemotherapy, Edna began suffering from neuropathy, a common side effect of treatment. She was losing sensation in her fingers and toes and had already taken a spill once. So, Dr. Mita recommended a break from treatment. 
A few years later, the cancer came back. Edna began suffering from tremendous pain. She couldn't eat. She lost weight. It appeared there was a tumor hiding behind her rib cage.
Edna did 12 rounds of targeted radiation. Then, in 2017, Dr. Mita told her about a promising new treatment for patients with metastatic lung cancer. The FDA had just approved nivolumab, an immunotherapy that harnesses the power of the patient's immune system to fight cancer. For the past six years, Edna has received more than 70 nivolumab infusions, with only one or two breaks to accommodate travel and holidays.
---
---
Defying the odds
Despite all of her treatments, Edna and her treating team still have to stay on top of her care. In 2021, she developed new nodules in the lung—a different cancer from the original tumor and one that was caught early, which she credits to close follow-up monitoring. Doctors were able to remove the nodules with a CT-guided ablation.
"It hasn't all been smooth sailing," Dr. Mita says.
But at 83 years young, Edna is still alive and thriving more than 14 years after she learned she had metastatic lung cancer. For Dr. Mita, Edna has not only become a good friend, but also a powerful case study for the next generation of trainees.
"She's an example of why it's important to look beyond the statistics, numbers and percentages, and focus instead on the patient in front of you," Dr. Mita says.
"If you look at the statistics, Edna should have been dead 10 years ago—and based on her previous history, she should never have responded so well to chemotherapy. And while immunotherapy works for a lot of patients, Edna has been on it for over five years. That's a long time."
Dr. Mita attributes Edna's incredible outcomes to her contagious optimism, deep faith and commitment to following doctors' orders.
"Knowing that Dr. Mita is walking alongside me on this journey has been such a blessing," she says.
"With his knowledge, expertise and access to new medications through clinical trials, he has made it possible for me to live this long."
Make an Appointment
---
Find a Doctor
Call Us 7 Days a Week, 6 am - 9 pm PT